Crazy good olive onion hot dogs. Yep, that's what these are. It was really hard coming up with a name, and I kept going back to the idea of, 'Dang, these are crazy good!'
Now, I'm an olive addict. I admit it. I just love them. All types of olives. But, my favorite are the 'classic' type, pitted kalamata and green olives with pimentos. Olives come in so many sizes and kinds. They can be stuffed with everything from pimento to garlic and red peppers. Love love olives on my bolognese and with any kind of pasta. Sandwiches are elevated with olives. And, even at breakfast, yep, I'm eating olives with my omelettes!
Crazy Good Olive Onion Hot Dogs
You might think that hot dogs are just hot dogs. But, this hot dog is much more than that. It's a gourmet meal on a steamed soft deli bun! While I love slaw on my hot dogs, I decided to give this dog more sophistication, well, besides the olives. So, I created a kalamata aioli drizzle. And, instead of slaw, I'm doing this crazy good dog with greens. The type is up to you. I chose a chopped kale mix, you know one of those simple bag mixes that you find in the produce section. Put that in the bun first, drizzled on some of the aioli, then grilled onions, bratwurst, more onions, and always for me, no matter what, classic yellow mustard. But, hey, if you want something different, have at it!
Topping off this dog are thinly sliced olives. My hubby, Ben, tastes most everything I create. So when I asked him to taste my hot dogs, he looked at it then looked me straight in the eye, and said, 'Now, you know I don't like olives." (Ok ok I knew that and maybe I could have passed the aioli on him, but not the slices of olives). So, I said 'Pretty please, won't you try.' In the last pix, you can see that I cut him off about a third of the dog. Ya know what the verdict was? He loved it!! He said, I even like the olives with it. Then he went on to say, it could be a vegan dog because it was sooooooooooo good even without the bratwurst!
I grilled my dogs the ol' fashioned way, in a cast iron skillet. If you want to throw them on a live fire or gas grill, yep, that works, too!
Finallly, well, I want to leave you with something else that's crazy good! My asiago fresh herb meatballs! Here's how I want you to try them. Put them on a hot dog bun with some grated parmesan reggiano and OLIVES, sliced olives! xoxox ~ally
PS...Lookin' for some great olives, reasonably priced and found just about everywhere, then check out Pearls Olives!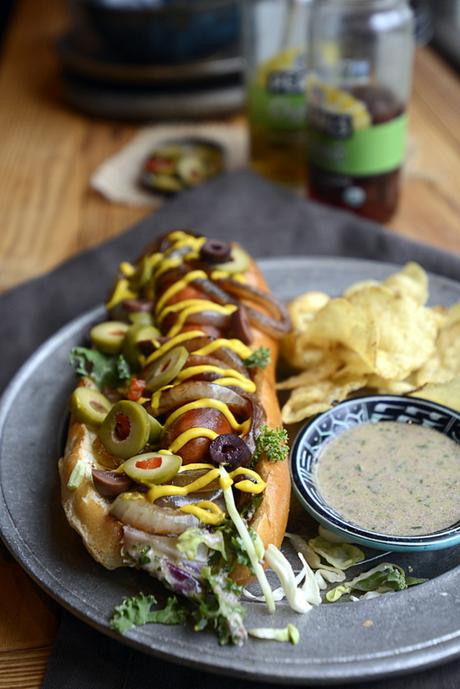 Ingredients
AIOLI DRIZZLE
1/4 cup extra virgin olive oil
1/4 cup mayonnaise
1 tsp. agave, can use honey
¼ cup kalamata olives, drained, pitted
½ tsp. coarse ground pepper
1/3 cup fresh basil leaves, packed
HOT DOG
Cooking spray
2 smoked bratwurst hot dogs
1 large onions, cut in thin rounds
2 hot dog buns, large size
1 cup salad greens, packed
Classic Yellow Mustard
¼ cup olives, sliced in thin rounds, kalamata and green
Instructions
Notes