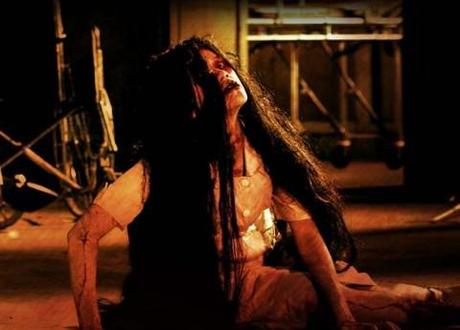 A suster ngesot. No wonder the guard was scared. Photocredit: http://appipatongai.files.wordpress.com/2011/12/suster-ngesot.jpg
A security guard in Bandung, Java, Indonesia has been charged with assault. Not so unusual, you might think – except that he's under suspicion of kicking a young woman in the face – because he thought she was a "predatory ghost." According The Guardian, the girl was dressed in white, had hair over her face, and was moving " 'in a weird way'". She resembled a suster ngesot, which The Guardian translates as "a crawling nurse ghost."
When the white-clad figure moved towards the lift in an apartment block, the guard, named Sunarya, behaved as any responsible security guard ought to – he kicked the "ghost" to the ground, so that everybody could run away. The event reminds Periscope of a similar episode in the comedy series Alan Partridge, in which the hapless TV presenter pretended to be a zombie for a joke – but only succeeded in terrifying everyone. Life imitating art, once more.
The suster ngesot turned out to be a 20-year old university student, Mega Tri Pratiwi, playing a "ghost trick" on her friend for a birthday. She was hospitalised with minor injuries. Her father, Mahfud Djabir, a wealth businessman, reported the security guard to the police. The incident, which happened in December, is causing Indonesians to think about the gap between rich and poor, and about their own supernatural heritage.
"I have a wife and two little children, I hope everything will be fine. I just did my job as a security guard," said the guard, quoted on The Guardian.
A country of many ghosts. You can hardly move for spooks, The Guardian said; there is a strong supernatural heritage in Indonesia, despite its Muslim nature. Ghost sightings are common, with "floating female figures dressed in white, with long hair and, sometimes, long fingernails." Ghost and vampire films are "wildly popular", whilst "at least 10 people" have reportedly been "possessed by spirits" after visiting a particular tree in Jakarta. Supernatural creatures in Indonesia take on terrifying shapes – the pocong – a "shrouded corpse ghost"; the kuntilak, a "female vampire ghost", and the jenglot, a "mummified vampire doll with fangs and long hair who feeds off human and animal blood."
In support of the guard. Thousands, said The Jakarta Globe, have condemned Mega Tri Pratiwi. A Facebook group has been set up to support the guard, which has gathered 5,000 supporters, one of whom wrote: ""Silly unstable teenager, lucky for you you didn't die of the security officer's kick and become a real crawling nurse in the apartment … Why don't you just accept the result of your own doing? It was a reflex; the security officer couldn't have kicked you intentionally."
In support of the ghost. Mega Tri Pratiwi has responded to the condemnation: "No one deserves injustice or to be treated with violence, no matter who they are," she says in a blog. "Security guards have no right to use violence."
Why do we even believe in ghosts? Some "weird shit" happens in Indonesia, said Indonesian blog Unspun. But this was a "tragicomedy." In Indonesia, the "rich often bully the poor," as can be seen by the actions of Mega's father. But what Unspun wanted to know is how exactly a "crawling nurse ghost" came into the Indonesians' imagination. You've got to wonder about the psyche of a people that thinks about things like that.
Watch the grainy ghost girl fail below.