Kristina Georgia Snow is the perfect daughter: a gifted student, quiet, never any trouble. But on a trip to visit her absentee father, Kristina disappears and Bree takes her place. Bree is a total opposite to Kristina - she's fearless.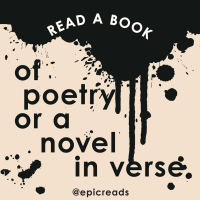 Through a boy she meets, Bree is introduced to the monster: crank. And what begins as a wild, ecstatic ride turns into a struggle through hell for her mind, her soul and, ultimately, her life.
***
[Life was good / before I / met / the monster FLIRTIN' WITH THE MONSTER]
***
(Simon & Schuster UK, 1 May 2012, first published 2004, 577 pages, ebook, A Year Of @EpicReads 2019, a book of poetry or a novel in verse, copy from @AmazonKindle)
***
***
This is very different from the other YA novels I've read. Novels in verse are rare and I only read a few. This book is supposedly based on the author's experiences with her own daughter. This is heartbreaking when you think about it. Crank is hard-hitting, a real tear-jerker and an emotional rollercoaster. My heart broke so many times reading this book as Kristina's alter-ego Bree becomes more and more dependent on Crank and other hard drugs and struggles to keep all the pieces of her life together. Crank loses one star because there are a lot of times when it wasn't really a novel in verse but prose forced into the style of a poem. Still, this is a terrified read and I look forward to reading more by the author.