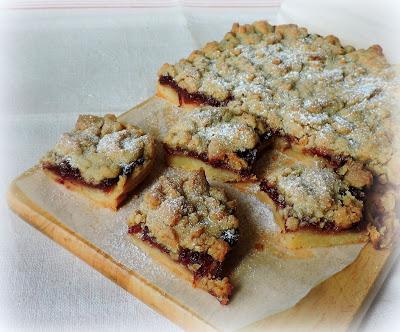 If you are like me, you always have jars (tins) of cranberry sauce in the cupboard, and probably extra, especially this time of year.  I always add a layer of cranberry sauce to my chicken and turkey sandwiches, and I have been known to use a dollop or two in gravies and sauces.  It is a store cupboard ingredient which always comes in handy.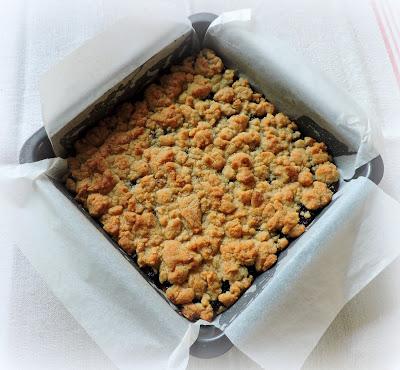 I have a favorite breakfast cake that I like to make with it. You can find that recipe here.
Cranberry Swirl Breakfast Cake
.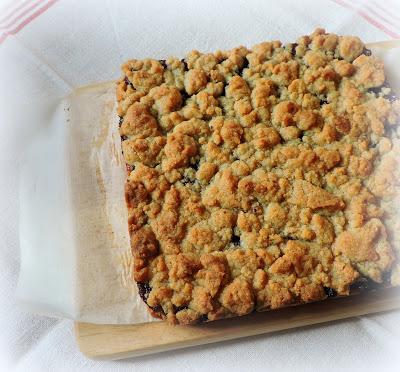 Another thing I like to make with it, are these fabulous teatime treats . . .  Cranberry Crumble Bars.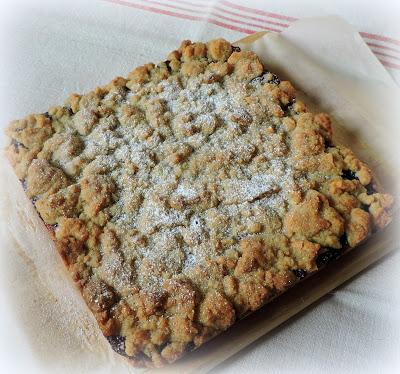 Not only are they easy to make, but they are excellent additions to the holiday cookie trays!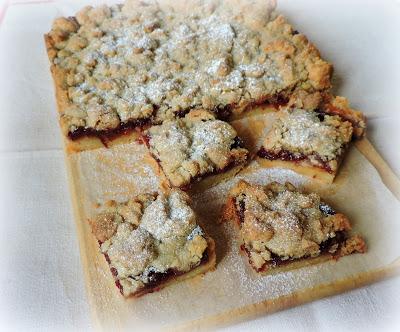 I have never had anyone turn a cake tin full of these down.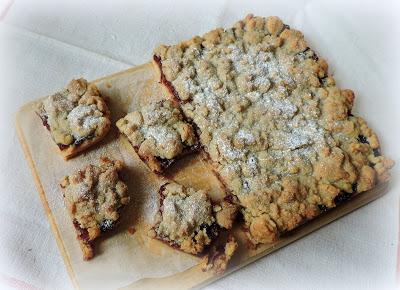 With their buttery short bread cookie crust  . . .  and that buttery crumble topping with that sweet-tart cranberry sauce sandwiched in the middle they are sure to become firm favourites in your holiday baking repertoire!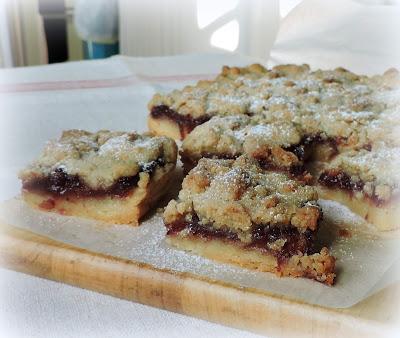 The short bread crust is simply created by rubbing some sugar, flour and butter together until crumbly, and then you press it into the pan.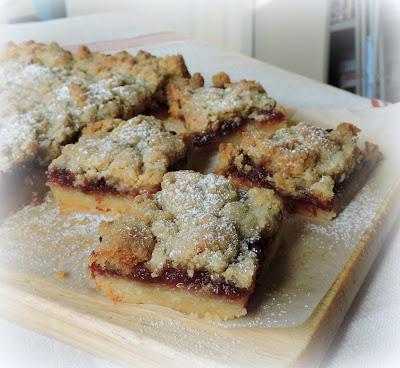 Baked until just golden around the edges, you then spread the cranberry sauce on top and crumble on that buttery crumble topping, before popping it  back into the oven for a further baking  . . .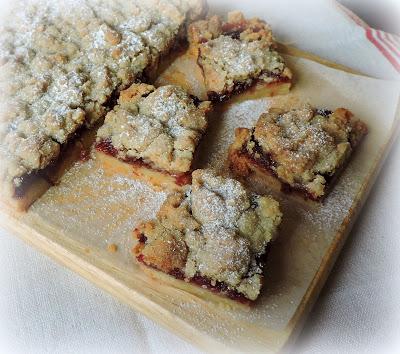 The hardest part of these is waiting until they are sufficiently cooled to remove them from the pan.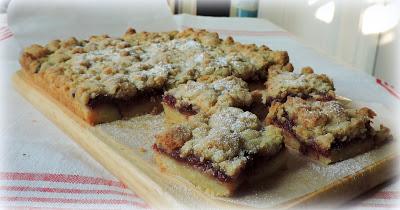 They really crisp up once cooled, which makes them very easy to lift out and cut into squares.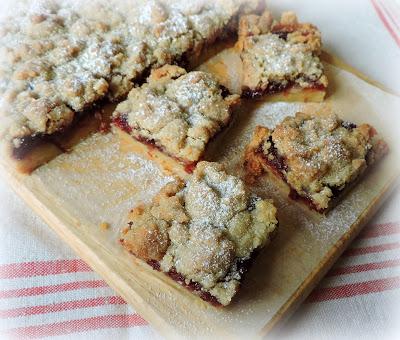 The only decoration you need is a light dusting of icing sugar drifting across the tops! 
Yield: 12
Author: Marie Rayner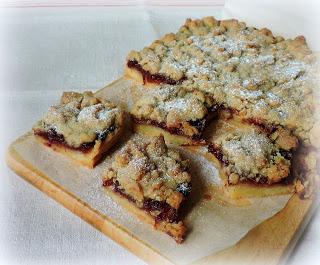 Cranberry Crumble Bars
prep time: 20 mins
cook time: 45 mins
total time: 65 mins
Something delicious to make for your family from the excess cranberry sauce we all find in our cupboards over the holiday season! Triple layer bars with a shortbread base, cranberry filling and crumble topping.
ingredients:
For the base:
280g plain flour (2 cups)95g granulated sugar (1/2 cup)1/2 tsp salt240g butter, chilled (1 c
For the filling:
2 (250g) jars whole berry cranberry sauce (2 14-oz cans)
For the crumble topping:
95g granulate sugar (1/2 cup)100g soft light brown sugar (1/2 cup, packed)350g plain flour (2 1/2 cups)1/2 tsp salt180g butter melted (3/4 cup)
You will also need icing sugar to dust the tops
instructions:
To make the topping, measure both sugars in a bowl along with the
flour and salt.  Whisk together. Pour the butter over and mix it all
together with a spoon, until everything is mixed and you have large
clumps that are holding together.
Preheat
the oven to 180*C/350*F/ gas mark 4.  Line a 9 by 13 inch baking pan
with baking paper and butter the paper. (Make sure you leave some
overhang on the paper for lifting the bars out of the pan when baked.)
Set aside.
Whisk together the flour, sugar and
salt in a bowl.  Grate in the chilled butter. Using your fingers, rub
the butter into the flour mixture until the mixture resembles cornmeal.
 The mixture should hold together when you squeeze it.  Dump into the
prepared pan and press it into an even layer. Bake in the pre-heated
oven until just set, 15 to 20 minutes.
Run a
fork through the cranberry sauce to loosen it.  Spread it evenly over
the partially baked base. Crumble the topping over top.  (You may not
need it all.)
Bake in the pre-heated oven
for 40 to 45 minutes, until golden brown and cooked through.  Allow to
cool completely in the pan.  Lift out, dust with icing sugar and cut
into bars to serve. You can store these in an airtight container for up
to a week.
Created using
The Recipes Generator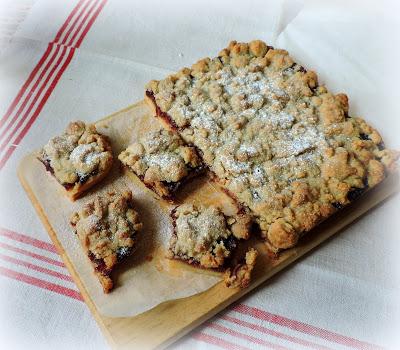 The recipe can also be very easily cut in half to make a smaller quantity which is what I have done here today.  I baked them in an 8 inch square tin, which worked fine, with all of the baking times remaining the same.  I really hope you will give these a go.  I am positive you will fall in love with them, not only for the ease of baking, but also for the deliciousness of them. If short, buttery,crumbly sweet/tart bars are your thing, well . . .  you are in for a real treat!  Bon Appetit!