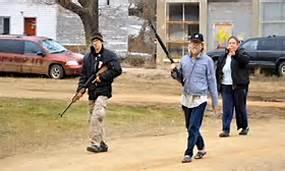 Craig Cobb, center
Craig Cobb is the White Supremacist, wanted for hate crimes in Canada, who has a various times been jailed, or hospitalized
in the local mental health hospital
, for his behavior.  Cobb has been refusing to eat since his arrest, and experiencing mental lapses, all part of what he claims is related to his ersatz extremist right wing religious nonsense. 
Crazy radical religious theology is part of groups like Cobb's, including not only the neo-nazi/white supremacist radical right, but also the KKK and other similar groups.  Religious intolerance, including antisemitism, is also a key belief component of the John Birch society as well.
In mid-November, Cobb and one of his fellow white supremacists were arrested after 'patrolling' Leith, North Dakota, as a self-appointed vigilante, armed with a rifle and a shotgun.  The reason they gave for wandering around the town, confronting residents, and allegedly threatening some of them, was vandalism.
Except that it turns out the vandalism, consisting of damage to an old car, was done by one of his fellow neo-nazis, living in his own house, apparently one Afred Borgmann,
according to the Bismark Tribune
.  Borgmann subsequently left the premises for a shelter, which apart from the personal conflict, also has amenities like proper toilet facilities and running water. 
Cobb is facing health and sanitation citations because of having multiple people, including children, living in housing that is not fit for human habitation.  He also owns properties with other decrepit buildings which were found to present hazards to the community, notably presenting potential sites for rodents, and attractive nuisances to children.
Not only is Cobb facing significant jail sentences if convicted of the charges for which he was arrested, but his properties are facing demolition, including his not so happy home which he named Hitler Park. Apparently, his wife is asserting that she is leaving him, because the white in NoDak is a lot more hostile and a lot harder to survive without heat, sanitation or plumbing than white hot race hatred of one's fellow 'Murikans'. 
Cobb's next court date is December 9, 2013; consistent with his usual poor judgment, he will be acting as his own attorney.
This, on top of finding out that through DNA testing he isn't even white enough to be a white supremacist according to the criteria of his little band of crazy bigots, seems to be just one disappointment and failure after another.
But heck, in one respect,  little Leith, North Dakota couldn't get any whiter, and couldn't get any colder towards Cobb and his haples right wing nuts.  Now THAT is 'white supremacy' aka high plains winter.