Craig Cobb, armed white supremacist who terrorized Leith, N.D. has dropped below the radar of most news coverage in the past couple of months.  There have been developments.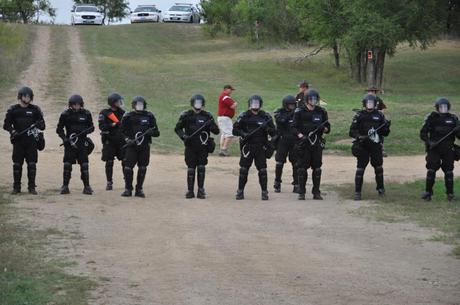 White Supremacist armed with clubs in Leith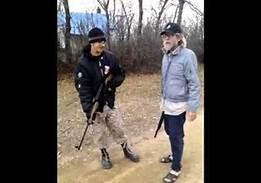 Cobb and Dutton, armed in Leith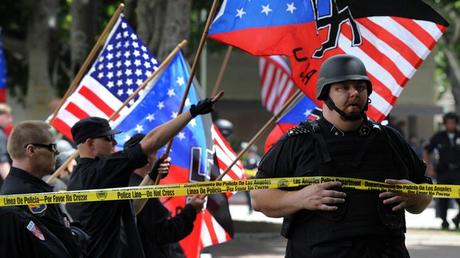 more white supremacists, Leith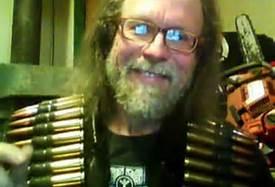 Cobb draped in ammo, in Leith
His buddy in roaming the town, where he was photographed threatening people with their guns, has rolled over on him and is ready to testify against him. Cobb is trying for a plea deal, offering to sell his property in Leith, and to leave, if they don't prosecute him.
The prosecuting attorney is negotiating a plea deal, but the deal he has offered Cobb doesn't satisfy the good residents of Leith.  They don't want the plea agreement; they want him behind bars.  As of February 10th,
according to the Bismark Tribune:
Dressed in an orange jail suit with his gray hair neatly trimmed and his face clean shaven, Cobb barely had time to sit at his attorney's table before South Central District Judge Gail Hagerty set Cobb's case for trial and gave both sides three weeks to negotiate a plea deal.

The situation came to a head on Nov. 16, 2013, when Cobb and follower Kynan Dutton were arrested for carrying long-barreled weapons on an armed patrol of Leith and allegedly terrorizing citizens.
Dutton was released last month on a plea deal in which he promised to testify against Cobb in exchange for reduced charges and probation.
Grant County State's Attorney Todd Schwarz said he would meet with Cobb's alleged victims after the short hearing to see if he could get some consensus on an acceptable outcome.
He wouldn't speculate on how much, if any, prison time would be in the deal.
Schwarz said it's his job to protect the community and people where Cobb might go from here. He's in jail in Stanton on $100,000 cash bond.
Schwarz said he's heard that Cobb may deed his house and other property in Leith back to the city or someone else to whom he owes money.
"If he's not coming back to Leith I would take that into consideration," Schwarz said.
In fact, Leith Mayor Ryan Schock said Monday that Cobb has sold his two-story house in Leith to a resident of nearby Carson. The deal with James Kenneth Zimmerman, a mechanic, apparently included two of Cobb's abandoned vehicles.
The new ownership doesn't apply to other property Cobb still owns.
 
Three unrelated and abandoned properties that were condemned in Leith were burned last week. Cobb's former home must be brought up to code with sewer and running water before it can be be occupied, according to the town's new ordinances.
A handful of area residents attended the hearing and talked afterward in the courtroom lobby.
Judy Roth of Elgin, formerly of Leith, said she won't be satisfied with less than a return to the way things were before Cobb started up in August, "not until every lot in town goes back," she said.
Her sister Peggy Arndt of rural Flasher said she wants Cobb's vision of a community of haters to end in Leith.
"It needs to stop someplace, or he'll go on to the next town," Arndt said.
Grant County Sheriff Steve Bay said the charges are serious and the residents truly felt terrorized.
"He shouldn't get off scot-free. Not because it's a high-profile case, but going back to what he did and the crime at hand," the sheriff said.
Bay said Cobb has cost the county more than $20,000 in jail boarding fees and medical costs, and the state spent another $21,000 to enforce the law a peace rally across from Cobb's house in September.
Schwarz said Dutton is prepared to tell a jury what was going on in Cobb's mind when they picked up guns to patrol Leith and confront residents that cold weekend before Thanksgiving.
He said Cobb primed Dutton by lying about some vandalism to their Leith property. Cobb knew the vandal was actually another white supremacist who was living on his property and had called the police to have the unstable man removed, but hid that information from Dutton, Schwarz said.
Based on Cobb's state of mind at the time, Schwarz said, he has no doubt there could have been gunfire had Cobb been provoked.
"He was very agitated," Schwarz said.
The state's attorney said there is one line he will draw in cement, not sand, on any plea deal.
"Those guns will not be returned to him," he said.
I'm somewhat less impressed with the notion of Cobb not getting his guns back should be given such importance; guns are too easily available both legally and illegally; they can be replaced.  It was not only the brandishing of guns on this one specific occasion that was really the problem.  And the residents of Leith have a valid concern; white supremacist groups have indicated interests in doing the same thing in other locations.
The photos above are one face of the radical right, the face of those who might be categorized, to borrow a term from science fiction fandom, the 'drobes', short for wardrobe fandom, in this case radical right men and women who like to dress up in what they hope are scary uniforms, including weapons.
It is fair to say that these thugs in their outfits hold views not that different from the views expressed by Michael Dunn, who was recently convicted of crimes involved with shooting at 4 black teens, one of whom died.  It is fair to say that these obvious, over-the-top right wing extremists hold views consistent with the radical right militias, that they are not significantly different in those views from radical right groups  like the John Birch Society -- militia groups and the Birchers have had tables at the political convention of the MN GOP, for example, and have had a presence at national events like CPAC.  The John Birch Society, of course, was founded by the father of our modern Koch Brothers who seek to buy control of our government and governmental processes.  The White Supremacists, the militias, and other radical right groups draw heavily in their membership from our armed forces; one estimate from the DOJ places half their active members as having served and often been recruited in our armed forces.
These groups, and the people in the photos above, meet the classic definition of conservatives:
1. they believe things that are demonstrably not true - and don't care they are not true;
2. they position themselves as victims when they are not, using their faux-victim status to justify excesses and aggression, both legislative and physical;
3. they have a sort-of-Christian theology that is at the core to their politics and which they seek to impose on others;
4. they have an unmerited sense of superiority combined with paranoia;
5.  they are obsessed with weapons, and the justification for weapons to overthrow any governmental entity that does not conform to their beliefs, at every level of government.