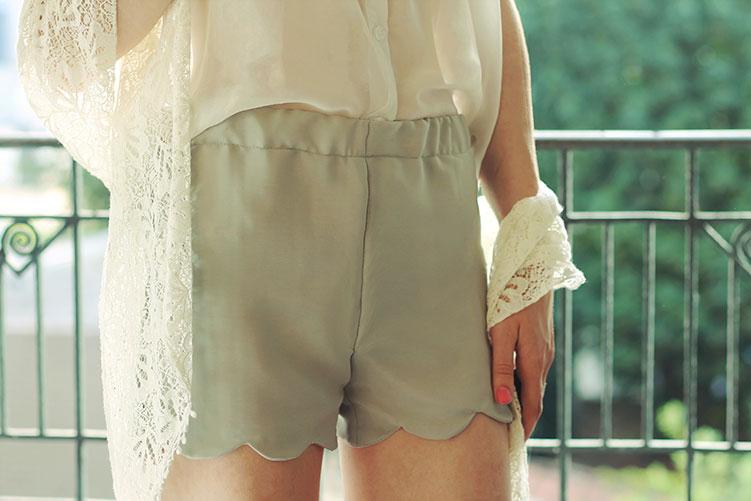 Okay, I promise this is the last post on those darn shorts! However, the idea is transferable to everything and anything fabric or leather. How many times have you cut a pair of trousers into shorts? I have aplenty  especially jeans, and the same goes with skirts. This is a really simple idea you can take and adapt for yourself. There are so many things you can do to edges from adding lace, to simple cutting. Another idea is to turn your trousers into bermudas, cause that is so à la mode at the mo. But I thought scalloping is pretty so that's what I did, and I'd love to do a tulip edge on a skirt if I can find one to cut up in my wardrobe, I think they are so pretty!
This DIY does involve sewing, but you could definitely do this but just cutting a scalloped edge and use fray stop if you aren't a sewing boffin. It would be super easy!
How to make DIY Scalloped Shorts


 1. You will need : An item of clothing, thread that matches, fabric marker, a ruler, paper, scissors (1 for paper and one for fabric) a sewing machine, and an iron. Something curved or a compass to mark the curves!

2. Measure the leg and work out how many scallops you want, divide the length by the amount of scallops to work out how wide you would like each scallop to be. Draw the curves to make a pattern with the aid of something curved. Make sure the angles aren't too acute, as the scallops won't look pretty!



 3. Sew a zig zag stitch along the cut edge of the fabric to avoid future fraying. My fabric was thin, so to avoid the sewing machine gathering the edge, I used tissue paper.  Fold up the edge so you can see it on the outside of the shorts and iron flat. The seam allowance should be more than 4 cm.


4. With the pattern you made earlier, mark the curves onto the folded edge. Sew along the line you drew with the sewing machine.



5. Cut off excess fabric, snipping a slit as close you can to the seam at the angle between each curve. Turn the seam  outside in, and iron. I used a piece of cardboard to make the curves lie properly, some people use a point turner or butter knife. Hand stitch the hem.
And there you have your own DIY scalloped edge! One thing I have to say with this project is to be patient and careful when marking out the edge and sewing as it can really change the outcome if you're lazy.
If you have any questions feel free to ask in the comments below!!
Take care,