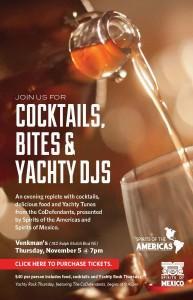 At this week's Yachty Rock Thursday, guests can enjoy Craft Cocktails and Bites at the Spirits of the Americas & Spirits of Mexico Awards Announcement Party at Venkman's, located at 740 Ralph McGill Blvd NE. Tickets are $60 per person and can be purchased here. Then a cash bar continues after 9pm. Stick around Yachty DJs and live music by The CoDefendants beginning at 10pm.
Spirits of the Americas and Spirits of Mexico presents an IWSC Group competition to celebrate excellence in distilling. The IWSC Group is the world leader in organizing wine and spirit competitions globally, including the illustrious International Wine & Spirits Competition (IWSC). Spirits of the Americas and Spirits of Mexico were launched to celebrate the diversity and innovation of distilling across North, South and Central America and the Caribbean by recognizing product excellence across a broad range of categories. SOA is led by an illustrious panel of nationally and internationally-recognized wine and spirit experts and members of the trade who will evaluate and rank participating products.

Lorrie Dixson graduated from the University of Alabama with a B.A. in Communications before she worked for CNN for 15 years. In addition to freelance writing, she is currently a Charleston, SC entrepreneur who owns Eskimo Advertising, a full service boutique advertising and public relations agency. Reach out to Lorrie at [email protected].