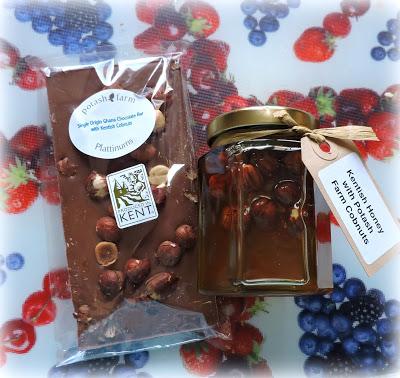 As a food blogger here in the UK, I do get to try the nicest things.  I was recently sent several products from Potash Farm to taste and tell you about.  
I was sent a bar of their Single Origin Ghana Milk Chocolate with Kentish Cobnuts.  High quality milk chocolate stogged full of toasted Kentish Cobnuts.  Scrumptious!  
I was also sent a jar of their Kentish Honey with Potash Farm Cobnuts.  It is a beautiful Amber color and it contains just the right amount of Kentish Cobnuts! 
Cobnuts have a flavor which is very similar to filberts or hazelnuts as they are also known.  A Cobnut is a type of hazelnut traditionally grown in Kent. They are harvested in their green state form mid August and with brown shells and husks by mid October. All the Kentish Cobnuts are sold dehusked from November onwards.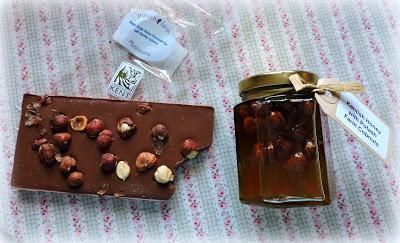 I could not resist tucking into the chocolate right away.  (Naughty me!)   Oh boy, was it ever good.  I am saving the honey to enjoy on a bowl of porridge on a cold winter's day, or even Christmas morning.   Oh boy, are we in for a treat!  
Both of these things would make great Christmas gifts for the foodie in your life!  I would love to get either one or both in my stocking, that's for sure!  👍👍  Two thumbs up from me!
Potash Farm is situated at the southern end of the West Kent village of St Mary's Platt in the beautiful rolling countryside between Sevenoaks, Tonbridge and Maidstone. It is the first website to sell cobnuts in their green, golden and de-husked states, as well as offering an attractive assortment of associated merchandise that provide excellent Christmas, Easter and one off gifts.  (Oh, I do so love Kent.  It is a very beautiful part of the country and we surely enjoyed the 7 years that we lived in the heart of that county.)   You can read more about Potash Farm here.   It's a very interesting read!
Do check out their website at kentishcobnuts.com
Follow them on facebook  
Follow them on Twitter @PotashFarm  
They do farm walks and talks, and have a Christmas event coming up at Sissinghurst Castle this weekend.   
Many thanks to Potash Farm for sending me these products to try out!
Note - Although I was sent product free of charge to try, I was not required to write a positive review.  Any opinions are my own.