Please hop over to 
here for the give away
.  A chance for you to win some awesome organic product.
During a conversation with my baking kaki, she ask me about Crack Pie.  Did a quick search and realised it was originated from Momofuku Milk Bar back in 2010. 

Just like the recent Cronut that was so talked about, apparently back in 2010, crack pie was the next big thing before that 30 mins bread recipe, I was told.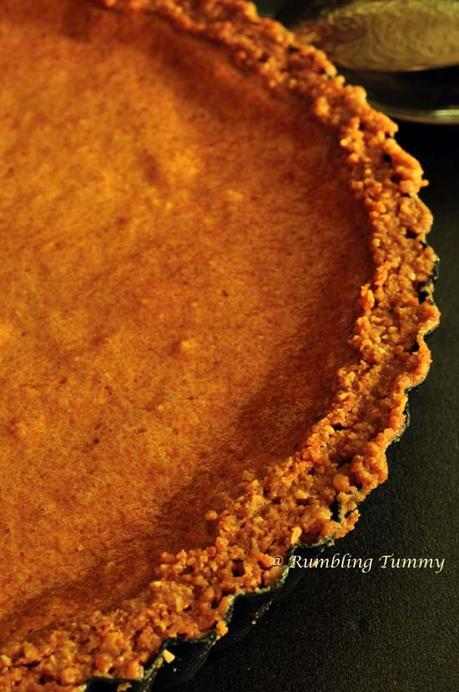 Well, since my last not so pleasant trip to this city (blizzard and not so nice people), I doubt I will get a chance to go back again to sample this pie.
Without further ado, let's try this recipe and see what is the hype about on this recipe. 
Strangely, this pie didn't crack at all.  I wonder why they named it so or was it that the crust method has to do with how they came up with the name. 
This Crack Pie is definitely not for faint hearted folks.  It is a dessert that you will only eat once in a blue moon.  At US$44 a pie, I knew I just got to try it.  
The amount of fats are high and I made the right choice to reduce the sweetness level vastly.
Will I have a go at this again?  Yes, I will definitely rework on the crust ratio though.
If you have tried this, hope you can share your experiment as well.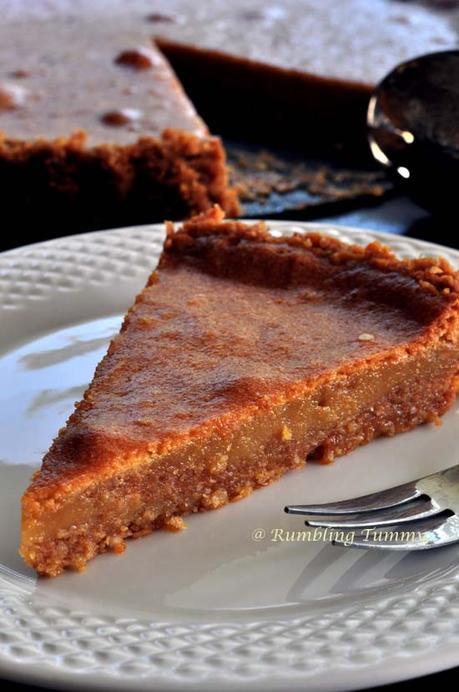 Findings: 
Overall, the pie is very interesting and pleasantly nice to eat.
The crust actually expanded after baking and thus you get a slightly thicker crust than norm.  I also wasn't please with the crumb as it falls apart easily and was a tad too oily. 
You need to chill it a little to firm out the crumbly crust or else you will have a hard time removing it.  

Adapted : Brown Eyed Baker
What you need:
Cookie crust
80g plain flour
⅛ tsp baking powder
a pinch of baking soda
¼ tsp salt
113g unsalted butter, room temperature
71g light brown sugar
3 tbsp castor sugar
1 egg
180g rolled oats
Method:
Preheat the oven to 190°C.
In a medium bowl, sift flour, baking powder, baking soda and salt.
In the bowl of a stand mixer using the paddle attachment, beat the butter, brown sugar and sugar until light and fluffy.
Beat in the egg into the butter mixture until fully incorporated.
Beat in the flour mixture, a little at a time, until fully combined.
Stir in the oats until incorporated.
Spread the mixture onto a 9" X 13" baking sheet and bake until golden brown and set, about 20 minutes.
Remove from heat and cool to the touch on a rack.
Crumble the cooled cookie to use in the crust.
Crust
Crumbled cookie for crust (1 recipe)
57g butter
1 tbsp light brown sugar
¼ tsp salt
Method:
Pulse the crumbled cookie, butter, brown sugar and salt in a food processor until evenly combined and blended (it is ready if the mixture is able to clump together).
Divide the crust between 2 (10-inch) pie tins.
Press the crust into each shell to form a thin, even layer along the bottom and sides of the tins.
Set the prepared crusts aside while you prepare the filling.
Filling
150g sugar
100g light brown sugar
½ tsp salt
21g milk powder
150g butter, melted
170g heavy cream
1 tsp vanilla extract
4 egg yolks
30g cornstarch
2 prepared crusts
Powdered sugar, garnish (I omitted)
Method:
Heat the oven to 170°C.
In a stand mixer, whisk together the sugar, brown sugar, salt and milk powder.
Add in the melted butter, then whisk in the heavy cream, vanilla and cornstarch.
On low speed, gently whisk in the egg yolks, being careful not to add too much air.
Divide the filling evenly between the 2 prepared pie shells.
Bake the pies, one at a time, for 15 minutes, then reduce the heat to 160°C and bake until the filling is slightly jiggly and golden brown for about 10 minutes.
Remove the pies and cool on a rack.
Refrigerate the cooled pies until well chilled. The pies are meant to be served cold, and the filling will be gooey.
Dust with powdered sugar before serving.
If you have enjoyed this post by
Rumbling Tummy
, be sure to follow this Rumbling Tummy on
Facebook
, Instagram, Pinterest, Twitter and
Google+
.