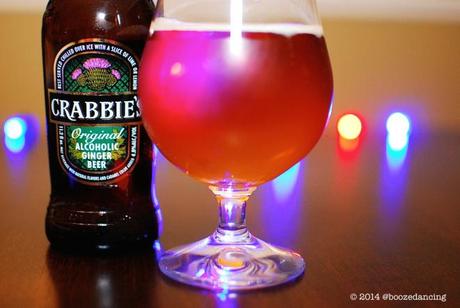 While I have never ever mowed my lawn (I don't even own a lawnmower!), I do understand the concept of a lawnmower beer. It's boiling hot outside and you're sweaty, parched, and in search of something cold and refreshing to quench the thirst that you developed from spending over an hour manicuring your precious greenery. Sure, you could grab a glass of water, or maybe even a Gator or Powerade, but since you've spent a healthy chunk of your spare time working on the lawn in addition to working hard all week at your day job, you deserve something refreshing AND soothing. An ice cold beer is the usual reward, but we live in a world that is full of choices. so why not mix it up a bit and try something different? So that's exactly what I did a couple weeks ago, i.e. I decided to try something different and picked up a bottle of Crabbie's Alcoholic Ginger Beer. Does this beverage qualify as a lawnmower beer alternative? That's what we're here to find out!
But before we get on with my review, here are a few words about this beverage taken directly from the Crabbie's website:
It takes taste and imagination to create a drink so delicious that it stands the test of time. The roots of the distinctive Crabbie's Original Alcoholic Ginger Beer stretch all the way back to the early nineteenth century. That's when our pioneer John Crabbie set sail from the port of Leith, Edinburgh, in search of the finest spices and ingredients from far-off lands.

Crabbie's Original Alcoholic Ginger Beer is carefully crafted from a recipe using ginger shipped from the Far East which is cold steeped for up to six weeks and then combined with four secret ingredients to produce its deep, deliciously spicy flavor.
Let's get on with my impressions of this beverage…
Appearance: Pale gold with a slight orange tint.
Aroma: Very straightforward on the nose with lots of freshly grated ginger, honey or light brown sugar, and a hint of citrus.
Taste: Medium bodied with a slightly fizzy carbonation. Starts off slightly sweet with some cane sugar notes front and center. Ginger and citrus take over at the middle and carry you through to the finish where all of the flavors come together. Leaves you with a ginger spiced tingle on your tongue with some residual sugar and citrus that is slightly astringent.
ABV: 4.8%
If you like Gosling's or Barrit's Ginger Beer then I have no doubt that you will like this stuff. While the label says to enjoy this over ice with a slice of lime or lemon, I decided to make like Ed of the Dogs of Beer blog and tried it "as is" since I wanted to experience it at full strength. I really enjoyed it from start to finish and would definitely buy it again, though given it's moderately sweet taste, it's not something that I would drink all the time. I'm guessing that drinking it as the brewer suggested (on the rocks with a wedge of lemon or lime) will help to cut the sweetness and make this an even easier to drink summer refresher, and if you throw in a healthy dose of dark Rum, this stuff will make a seriously potent Dark N Stormy.