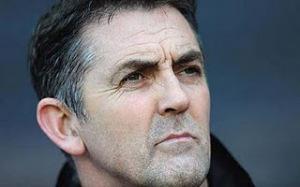 Owen Coyle has suggested his "big leaders" went missing against West Brom and has angrily demanded his Bolton players do some soul-searching before a return to Premier League duty against Everton on Saturday.
A 56th-minute winner from Shane Long condemned Wanderers to a fourth defeat on the road in the league so far this season and was a stark contrast from the performance which saw Bolton demolish Stoke 5-0 on home soil last time out. Those who bet football online will be wondering what happened.
But perhaps more worryingly for Coyle is the fact that his side's alarming run of form dates back to the end of April – just three wins in 17 games in the top flight – and the Scot was furious his players failed to get anything from the game against Roy Hodgson's men.
"We bounced back from going a goal down and showed real character, real quality," Coyle told the Bolton News.
"That's my frustration, and it's killing me. Disappointment is an understatement."
He added: "I'm angry because it was a good chance for us to get a positive result and get that unbeaten run going – a win, a draw, whatever it takes."
"And I have said to the players that they cannot let this type of opportunity pass them by."
Third-from-bottom Bolton have now gone 22 Premier League games without registering a draw and the former Burnley boss is concerned a lack of leadership from senior players is costing the side points. Those looking at the Premier League odds will be keeping a close eye on the side's form.
"It's all very well when players are saying this and that, but the testament to anyone's character is when you go out there on that pitch and you're under the cosh, you need your big leaders to organise and be resilient," he added.
"If you are compact and focused, the minimum you leave with is a draw – but we didn't have enough of them to do that."