If you check out the updated map on the right side of this blog window it shows that we're in Texas now (in Lubbock, birthplace of Buddy Holly). So we're slightly lagging behind with this next blog that's all about a fabulous place in Santa Fe with fun decor, where we enjoyed some well-cooked and very hearty old-style US food. A bit on the food at the end of this posting but right now we're talking cowgirlz and decor, folks.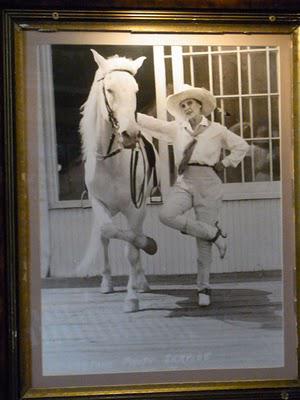 The two-step is a popular dance all through the Southern US, and it's mostly performed by two people, but no-one told this cowgirl and her horse. This is just one of the great photos on the wall at Cowgirls BBQ Cafe in Santa Fe, and I loved these photos most of all at Cowgirls, but it's a good spot to eat out nevertheless.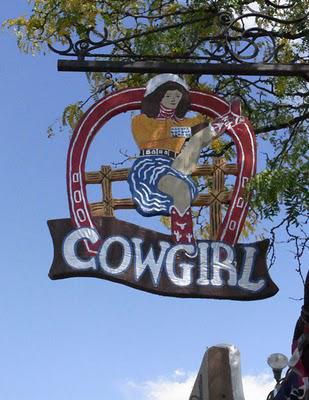 Here's the sign outside the place on Guadalupe Street, and here's a weblink to
Cowgirls BBQ

.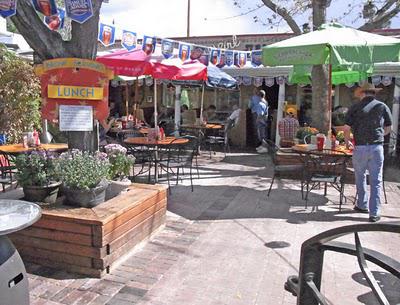 The front part has an open-air area, and lucky for us on the night we arrived, it was full, so they ushered us into the room out the back.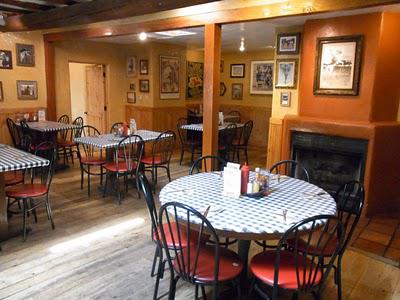 The room itself is homey and comfy, but it's the photos on the walls which had us captivated. Where are all the people? I came back the next morning just before lunch and asked if I could photograph it, and they were very friendly and obliging. And so, let's have a look at a few of the many great framed cowgirl photos on the walls.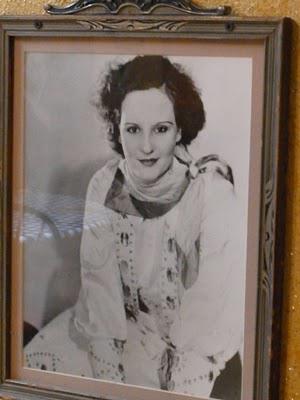 There are some charming 'lady cowgirls' who looked like they didn't like to get dirty, and just loved the outfits.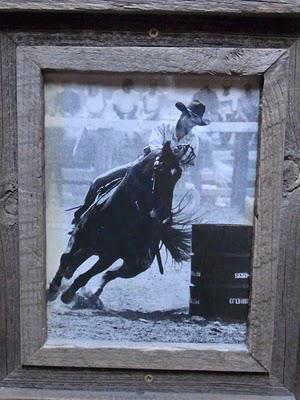 And they had plenty of Sporty Cowgirls who could ride the hooves off a horse. As a motorcyclist, I really loved the way this woman is leaning her horse into that corner. They're going fast!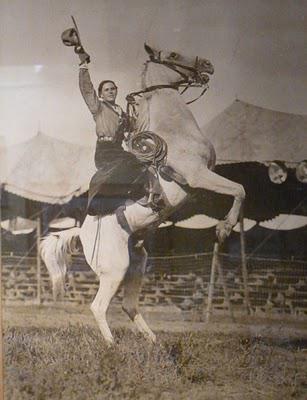 Showgirl Cowgirls aplenty adorned the walls, and I guess several of them were no doubt household names back in their heyday, as many of their photos were autographed as well.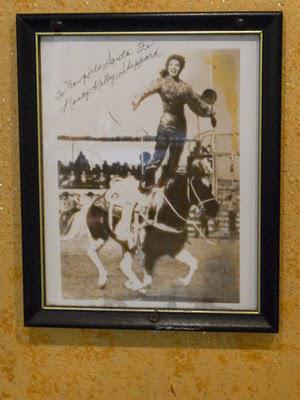 Don't try this at home.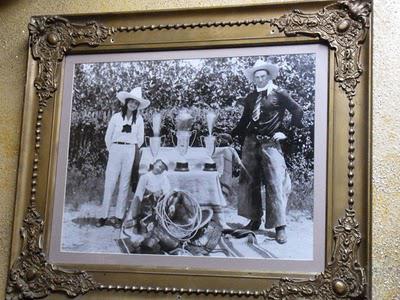 There were young cowgirls who seemed to be showing a lot of horse-riding prowess from an early age.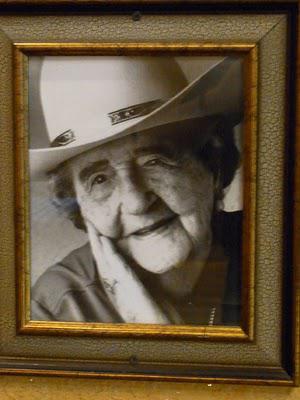 And beautiful Senior Cowgirls who had seen a lot of rodeos and probably ridden in a few, too.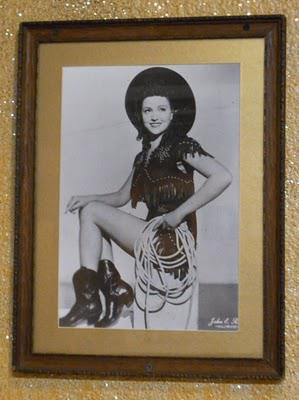 Several starlet cowgirls looked like their photos were probably taken closer to Hollywood than Santa Fe.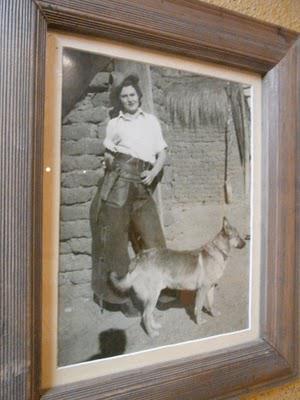 This one was my favourite by far. Beneath her photo is a little biography, and let me share it with you.

Else Adams 'Billie' Blackwell. Born in Naco, Arizona, in 1920. Dual citizen of USA and Mexico. Occupation: rancher. First female licensed pilot in Texas, 1938.FBI employee, Washington DC, 1940.
Enlisted pilot, USA Women's Air Service Program WWII. Red Cross Lifeguard Instructor, Los Alamos, New Mexico, 1940s. Married to Jack Blackwell 65 years. Mother of four children. What a life! All that involvement with the FBI and Los Alamos in the 40s suggests we might not have heard the full story...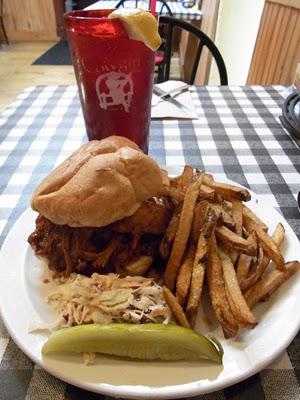 And finally, what is the food like here? Well, for starters, Pam says they have made the best Margaritas so far.
But for me, the food was h
earty, but too much. This is actually what I had for lunch on the day I came to take the photos, as we didn't have our cameras with us on the Friday night. This is a 'pulled pork sandwich'. It consists of five times too much smoky, tender, pull-apart BBQ pork, coleslaw, half a pickle and fries. I actually pulled away four-fifths of the pork from the burger (er, sandwich) and ate it with a knife and fork. I don't think I'll be eating all that much BBQ here in the USA, as everyone here seems to love slathering meat with sweet barbecue sauces, and I don't. I'm a savoury flavour kind of guy, and so barbecue is probably not meant for me, which may turn out to be very good news for my already hearty waistline.
So what's in the big red drink container? Iced tea, of course. Yummy and refreshing, as always.
PS: you might have noticed few little changes to the way the blog looks today. As well as updating the map, we've changed the main photo at the very top of the page. On this trip I'm carrying around a diecast toy model of a 1957 Corvette car (much like Gulliver our gnome). So far we've photographed the car parked in Hawaii, at Vegas, Grand Canyon and Santa Fe. So, yesterday
I sent these photos to my mate Ben Hewett, the Photoshop wizard where I work.
Ben then improved the Grand Canyon shot, quickly taking some photos of Pam and I from the blog, dropping us into the Grand Canyon photo, and presto! We now have the perfect header photo that will last us all the time we are on the road. Thanks for that Benno, brilliant work!