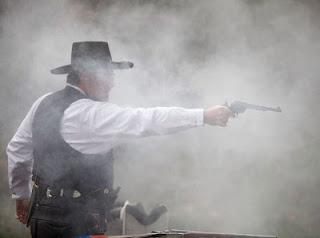 The Herald Net reports
Shortly after a mandatory safety meeting and the pledge of allegiance, shots ring out in heart-quickening succession. Not just a few. For nearly half a minute, a shooter armed with a rifle, shotgun and two pistols, fires at every target in a "stage."
He is being timed and observed for misses and miscues of procedure, all affecting his score.
Gun smoke blends with a few curls of cigar smoke where a dozen cowboys and cowgirls watch and wait for a turn to find out how they stack up against the fastest shooters in the West -- at least in west Marysville on this particular Sunday at the Marysville Rifle Range. The range is home to the Smokey Point Desperados, an affiliate of the Single Action Shooting Society (SASS).
The sport is called Cowboy Action Shooting, and even cowgirl action shooters, for the most part, are happy with the cowboy name. As implied, it involves a lot of shooting, but it is also an Old West social gathering. Every member of SASS has a unique registered alias of his or her own creation, and they wear authentic-as-possible western attire, right down to the fibers used to make them.
What do you think? Does this "sport" accentuate the fantasy aspect of gun ownership and use? Don't you find it a little weird?
Please leave a comment?