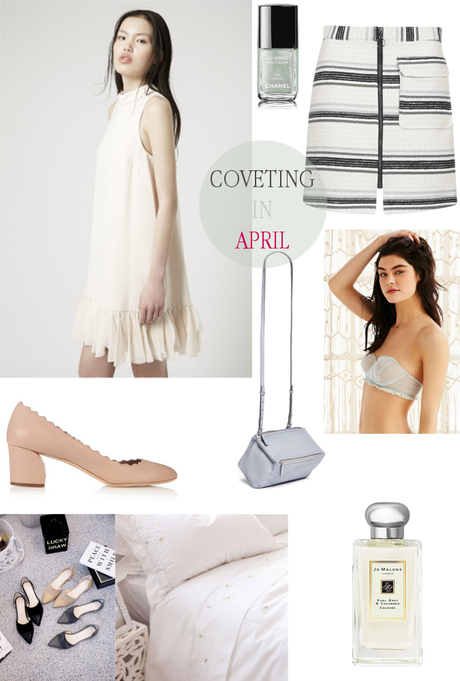 Currently Coveting: April 2015.
Happy post-Easter weekend ladies and gents! As it's currently unbearably humid outside, I thought I'd recline indoors today and do a spot of online browsing. It's Sod's Law that if you want to buy something there'll be nothing in the shops but when you're attempting to save for "investment purchases" (more on that soon) and upcoming holidays - YAY! - you'll want everything under the sun. I'm somewhere in between at the moment, I think. It's kinda too hot to carry on with my current wardrobe offerings yet I've always
always
struggled with dressing for heat. Help.
While I'm not completely ready to hop into springtime colours just yet, this Rollneck Petal Hem Dress (£68) from Topshop ticks all the right boxes for lighter dressing. I actually really adore little rollnecks and they're ideal for Hong Kong where no-one really cracks out the décolletage no matter how hot it is. I might have a little look for this when I'm next in CWB or Central and hope that they have it in a Petite size! Short girl problems when dress shopping ;) This Drop Waist Midi Dress (USD48) from Bubble N Chic at Something Sweet also looks promising! On the opposite side of the spectrum, I'm
still
into the stripes and cropped top look and this Striped Zip Through Skirt (£35) is too sweet. Kinda imagining it with a periwinkle blue ribbed cropped top and my white Lacoste trainers!
I'm currently really into lingerie shopping because of the whole hotter-than-the-sun thing. It's probably pretty likely that I'll be wearing skinny-strapped things or looser clothing so I'm trying to stock up on pretty strapless numbers a la this
Barbara Strapless Bra
from Velvette at Urban Outfitters (SWOON) or things with statement straps, no underwiring, you know, lingerie that can be seen. TMI? Idk anymore. Speaking of barely there, these Pointed Toe d'Orsay Flats (USD46) from CHUUU at Something Sweet are high on my list for summer wearing. Not sure how one combats insane heat and looks presentable for work but I'm still going to try dammit.
As with all good Daisybutter posts, a wishlist wouldn't be complete without some luxury wishes. Hong Kong weather means you probably don't need a duvet of any sort by about May but I'm one of those guys that NEEDS something weighty on top of them - ooerrr! - to be able to catch some zzz's. I fell in LOVE with this super overpriced but design-appropriate
Daisies Embroidery Bed Linen
from Zara and am trying to think of ways to get them in my life. A completely nonsensical addition to the list but I still wanted to pay homage to its beauty, the Pandora Sugar (HKD9690) by Givenchy is insanely beautiful. I'm not in the market for another luxury leather but, I mean, look at her! ♥ In a similar vein, I tried these Chloé
Lauren scalloped edge leather pumps
(HKD3762) on a few days ago and realised that you're not a grown-up until you own the perfect nude heels, and these are those. One for the extended wishlist methinks.
Last but not least, a segment for the beauty enthusiasts around these parts. Slap on the wrist for being an awful blogger but how had I not smelt this Jo Malone fragrance?! The Earl Grey & Cucumber is like my spirit fragrance! Again, I'm wondering if I can justify the pricetag but this has potential to become my new signature scent and I'm A'OK about that. Finally, the one that got away: CHANEL's Le Vernis in Paradisio (£18). What is it about CHANEL's glossy black topped bottles that draw me in?! I know the lasting power is almost non-existent but this pearly azure blue color is so perfect.
What's your favorite pick from my list & what are you coveting this month?
x