Yup, we did it again. Another link-tastic day. This time the theme was cover-ups and cozies. Did you follow the hashtag #sewingcoverup and catch our tweets to all the fun covers to make?
Covers for you, your pet and around your home. If you weren't able to follow all our tweets or missed one or two, no worries because we've rounded them up here below for you. Click through the list and see what you can put under wraps.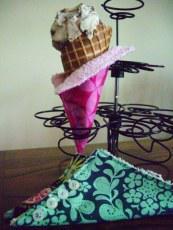 Ice cream cone cozies from Spincushion
Lots of iPad covers
Three links for golf club covers! Perfect for Father's Day pressies. CraftStylish' version of upcycled sweaters, a simple pattern from CraftyMoms and Babylock's fuzzy covers for Dad
Stethoscope cover - who doesn't need one?

Keep the yuckies away with a grocery cart cover
Love these ice cream cone cozies from Spincushion! Using terrycloth is a great idea, too! 
Psst! Since we're talking about treats, here's an extra link that wasn't tweeted: a freeze pop cover from Under The Table and Dreaming…keeps fingers from getting cold!
Keep your hands from burning in your car with a steering wheel cover. Will u make it in sports-themed, frilly or fuzzy?
It's picnic time! Need to have food cover-ups to keep the pesky bugs out of the yummy food.  Use an appliqué if you don't have an embroidery machine.
Between grilling, cover your BBQ with a fun cover. Make it outdoor fabric to withstand the sun. Or how about foregoing the pattern and just drape your BBQ grill? It's a short, wide figure that has a few fitting needs.

Who remembers swim caps? Here's a swim cap pattern from Sundrop Textiles in Canada. Make it from waterproof Lycra nylon.
Some simple beach cover-ups for you and little tykes.
Makeover your mousepad, especially if it's one that you got from the office. Cover it with pretty fabric to brighten your day.
Keep the sun out of baby's eyes with this baby car seat/carrier cover from blogger Vanilla Joy.
Freshen your closet with lavender-filled hanger covers.
To finish our #sewingcoverups tweet day: a Swiffer mop cover from Berlin's Whimsy!
We hope you had fun following along with our cover-up tweets. Some were pretty unusual, weren't they? Just shows that if you can sew, you can make anything you can imagine. Now, go cover something!
Sew long for now! Are you following us on Twitter? Follow @sewchicago