Hey guys! Today I'm honored to be a part of the cover reveal for the exciting new tale by Karice Bolton and hosted by the lovely Ashley over at BB Tours! I have been sucked in by Karice's book covers from day one, probably because they were created by none other than Claudia over at PhatPuppyArt. She does such phenomenal work that I could almost guarantee I'd buy any book she's gotten her hands on, regardless of content. 
I haven't had the chance to read any of Karice's novels just yet but I have the first one from this series and the first one from her Watchers series so I'll be diving into those as soon as humanly possible. Let's see what brilliance Claudia has come up with this time around, shall we?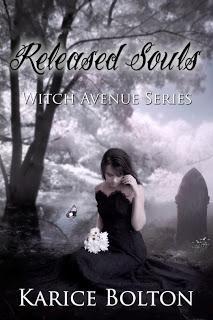 Released Souls
(Witch Avenue # 3)
by

Karice Bolton
(young adult, paranormal, witches)
Date of Publication: January 2013
Publisher
:

Bulldog Press
Synopsis
Triss and Logan's love is becoming stronger by the day as they harness the powers between them, but will that make them blind to the evil they're facing?
After uncovering startling information about her family, Triss is determined to right the wrongs of her ancestors. Triss and Logan uncover who has infiltrated the covens across the globe, and they realize the plans of the dark side are far more sinister than they'd ever imagined. As the power of this hidden world is exposed, Triss learns her role in the covens. With Logan, Dace and Bakula's assistance, Triss is now able to fully realize the abilities her ancestors have given her. It won't be long until the dark forces regain their strength, especially as their leader, Eben, continues his quest for a power that can never be revoked. Triss must stop him before it is too late.
Series
As you can see, this is book three in the Witch Avenue series. Book one, Lonely Souls, came out in June of 2012. Book two, Altered Souls, followed shortly after and not too long ago in October of this year. Here's the synopsis for book one:
It's two weeks before Triss turns 18, and her world is about to change into the most magical one imaginable as she readies herself to enter The Witch Avenue Order... that is until her mother's disappearance. Instead of celebrating her transformation, she finds herself spreading rose petals into her mother's empty grave.
When Logan, her best friend from junior high, moves back to town for college, he vows to help her find the answers she so desperately seeks surrounding her mother's disappearance. As they begin uncovering clues, it becomes apparent that the life of white magic they both grew up loving is not what the majority practices, and their lives are in danger.
With a haunting feeling that her mother may still be alive, she begins to hear a call to the wilderness. Triss realizes that in order to find the answers she needs, she must learn the ways of her ancestors and become the hunter, not the hunted before it's too late, and she becomes part of the lonely souls.
You can purchase books one and two here: Book One (FREE), Book Two ($2.99). Prices reflect

what they were at the time of this post. 
Author
Karice

 

Bolton

 is a paranormal romance/urban fantasy author living in the Pacific Northwest. All three books in The Watchers Trilogy are available now, Awakening, Legions, and Cataclysm. Lonely Souls, which is the first book in her new series Witch Avenue, was released in June 2012!
Karice

 married the love of her life who she met in high school, and she still can't get over how cute and funny he is. They have two English Bulldogs that are the cutest bullies in the world, and they use their cuteness to get what they want. 

Karice

 loves the snow and gravitates towards the stuff as often as possible! She enjoys skiing and tries really hard to snowboard, but often makes a nice little area to sit while everyone zips by on their board. She enjoys writing, and she also loves to read just about anything with print.  
Stalkage
[blog][facebook][twitter][goodreads]
And thennn...
So what do you guys think? This cover is absolutely breathtaking. Isn't Claudia's artwork amazing? I don't think I've ever not liked a book cover she's done! I really can't wait to read this series. It's definitely on the top of my TBR pile! Along with every other book she's written

!