If you're anything like me, the slow resurgence of Krampus into mainstream holiday festivities makes you very happy. It makes sense, given our recent freedom to be skeptical and embrace the darker sides of history (often the actual reality versus the mythologies of history we are taught in school). When I grew up in a Catholic school setting, my only alternative to being good was a stocking full of coal. Perhaps they sensed that if I thought I'd get a visit from a half goat, half man, my curiosity would get the better of me.
I look forward to reading this new anthology when it's out in November!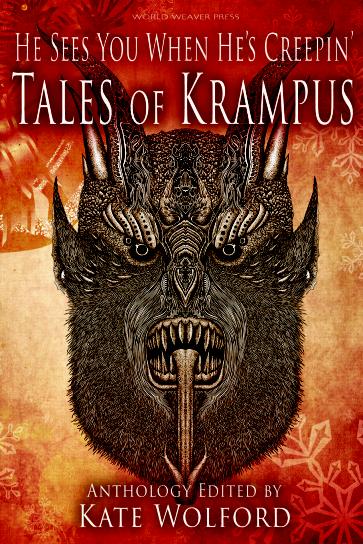 : TitleHe Sees You When He's Creepin': Tales of Krampus
Anthologist: Kate Wolford
Publisher: World Weaver Press
Publication Date: November 22, 2016
Book Description:
Krampus is the cloven-hoofed, curly-horned, and long-tongued dark companion of St. Nick. Sometimes a hero, sometimes a villain, within these pages, he's always more than just a sidekick. You'll meet manifestations of Santa's dark servant as he goes toe-to-toe with a bratty Cinderella, a guitar-slinging girl hero, a coffee shop-owning hipster, and sometimes even St. Nick himself. Whether you want a dash of horror or a hint of joy and redemption, these 12 new tales of Krampus will help you gear up for the most "wonderful" time of the year.
Featuring original stories by Steven Grimm, Lissa Marie Redmond, Beth Mann, Anya J. Davis, E.J. Hagadorn, S.E. Foley, Brad P. Christy, Ross Baxter, Nancy Brewka-Clark, Tamsin Showbrook, E.M. Eastick, and Jude Tulli.