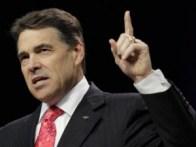 Gov. Rick Perry
It seems a redistricting plan signed by Texas Gov. Rick Perry (R) intentionally discriminated against Hispanic voters. So said a three-judge panel today in a unanimous decision. The judges found that seats belonging to white incumbent members of Congress were protected under the plan while districts belonging to incumbent minorities were targeted for changes.
The court said it was
"…persuaded by the totality of the evidence that the plan was enacted with discriminatory intent.
There was
"…sufficient evidence to conclude that the Congressional Plan was motivated, at least in part, by discriminatory intent."
It is clear that Texas Republicans  want to suppress minority representation in order to keep a rising Hispanic population from turning this red state into a blue one in the near future.
Texas' voter ID law is till on the books but is  being challenged by the Department of Justice.