This post may contain affiliate links. Please read my disclosure.
Crispy and cheesy oven baked courgette chips are a healthy alternative to fries or potato chips.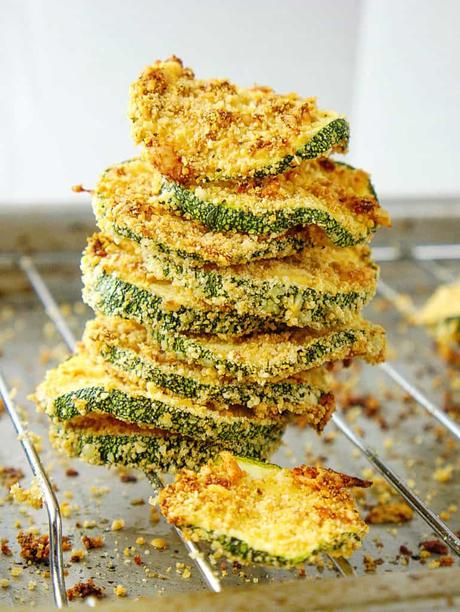 Sometimes I get a salty craving for something crispy. Tortilla chips, potato chips, French fries, would all quench my craving but my better judgement tells me I can find something healthier and nutritious that will taste just as good!
These courgette chips or zucchini chips meet all my healthy salty snack requirements. They're easy to make, baked (not fried), nutrient dense, and are they're simply delicious!
When you're craving something salty and want to reach for a bag of chips or French fries, give these easy baked courgette chips a try. Did I mention they're kid friendly too?!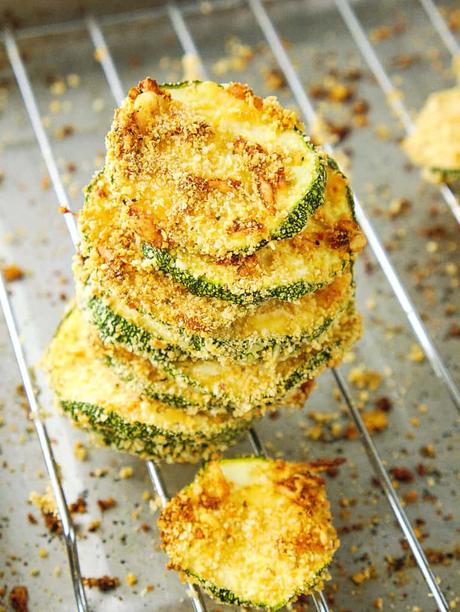 Tools and Equipment You'll Need For This Recipe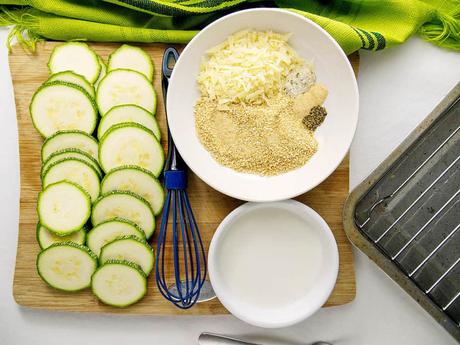 How to Make Courgette Chips - Step by Step
Step 1: Preheat oven to 425 degrees. Thinly and evenly slice zucchini using a mandolin or knife.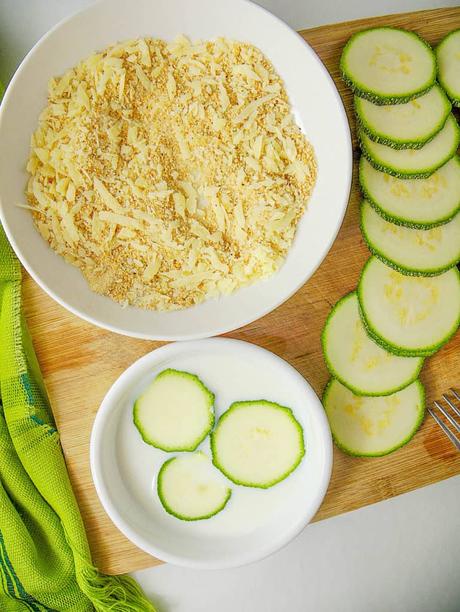 Step 2: Combine breadcrumbs, parmesan cheese, salt, garlic powder, and black pepper in a medium bowl, stirring with a whisk.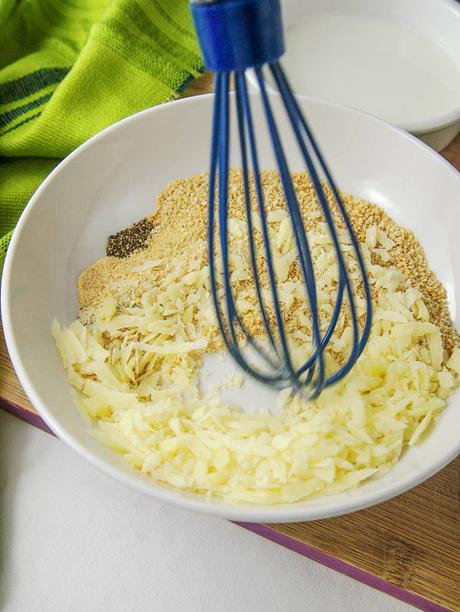 Step 3: Place milk in a shallow bowl. Dip zucchini slices in milk, and dredge in breadcrumb mixture.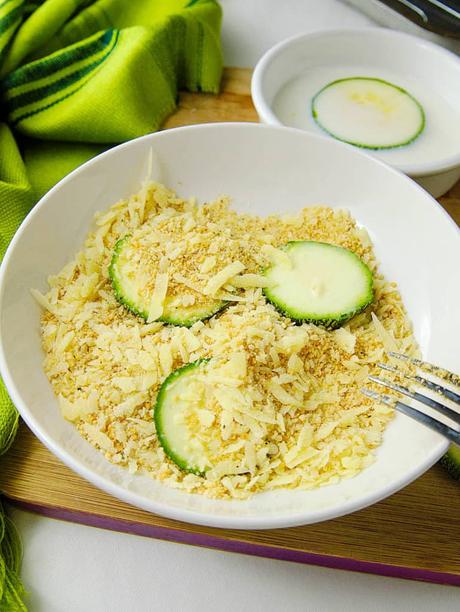 Step 4: Place coated slices on an ovenproof wire rack coated with cooking spray; place rack on a baking sheet.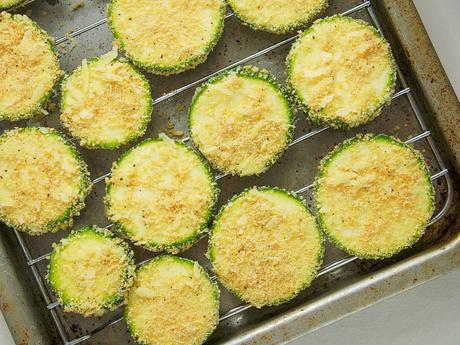 Step 5: Bake at 425° for 30 minutes or until browned and crisp. Serve immediately.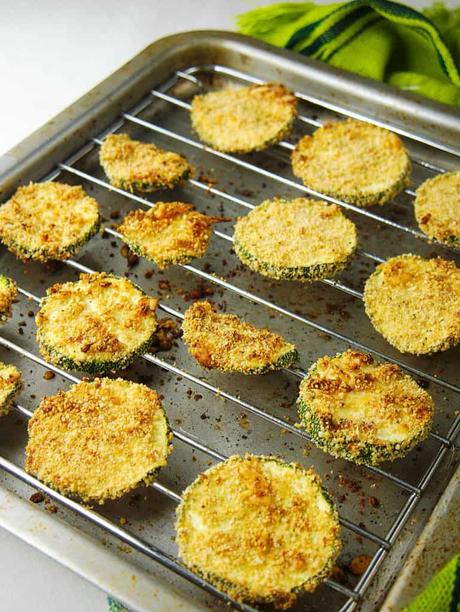 What makes these courgette chips a healthy alternative to regular chips?
Baked/Not Fried: Most chips are fried making them nice and crispy but loaded with fat and calories. These Zucchini chips are oven baked and include no oil at all!
Nutrient Dense Zucchini: Potatoes have their own nutrients, but they are more calorically dense than zucchini, and any nutrients they have are overshadowed when they're fried and covered in salt in the form of chips. These zucchini slices are rich in vitamins and nutrients including Vitamin A and C, and high in antioxidants!
Reduced Sodium: Unlike regular chips that are coated in salt, these are lightly salted but still full of flavor.
Will kids enjoy these courgette chips?
Yes! Kids will love this crispy parmesan zucchini chips! They're crispy and cheesy making them kid friendly. Your kiddos can choose their own dipping sauce to make them extra special, and you'll be happy the kids are getting an extra serving of vegetables with their snack!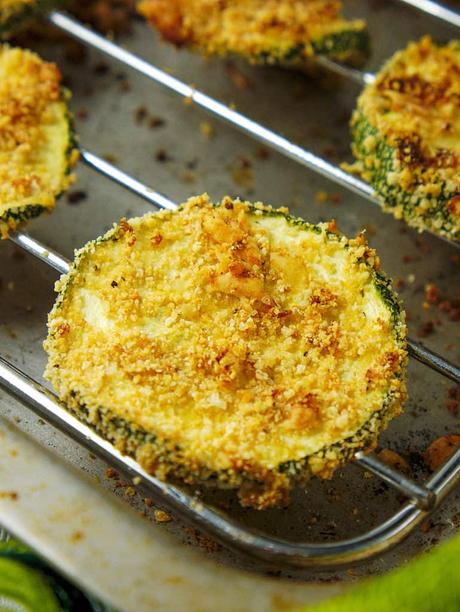 What is a courgette?
A courgette is another name for zucchini. Often called courgette in Great Britain, Ireland, and New Zealand it gets its name from the French word courgette which means courage. In the US, Canada, and Australia we more often use the word zucchini.
How do you get these chips to be crispy?
Using a wire rack to place the chips on while baking will ensure that they crispy up evenly on all sides. Zucchini contain a lot of water, so another option is to press them before preparing them to bake.
After you slice the zucchini sandwich them between paper towels or two clean dish towels. Place a heavy pan on top and allow to sit for a minimum of 15 minutes.
This will press the excess water from the zucchini helping them to come out of the oven nice and crispy.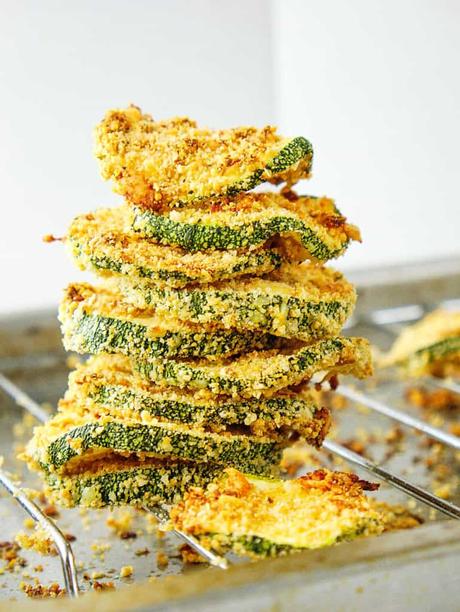 How do you serve courgette chips?
These chips taste great plain and simple straight from the oven. The parmesan gives them a nice flavor. You can also enjoy them with a dipping sauce. I suggest warming up a side of organic marinara sauce, or even plain yogurt whisked together with garlic, salt, and pepper.
Top Tips and Variations
Use a mandolin to get perfectly even thin slices.
Slice 1/4 inch thick.
Use seasoned salt for added flavor.
Try a variety of dipping sauces. My favorite is marinara.
Press the zucchini prior to baking for a crispy consistency.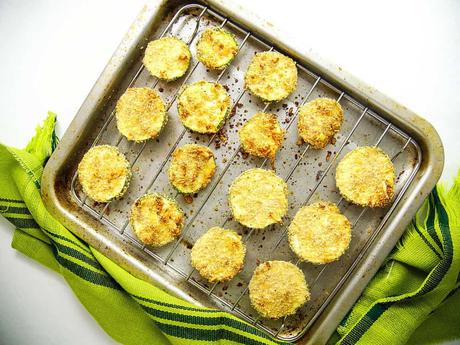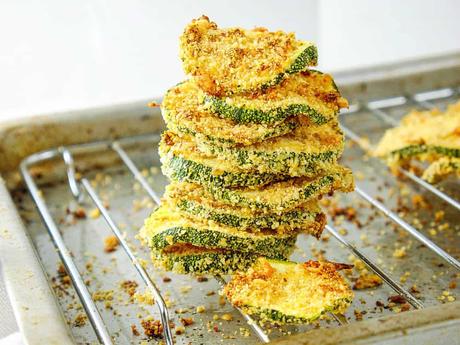 Be sure to check out these other healthy snack ideas!
If you have tried these Zucchini Chips, or any other recipe on my blog, then please rate it and let me know how it turned out in the comments below! You can also FOLLOW ME on FACEBOOK, TWITTER, INSTAGRAM and PINTEREST to see more delicious, healthy, family friendly food!
Baked Courgette Chips with Parmesan