It's true what they say: a good roast dinner is all about timing. If there's one thing that's always impressed me, it's my mum's uncanny ability to time a roast dinner. Must be a mom thing, right?
So when Waitrose asked me to take part in their #ThanksMum campaign and create a special moment I'd like to share with my mum, I couldn't think of a better way to say thank you than to prepare a roast dinner. It's entirely thanks to my mom that I've always been able to cook and that I'm not afraid to try new ingredients. In fact, I always remember a story my mom told me about her mom bringing home a pizza back in the 1950s when no one else they knew had even heard of it. It must run in the family!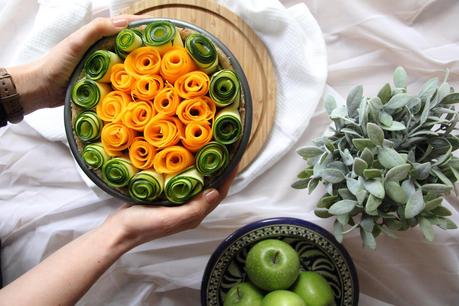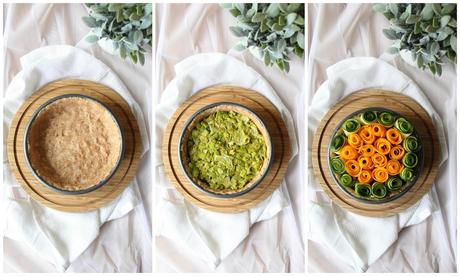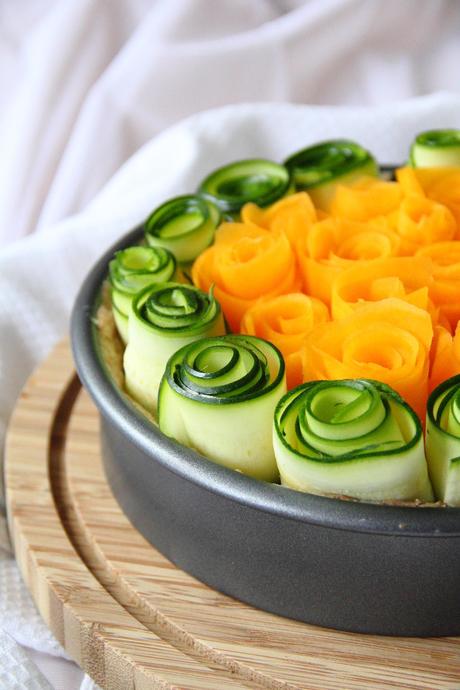 This Mother's Day roast is not traditional (it's vegan for a start!), but it is light and bursting with fresh flavours making it ideal for spring. The Courgette and Butternut Squash Rose Tart makes a stunning centrepiece for any table and the "roses" are surprisingly simple yet effective. The pasty for the vegan rose tart is nutty and rustic – perfect edges are not what we're looking for here!
To complete the seasonal vegan roast dinner, I accompanied the vegan rose tart with lemon roast potatoes and purple kale.  Naturally, like most of my vegan recipes, it's a pretty versatile affair… You could add lots of additional vegetables and steam them at the same time as the kale. Likewise, if you can't find purple kale then use the regular stuff instead – or swap it altogether for a different vegetable. For the potatoes, I roasted whole Charlotte potatoes with garlic, lemon and lemon thyme. Charlotte potatoes have the most delicious buttery texture when roasted but, if you can't get hold of Charlotte potatoes, new potatoes will be a worthy substitute.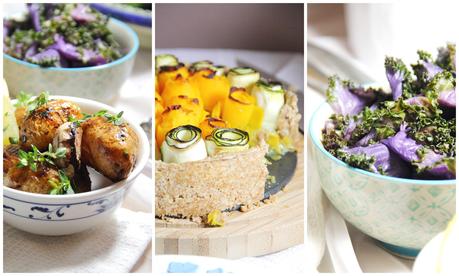 Courgette and Butternut Squash Rose Tart with Lemon Roast Potatoes | Vegan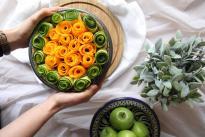 Save
Print
Prep time 40 mins Cook time 1 hour 5 mins Total time 1 hour 45 mins   A light vegan roast dinner bursting with flavor. The courgette and butternut squash rose tart makes a stunning centrepiece. Author:
The Tofu Diaries
Recipe type:
Main
Cuisine:
Vegan
Serves:
4
Ingredients
For the pastry:
250g wholemeal spelt flour
75g coconut oil
75g dairy-free butter
Pinch salt
3 tbsp cold water
For the tart filling:
1 tbsp olive oil
1 large courgette
1 butternut squash neck (the firm cylindrical part), peeled
2 leeks, medium diced
3 tbsp vegan pesto
Olive oil for brushing
For the potatoes:
650g Charlotte potatoes, washed
2 tbsp olive oil
1 lemon, cut into six wedges
6 cloves garlic
Black pepper to taste
2 tbsp lemon thyme
200g purple kale
Method
Preheat the oven to 200C/400F/Gas Mark 6.
In a large bowl, add the flour, coconut oil, dairy-free butter and salt. Using your fingertips, rub the oil and butter together with the flour until it forms a breadcrumb-like consistency. Add the water and bring the dough together with your hands to form a ball. Place in the fridge.
Place a frying pan over a medium-high heat and add 1 tbsp olive oil. Once hot, add the chopped leeks. Cook for five minutes until softened, stirring frequently. Once softened, add the pesto and mix in thoroughly. Set to one side.
Use a vegetable peeler to slice the courgette and butternut squash into thin strips.
Grease an 8" loose-bottomed tin or a tart tin. Dust a rolling pin and surface with a little extra flour. Carefully roll out the pastry and cover the bottom and sides of the tin with an even layer. Scoop the leek mixture onto the pastry and spread evenly.
To create the roses, roll a strip of courgette tightly. Take another strip and roll it tightly around the first one. You will need two or three strips to create one rose, depending on the length of the pieces. Repeat until you have enough courgette roses for an outer ring (see pictures). Then repeat with the strips of butternut squash until you have enough roses and the tart is filled. Brush the top of the roses lightly with a little oil.
In a large roasting tin, add the potatoes, 2 tbsp olive oil, lemon wedges, whole (unpeeled) garlic cloves and black pepper. Mix to ensure everything is coated in the oil.
Place the potatoes and the tart into the oven, with the potatoes on the top shelf and the tart on a lower shelf.
Cook for one hour or until the potatoes are crisp on the outside and soft in the middle and the pastry of the tart has cooked thoroughly. Use this hour to wash up and prepare a dessert of your choice for after the roast, following steps 10 and 11 along the way!
After 40 minutes, add the lemon thyme to the roasting potatoes, mash the garlic cloves a little and give the tray a shake to roll the potatoes around.
After 55 minutes, steam the kale using a steamer or in a colander inside a saucepan filled with a little water. Steam for around 5 minutes until tender.
Remove the potatoes and tart from the oven.
Serve!
Notes I used shop-bought free from pesto, but you could use homemade if you prefer. 3.5.3226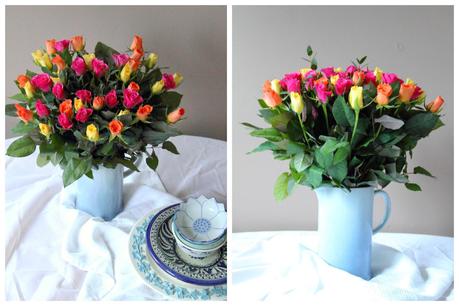 Do you want to send an extra special thank you this Mother's Day? Waitrose are running a lovely competition where you can win a bouquet and hamper, simply by sharing how you would say #ThanksMum. View the full competitions details here: http://www.waitrose.com/thanksmum
This beautiful Mother's Day bouquet and many more are available on their dedicated website, WaitroseFlorist.
Pin this post for later:



Looking for more delicious inspiration for special occasions? You might like one of these vegan centrepieces: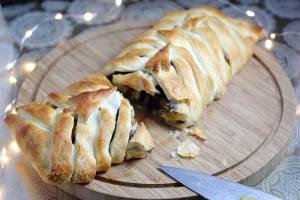 Maple Parsnip & Chestnut Wellington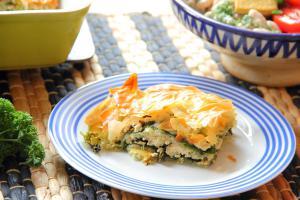 Turkish Tofu & Spinach Borek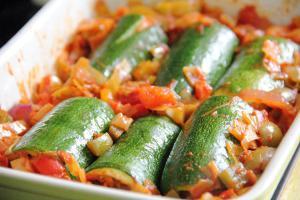 Courgette Cannelloni
This post is in collaboration with Waitrose. All picture, thoughts, recipes, etc. are my own. Thanks to the brands who support The Tofu Diaries and keep the site going!