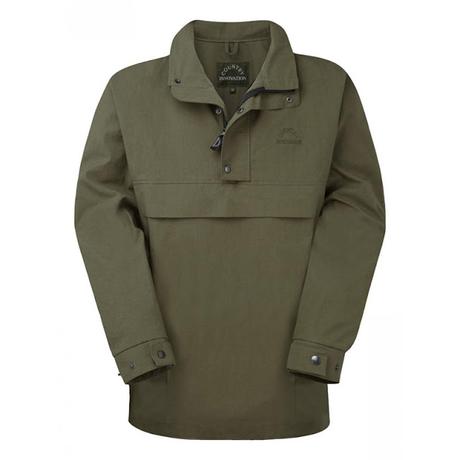 I'm sure I am not alone as someone who struggles when temperatures hit a certain level, not too cold, but not yet warm enough for wandering around in t-shirts, the type of temperature that means a coat would leave you a sweaty mess but short sleeves would leave you shivering, so when I was offered the opportunity to try out the
Country Innovations Raptor Smock
, I jumped at the chance.
Country Innovations Raptor Smock - Review
Billed as "Designed to be thrown over the top of a base or mid layer to give you a great protective outer." it seems like an ideal jacket for spring/autumn, that time of year where sometimes you want an extra layer but nothing too heavy.
Before I crack on with my thoughts/review, have a quick look at the technical specs below.
Technical Specifications
Fabric
-
Rip-Tec
Features
:
Tough and Durable
Windproof
Large Front Kangaroo Pocket 
Side Entry Zippered Handwarmer Pockets
Side Zips – for easy on/off
Articulated Arms – for ease of movement
High Collar
Zippered Neck Opening with Placket – for protection
Generous Fit – for comfort
Long Length and Scalloped Back – for comfort
Press Stud Adjustable Cuffs
Aftercare
-
Machines Washable
My Thoughts
My first time wearing the jacket I was quite impressed with the windproof nature, I was out in a rather chilly, stiff wind, that whipped across the open waters of my regular haunt, the Floodplain Forest Nature Reserve, the jacket, designed like many
Country Innovations
products to be tough and hardy, proved effective at keeping that breeze off my body, however it isn't designed to be that warm, so the cold did start to creep in a little, a longer sleeved mid or base layer under would have kept me warm.
I have, since that first day, had the opportunity to wear the Raptor Smock more often (the days have warmed up) and it is indeed great at keeping the wind off, and me warm enough. But the reality is that this is NOT where the Country Innovation Raptor Smock shines, no that is down to the hard wearing, tough fabric.
Wildlife Photographer Use
As regular readers of this blog will know I often get down and dirty with my pursuit of wildlife photography, I sometimes find myself thick in the undergrowth looking for insects, or trying to remain concealed from other wildlife, well this IS where the Raptor smock shines.
Not only is the color great for hiding my form, but the material is indeed pretty tough, I've crawled amongst some pretty spiky thorns and not worried too much about them ripping the fabric, the real test will come as nettles spring up and the brambles become more voracious in their growth, but so far so good (incidentally I used to own a pair of Country Innovations trousers where I could literally sit in gorse without feeling it!).
Style
So what else does the Raptor smock offer? well there are two excellent pockets, one a "through" pocket great for slipping the hands in to keep warm or in my case holding my smaller landscape camera (Panasonic Lumix GF3), the second a zip up pouch pocket, ideal for holding notepads, spare batteries or memory cards.
It's a comfortable jacket that also looks pretty good I think, I like the high zip up collar, and think I will manage to keep hold of my style guru mantle as I wander the fells, and fields over the coming seasons.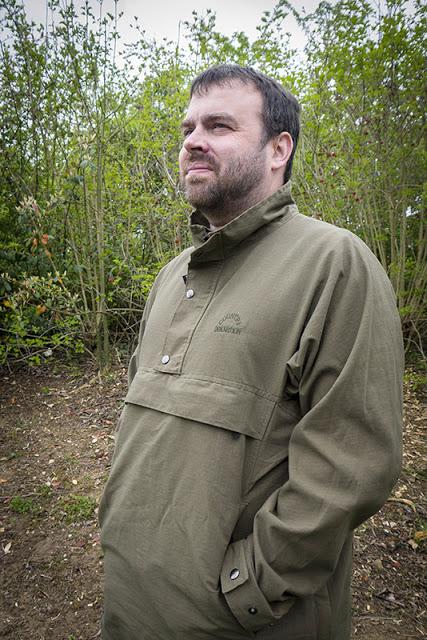 Me wearing the Country Innovation Raptor Smock
Draw Backs
There is however one issue. I look like a complete idiot when I take it off! This isn't really a fault of the jacket as it has been designed with two long zips at the sides to make getting it on and off easier, and they do help (my previous attempts to wear smock type jackets have made me look a lot worse!), no, this is a fault with the user, I have yet to find a way to make removing the jacket look cool.
And then there is the price! Retailing on the Country Innovations website at £145 currently (April 2017) it is not cheap, and costs more than many winter coats, but sometimes quality does cost, and if this lasts as well as other items I have had from Country innovations in the past then the costs becomes reasonable over time.
Conclusion
Light, hard wearing and stylish; great for walking and even better for protection when clambering through the undergrowth the Country Innovation Raptor Smock would look good on any outdoors enthusiast. But it is in the practical applications that the jacket really excels. It is pricey but sometimes quality pays for itself over the years, my previous Country Innovations product lasted well over 10 years of heavy use.
I'm Walking 2500 miles in 2017 to raise money for Birding For All - Read about it here - Please consider donating through My Donate
If you enjoyed this post, or found it useful, then please do share it with your friends using the links below
Please feel free to leave me a comment, I really appreciate the interaction and will reply as soon as I can. I apologize for any issues with posting comments, but sometimes Google's blogger platform plays up. ALL comments are moderated for SPAM, so please don't bother if the comment is unrelated to the post it will likely be deleted.