"I love a road trip," said Pammy, as we glided in our car through northern New South Wales on our way to Brisbane. And she's right, we both do like a good road journey together. As regular readers might remember, we staged an epic eight-week holiday in September, October and November 2011, logging up 6000km as we crossed the USA from west to east. 
This time we're much less ambitious, just heading north a mere thousand kilometres or so to see friends, a fabulous art exhibition or two and all the while enjoying a well-earned break after a truly hectic time leading up to the closure of my beloved old magazine, 'Burke's Backyard', whose very last issue hits the newsstands next week.
The one garden-worthy thing we wanted to post about this time, though, is how wonderfully pretty, green and healthy the New South Wales countryside is looking right now. As is our normal policy we steer clear of the main highways wherever we can and take the longer route through smaller towns and quieter backroads, and the small towns of New South Wales are looking so flower-filled, lushly green and delightful right now. Here's a couple of photos – plus one of my trademark 'pan shot with commentary' videos – to show you where we've been.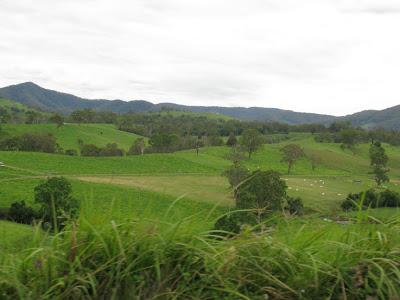 Lush green pastures everwhere. As every Australian knows,
it doesn't always look this pretty, especially in late summer,
when so often it can be straw coloured and sunburned.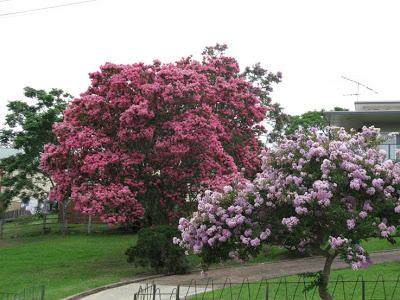 Everywhere the crepe myrtles were in bloom in their usual
array of light, mid and dark pinks, reds and whites. Some
are handsome trees, more often they're smaller shrubs with
distinct trunks. These two were spotted in Gloucester.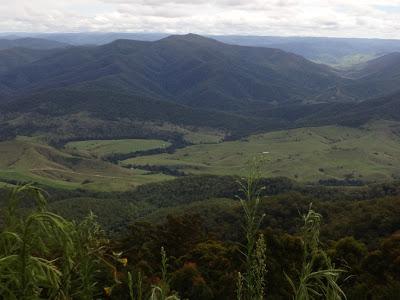 Our route north took us up Buckett's Way, then Thunderbolt's
Way, through Stroud, Gloucester, Walcha, Uralla then onto
our overnight stay in Armidale. At the top of Thunderbolt's Way
there's a roadside lookout where we stopped to take this
and other photos and – you've been warned – my pan shot.
So without further ado, 20 seconds of live action, folks.
(By the way, I've been told my pan shot links don't work in the emailed version of my blog, so here's a link to the cinematic masterpiece, if you really want to see it). 
http://youtu.be/zhVRwNGNOlw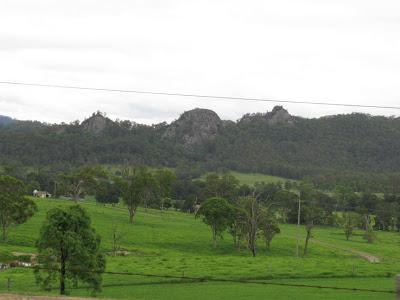 Pam's a volcano fan but it's a tragedy that such an avid
volcano watcher has no active volcanoes to enjoy here in
Australia. Our continent is such a very ancient land that
almost all our volcanoes are well and truly extinct, and all
that's left are granite 'plugs' such as you see here. These are
the solidified cores which lurked deep within what must
have been awesomely angry, big mountains. All that anger,
rock and soil has weathered away over millions of years and
we're left with these thumbs of rock poking up out of the trees.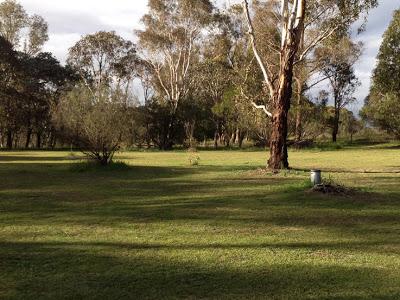 Our lovely destination last night was Annie's B&B, just on the
outskirts of Armidale. It's set on a property of several acres,
where gum trees, lawns, magpies and cockatoos create a
soothing bushland atmosphere. Had a good night's sleep
here we did, then in the morning the magpies sang...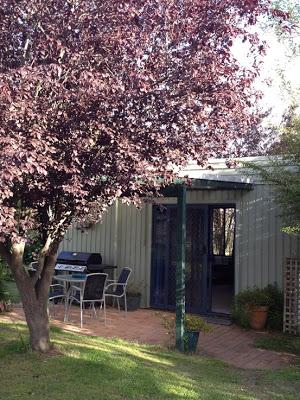 Our little self-contained cabin had all the mod
cons inside, a nice ornamental Prunus by the
front door, barbecue (which we didn't use)
tables and chairs outside. Though we only
stayed one night it felt like a place we could
have easily spent a lazy week or so.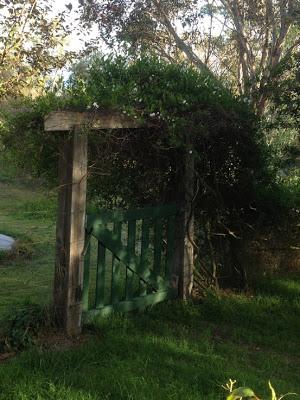 When Aussies do rustic arbours they head
straight for the railway sleeper section of the
timber yard. Nevertheless a vigorous
climber needs a sturdy frame and it has one
here, and the effect is bound to last for years.
We're in Brisbane now just for a few days. The view outside our serviced apartment is of a giant crane towering above a construction site, with more serviced apartment skyscrapers beyond. I'd rather be in Armidale at Annie's, surrounded by gum trees and magpies if I had the choice, but at least this skyscraper we're in is just one block from the Botanic Gardens, 10 minutes from Southbank and the art galleries we plan to visit, so we're planning to have a lovely few days here, and if we spot anything in the botanic gardens worth sharing with you, rest assured we'll show it to you soon.