Text Post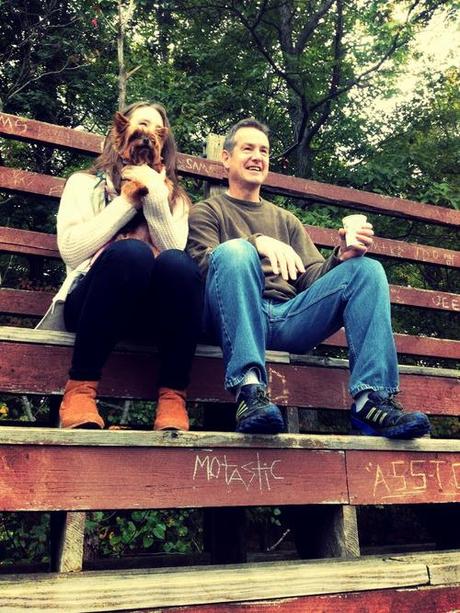 Going home to Chappaqua can be, for various reasons, kind of depressing. For many years, it was because I would fight with my parents like a gigantic overgrown baby. Now that I'm dating Caleb, however, we've started getting along, which is really nice. It could be that I'm happier, so they're happier. Or it could be that they like me better now that I seem like an adult. Or it could be that Caleb brought Franke into their lives, and Franke serves as the ultimate buffer between us.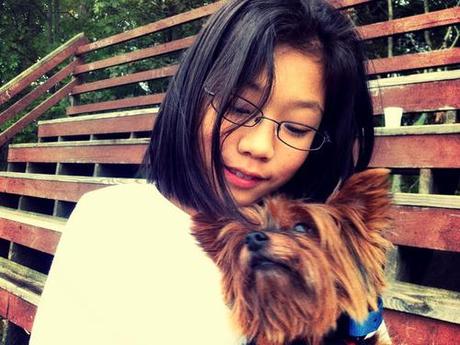 Now, rather than talking to me about delicate topics directly, my mother talks to me using Franke as an example. "Dogs are a lot of work, right?" she says. "Do you think you'd ever get another dog knowing how much work it is?"
Subtexts to be read into this:
Do you want children?
I want grandchildren
You'll need my help taking care of them
Why don't you just move home?
I assume this is kind of what happens with most mothers when their daughters come of childbearing age, and we're just lucky to have Franke as a negotiating tool.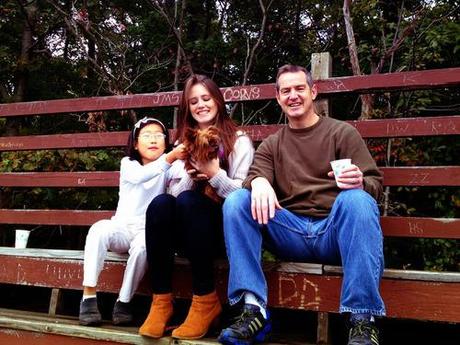 Anyway, Caleb and I went home yesterday to see my sister KiKi for her ninth birthday. Kiki, as I've mentioned before, is adopted from South Korea. Her and my other sister Riah (who are incidentally full-bloodied sisters) are the joy of everyone's life. They are smart, and pretty, and really cute. They also share none of our genetic flaws, which include—potentially—schizophrenia, bipolar disorder, obsessive compulsive disorder, agoraphobia, depression, and a propensity towards revolving conflict with violence using tools like knives, cartoons of milk, pots, and heavy books. Let's just say that it's easier to love a child who you know won't lock you in a closet for three hours because you annoyed her, and then cut off your hair, only to give it back to you in a crystal box for your birthday.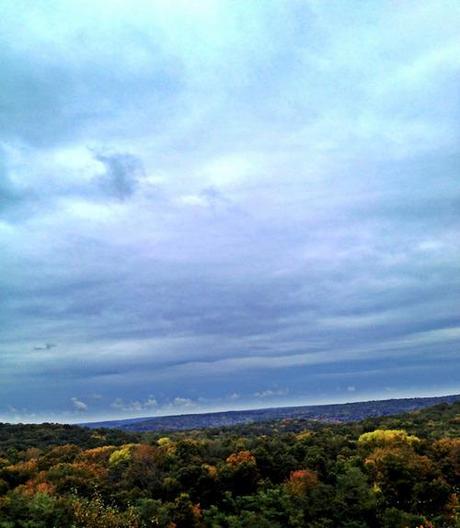 My parents, to celebrate, decided to take us all on a hike in Westmoreland, a preserve in Bedford. We obviously brought Franke, who is about as capable of hiking a mountain as a rat is of scaling a subway platform. In other words, very capable.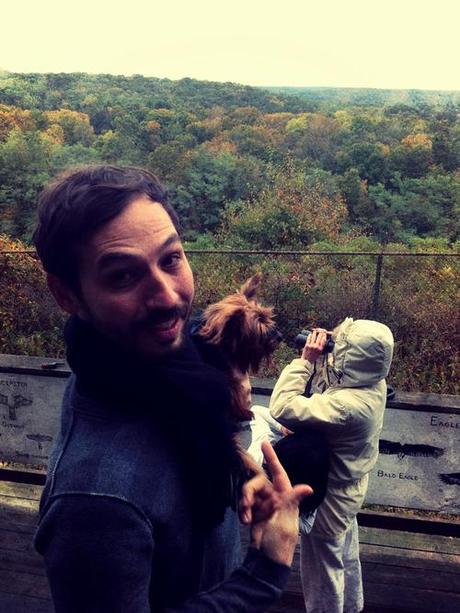 Hiking is something of a family pasttime. We grew up with a 200 acre nature preserve, owned by the town, surrounding our house. When you have a lot of mental disorders, psychiatrists suggest you spend up to three hours a day wearing yourself out with physical activities, so that your mind doesn't race. Hiking was merely the most convenient—and effective—way of doing that as a family. It's also really nice way to spend time outdoors.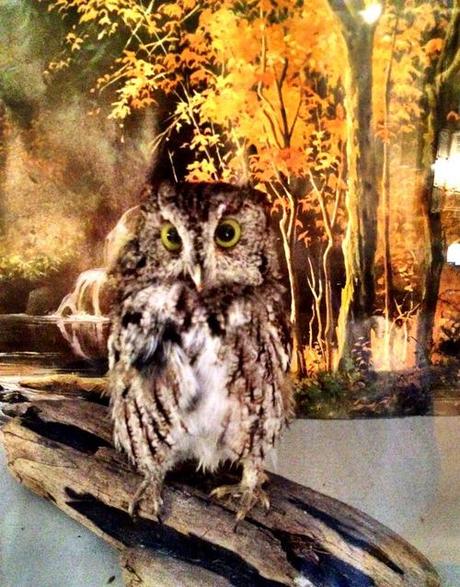 Lately, my parents have been spending more and more time cheating on our nature preserve with Westmoreland. They do so because they became friends with the naturalist who does tours there. His name is Steve, and he has a bunny rabbit, two ferrets, three dogs, a turtle, and a baby raccoon living in his garage.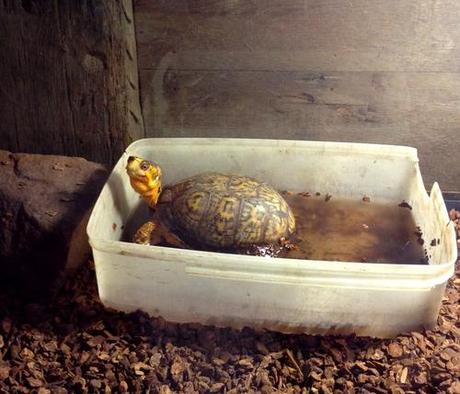 He has a soft voice.
He has a museum full of taxidermy animals.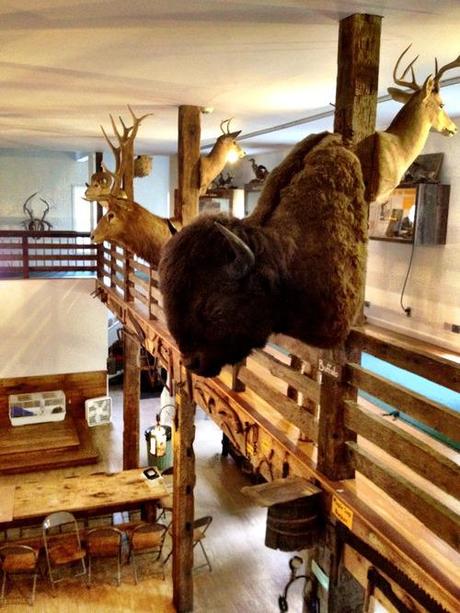 He has a kumbaya circle.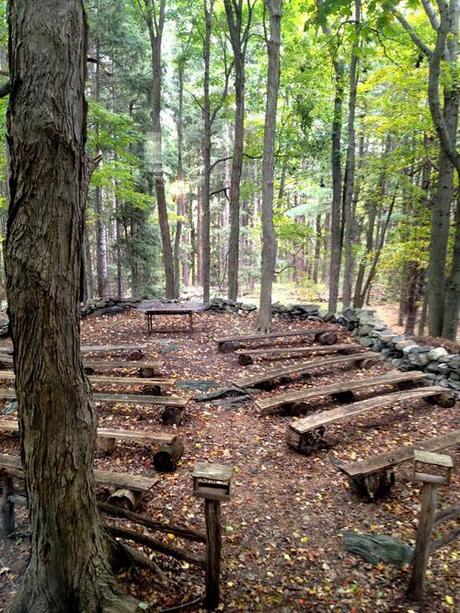 He is, surprisingly, not a weirdo.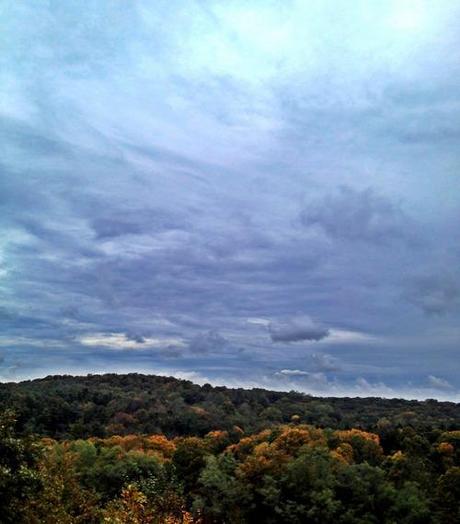 He showed my parents a secret spot, where two bird watchers sit every day to count migrating hawks. That sounds wrong, because do hawks migrate? In any case, it's a short walk from the parking lot. Although it's located directly over 684, a bustling highway, it has killer views all the way out to the Long Island Sound. My parents, in typical OCD fashion, have ritualistically been going there every Sunday for months.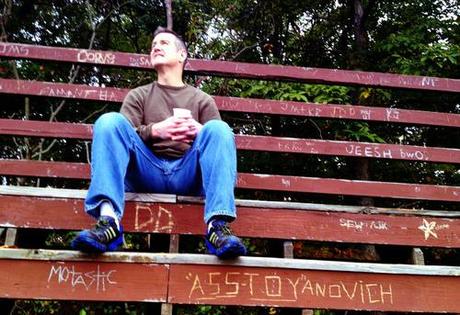 After a long and pointless argument about politics at the house—my father is the only person I know who utilizes my debating technique, which is called "just argue the opposite of whatever anyone else in the room is saying"—my mom assured us she'd swing my dad's vote to Obama by giving him a back rub the day before the election. Conflict resolved, we headed out to Westmoreland. 
Upon arrival, Franke immediately found a skunk patch, and rolled around in it gleefully, causing everyone to coo over how much she was going to stink on the car ride home. My dad pulled out a thermal mug, and poured black coffee into plastic cups, which he handed to Caleb and I. The men in my family—my father and two brothers—never directly express interest in anything Caleb does, because then they'd have to fully admit that he exists. But they're observant, and loving. My dad knows Caleb is a coffee snob, so he's taken to keeping a special bag of expensive beans that he roasts only when we come to visit. The rest of the time, he drinks regular stuff from the deli, loaded up with cream and sugar.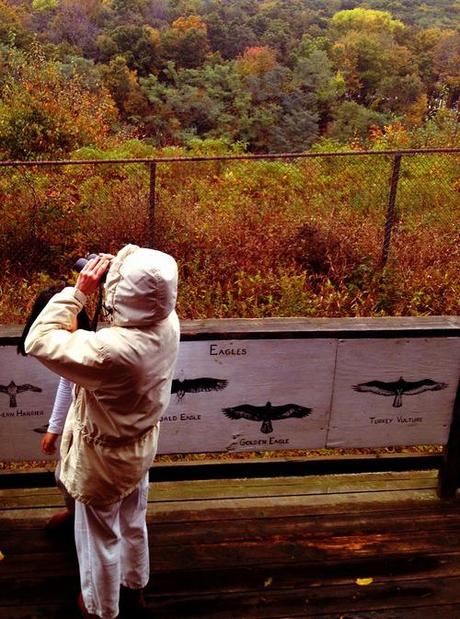 My mom brought out her binoculars, and handed them to Caleb, who oo'ed and aah'ed at the sights—the changing leaves, the migrating birds, the nuclear power plant on the shoreline. "I'll get you a pair for Christmas," my Mom told him. My father, half blind like me, shouted, "Look at how big that hawk is!" when a passenger plane flew overhead.
Even with the proximity of the highway; even with the chilly weather; even with my memory, which was trying to tug me down into a dark place with recollections of reviled early morning bird watching classes in my childhood; I felt content, encircled. The baby girls passed Franke between them. She kissed their hands. I kissed their heads. My dad watched us, basking in the glow of the strange and wonderful family he had created with my mother.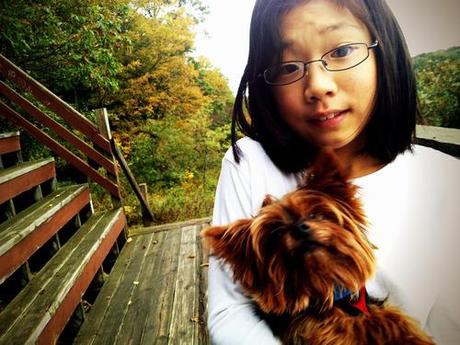 I called my mom when we got back to Brooklyn later that night. "Sorry it took so long to call, we had to wash Franke," I said.
My mom started laughing. "She stunk!"
"She did," I said. "She clogged up the bathtub."
Then, before a silence fell, I followed it quickly with, "I love you so much."