Twice in the last two days, I've been given the information that it is a mere 132 days until Christmas 2013. News which, quite frankly, startled me, as it really doesn't sound like a lot. It does make me a little "eye-rolly" when, come November 1st, the Halloween things disappear and you can't go into a shop without being assaulted by Jingle Bells and wrapping paper.
I'm sure I'm not the only person who has noticed the shine disappear from Christmas as we've gotten older and, although I enjoy the lead up to Christmas, and the family time it brings, I wouldn't say I get over-excited by it. Simon and I are not the sort of people who put our tree up in November - we wait until around 10 days before Christmas. We don't start our Christmas shopping in June - we come up with some ideas early on, forget all about them, and then spend late November online choosing bits and bobs. 
But this year, of course, is a little different. This year we will have Miss Isabelle to think about. She will be almost 9 months old, so far too young to know anything about Christmas, but I know that won't make it any less special for us all. I am 100% sure that she will be spoilt rotten by everybody - if their treatment of Jacob over the last two years is anything to go by that is!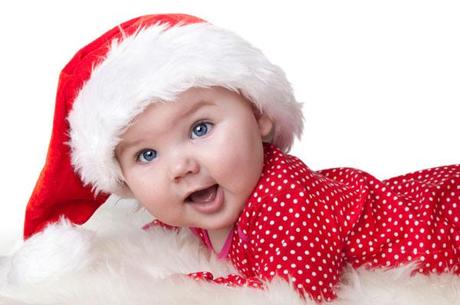 Simon and I discussed a long time ago how we would treat Christmas with our children. Both of us (along with everyone else I think!) think that Christmas is far too commercialised, and the last thing we want is for our kids to grow up expecting to receive hundreds of pounds worth of gifts. I'm hoping that each year we can buy a stocking full of mini gifts, a few 'medium' gifts, and a big one. I have to admit...I have already chosen Isabelle's big gift for this year! I know that is totally flying in the face of everything I've just said, but it's something I saw when I was pregnant and I can't wait to get her. I don't want her finding out of course, so I won't tell you what it is...!
Christmas is always going to be a tricky one for us, with our families spread out across two islands. The first year we were married I wasn't ready to go away for Christmas, so we stayed with my family, and last year we went to Simon's. That means that this year, much to my mum's delight, the three of us will be with my parents again. And since Jacob and his younger brother/sister will also be there (and only a month old!) it is set to be the biggest, busiest, 'bestest' Christmas yet!
Oh, and the thing I am most excited about this year? Dressing my child up in a variety of novelty Christmas outfits of course!