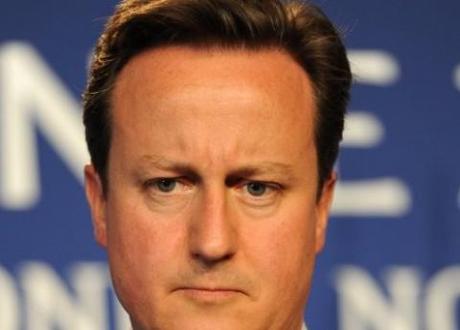 David Cameron at a press conference during the 2011 G8 summit, Deauville, France. Paumier
The much-discussed relationship between News International and the Conservative Party got a whole lot murkier last night. The BBC Business editor Robert Peston revealed that Andy Coulson, the former editor of the News of the World who has been arrested on suspicion of involvement in phone hacking, continued to receive payment from News International for several months after he started working as the Conservative Party's Director of Communications in 2007.

Peston claimed that Coulson "received several hundred thousand pounds" from News International as part of a severance package, negotiated after he resigned from the News of the World in January 2007 following the conviction of the paper's then royal editor, Clive Goodman, for phone hacking. Coulson was hired by David Cameron in July 2007 but the News International Payments continued until the end of that year, as did other benefits such as healthcare and a company car, according to Peston.
Government Embarrassment. As Peston argued, these payments are acutely embarrassing for the government as they mean that Coulson "continued to be financially linked to News International for several months of his tenure as David Cameron's main media adviser." Following months of damaging revelations about Downing Street's close ties to Rupert Murdoch's media empire, Peston pointed out that "Some will question whether Mr Coulson could give impartial advice on media issues to Mr Cameron when in opposition, given that he retained financial ties to News International." Peston updated his piece this morning to add that "An influential government member told me last night that senior Conservative party managers at the time did not know" about the payments to Coulson, but the questions will not stop there.
Awkward questions. The response to Peston's piece has been fast, widespread and, on the part of the Labour Party at least, aggressive. Labour put out a press release this morning challenging the Prime Minster to answer the allegations in Peston's article. Ivan Lewis, Labour's Shadow Culture Secretary, said that, "the time for transparency is long overdue from both David Cameron and News International … The longer these questions are unanswered the more damage will be done to the Prime Minister's reputation." Other senior Labour party figures joined in the pile-on. John Prescott tweeted, "So effectively Coulson was a double agent being paid by the Tories & Murdoch" and hinted that the News International payments may qualify as undeclared donations to the Conservatives. Labour MP Tom Watson, who sits on the Department for Culture, Media & Sport Select Committee charged with investigating the phone hacking scandal and has been one of News International's most outspoken critics throughout this affair, took up Prescott's theme on Twitter. "@Peston presumably that's an undeclared donation to the cons by news international," he tweeted last night. "I'm going to ask the electoral comm [Electoral Commission] to investigate."
Lies, damned lies and…? Watson added more fuel to the fire by reposting on his blog transcripts of evidence given to the DCMS Select Committee by Coulson,and by James Murdoch and Rebekah Brooks in 2009, in which all three specifically denied that Coulson received any payments from News International after he began working for the Conservative Party. Polly Curtis, writing in The Guardian, quoted a senior Conservative party official who told her on July 12th that ""we can give categorical assurances that he wasn't paid by any other source. Andy Coulson's only salary, his only form of income, came from the party during the years he worked for the party and in government." If Peston's story is true, then a lot of powerful people have just been caught lying red-handed. Even the nominally right-of-centre Spectator magazine had little sympathy for the mess Downing Street seems to have got itself into. "If true, this piece of news is a further embarrassment for the Tories and David Cameron," wrote James Forsyth. "If the Tories did not know that Coulson was still receiving money from News International as part of his leaving deal, as is being suggested, then that implies quite remarkable level of incompetence on CCHQ's behalf." Ian Dunt at Politics.co.uk agreed, and pointed out that while "Observers are still unsure of how much long-term damage Mr Cameron will take over the Coulson connection … many analysts believe that embarrassing links between Mr Cameron and the Murdoch empire will be raised regularly right up until the next general election." Expect this one to run and run.