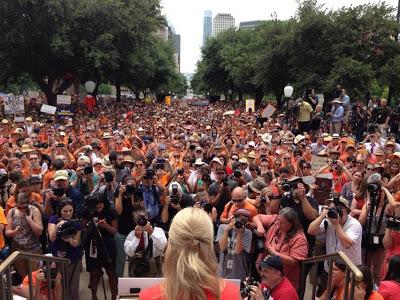 (State Senator Wendy Davis addresses a crowd of supporters in Austin on July 1st.)
With her filibuster to kill the Republican anti-choice bill in the first legislative special session, she became a household name among Texas Democrats. She energized them, and immediately vaulted herself into contention for statewide office. Many Democrats, including state party chairman Hinajosa, have begun to call for her to run for governor. She hasn't yet said that she would do that, but she is the first candidate for Democrats in many years that has them excited, and willing to work their butts off.
The question, of course, is -- does Wendy Davis have a chance to actually beat Governor Perry, or is the idea of her candidacy for governor just a pipe dream, destined to fail (as Democratic statewide candidates have been doing for the last 20 years). The folks at Public Policy Polling decided to find out, and they took a survey of 500 Texas voters between June 28th and July 1st. The poll has a margin of error of 4.4 points. At first glance, the survey doesn't look real good for Senator Davis. Here are the numbers right now for a race against Perry:
Rick Perry...............53%
Wendy Davis..........39%
Unsure..........8%
That's a 14 point gap -- not good! But the race is not being held today, and there are some other questions in the survey that show Davis could possibly narrow that gap significantly. Take for instance, the favorability ratings of the candidates. The people of Texas know who Rick Perry is, and a majority of them don't like him very much. His approval rating is upside-down, with 45% approving of him and 50 disapproving (and 5% unsure). On the other hand, Wendy Davis has a 39% approval rating and only 29% disapproval rating, while 32% of respondents said they didn't know her well enough to say either way.
Since it is still quite a while until the next gubernatorial election, there is plenty of time for Davis to reach out to that 32%, and win them over. Why do I think she could win them over? For one thing, she is on the side of the public in the issues currently being discussed. Here are some interesting numbers:
DO YOU SUPPORT WENDY DAVIS' USE OF THE FILIBUSTER?
Support...............45%
Oppose...............40%
Unsure...............15%
DO YOU SUPPORT OR OPPOSE PERRY'S CALL FOR A SECOND SPECIAL SESSION?
Support...............43%
Oppose...............44%
Unsure...............13%
DO YOU SUPPORT OR OPPOSE SB 5 (THE BILL DAVID FILIBUSTERED)?
Support...............20%
Oppose...............28%
Unsure...............52%
SHOULD RICK PERRY RUN FOR ANOTHER TERM AS GOVERNOR?
Yes...............30%
No...............60%
Unsure...............10%
The fact is the public is very split over the current special selection, and many of them don't really understand what the issues being debated in it are about (because many of them haven't been paying attention to it). But another recent poll by the Texas Tribune has shown that a significant majority of Texans don't want more anti-choice laws -- but would like to see Roe v. Wade left just as it is.
Add to that the fact that Rick Perry is not a real popular governor, and most (even Republicans) don't want to see him run again. Then you have the energizing of the state's Democrats. They are more energized and willing to work than they have been since the governorship of Ann Richards. And then you have one final factor -- the continued growth of minority voters in Texas (especially Hispanics), and the fact that Democrats are currently making a concerted effort to register many more Hispanic voters (and that effort is for the first time in quite a while, a well-funded effort).
None of this means that Wendy Davis would have an easy time in unseating Rick Perry. It would be very difficult, and she very well could lose. But it wouldn't be by any 14 points, and there is a small chance that she could actually win -- a better chance than any Democrat has had in more than 20 years. She would need the help of an army of energized Democrats, and enough funding to run a credible campaign. She has the first, and I believe she could get the second.
I have to admit, for the first time in many years, I'm excited about the prospect of having a good candidate with a chance to win -- in spite of these early poll numbers.