Well before these riots began, in part arising out of discussions here about extended capacity magazines, and arguments about hand guns for self-defense, and in part arising our of our new admin Laci's own experience with urban violence in Northern Ireland's during the 'troubles', Laci and I have privately over the past months had some interesting discussions about what happens during urban unrest.
As bad as this is, and it is certainly bad,
what is absent are reports of widespread shooting
, from either side. 
While my colleague Laci might disagree with me, at least tongue in cheek, I don't think that people in the UK are fundamentally different, not better or worse, than people in the U.S.  So, if there were comparable riots in the U.S - which some already are predicting could occur in response to our grotesque inequalities and hardships for large demographic segments of our population - we need to consider that this violence which does NOT include firearms would very likely include shooting if this occurred in the U.S., due to the greater prevalence of guns.
View. Read. Discuss!
From
MSNBC
:
Visit msnbc.com for
breaking news
, world news, and news about the economy
16,000 cops on London's streets as rioting worsens; violence spreads to other cities
'Ordinary people have had their lives turned upside down by this mindless thuggery'; PM promises 'even more robust police action'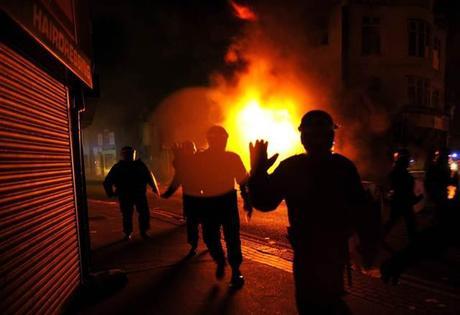 Dylan Martinez

 / 

Reuters
Riot police charge past burning buildings in Croydon, south London, on Monday.
msnbc.com staff and news service reports
updated 2 hours 49 minutes ago
2011-08-09T10:27:50
LONDON

 —
A wave of violence and looting raged across London and spread to three other major British cities on Tuesday, as authorities struggled to contain the country's worst unrest since race riots set the capital ablaze in the 1980s. In London, groups of young people rampaged for a third straight night, setting buildings, vehicles and garbage dumps alight, looting stores and pelting police officers with bottles and fireworks. The spreading disorder was an unwelcome warning of the possibility of violence for leaders organizing the 2012 Summer Olympics in less than a year.
Neighborhoods across the capital faced a massive clean-up of smashed glass, bricks, bottles and gutted buildings as police reinforcements reclaimed the streets from the youths.
On Monday, police made a rare decision to deploy armored vehicles in some of the worst-hit districts — but still struggled to keep pace with the chaos unfolding at flashpoints across London, in the central city of Birmingham, the western city of Bristol and the northwestern city of Liverpool.
Citing "sickening scenes," British prime minister David Cameron announced that 16,000 police officers would be deployed on London's streets on Tuesday — up from 6,000 on Monday night.
Cameron, who cut short his summer vacation in Italy and recalled Parliament from its summer recess to deal with the crisis, also promised "even more robust police action."
"This is criminality pure and simple and it needs to be confronted," he added. "Justice will be done and these people will see the consequences of their actions. If you are old enough to commit these crimes, you are old enough to face the punishment."Authorities acknowledged that major new bouts of violence had badly stretched their resources.
"The violence we have seen is simply inexcusable," police Commander Christine Jones said. "Ordinary people have had their lives turned upside down by this mindless thuggery."
'Come join the fun'
The riots appeared to have little unifying cause — though some involved claimed to oppose sharp government spending cuts, which will slash welfare payments and cut tens of thousands of public sector jobs through 2015.
Others appeared attracted simply by the opportunity for violence. "Come join the fun," shouted one youth, racing along a street in the east London suburb of Hackney, where shops were attacked and cars torched.
Rioters were left virtually unchallenged in several neighborhoods and able to plunder from stores at will or attempt to invade homes. Restaurants and stores fearful of looting closed early across London.
Witnesses were told of numerous cases of car theft by groups of looters.
Jails overflowing
Disorder flared throughout the night, from gritty suburbs along the capital's fringes to central London's famously ritzy Notting Hill neighborhood. London's Ambulance Service said it had treated 16 patients, of whom 15 were hospitalized.
Police said 334 people had been arrested and 69 people charged with offenses. Sky News reported that all of London's jail cells were full so suspects were being taken to police stations outside of the capital.
At one point, the London fire brigade said it was running out of vehicles to tackle fires started by the rioters.
Three people were arrested on suspicion of the attempted murder of a police officer left hospitalized after he was struck by a car in north London early Tuesday.
After dawn, police said, the unrest appeared to calm, either quelled by police or after rioters drifted away.
Violence first broke out late Saturday in the low-income, multiethnic district of Tottenham in north London, where outraged protesters demonstrated against the fatal police shooting of Mark Duggan, a 29-year-old father of four who was gunned down in disputed circumstances Thursday.
A brief inquest hearing into Duggan's death will take Tuesday, though it will likely be several months before a full hearing is convened.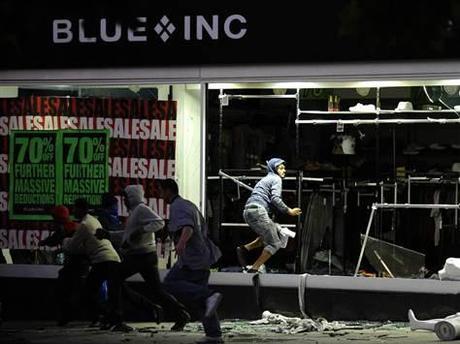 Dylan Martinez

 / 

Reuters
Looters run from a clothing store in Peckham, south London, on Monday. Duggan's death stirred old animosities and racial tensions similar to those that prompted massive riots in the 1980s, despite efforts by London police to build better relations with the city's ethnic communities after high-profile cases of racism in recent decades.
But, as the unrest spread, some pointed to rising social tensions in Britain as the government slashes 80 billion pounds ($130 billion) from public spending by 2015 to reduce the huge deficit, swollen after the country spent billions bailing out its foundering banks.
In the south London district of Croydon, police said a 26-year-old man was shot and seriously injured Monday but were unable to say immediately whether the incident was linked to rioting there.
Party masks stolen
A massive blaze ravaged a 100-year-old family run furniture store in Croydon and sent thick plumes of smoke into the air, forcing nearby homes to be evacuated. In the Clapham Junction area of south London, a mob stole masks from a party store to disguise their identities and then set the building on fire.
Sony Corp. said a major blaze had broken out at its distribution center near Enfield, north London, damaging stocks of DVDs and other products. So many fires were being fought in the capital that Thames Water, which supplies most of London, warned that some of its customers could see their water pressure drop.
Sad truth behind the London riot
Dozens of people attacked shops in Birmingham's main retail district, and clashed with police in Liverpool and Bristol.
In London's Hackney, hundreds of youths left a trail of burning trash and shattered glass. Looters ransacked a small convenience store, filling plastic shopping bags with alcohol, cigarettes, candy and toilet paper.
"We ain't got no jobs, no money. We heard that other people were getting things for free, so why not us?" asked E. Nan, a young man wearing a baseball cap.
Opposition lawmaker Diane Abbott, who represents Hackney, told reporters that the area was "like a war zone" on Monday afternoon.
"These youths are trashing their community," she added. "It's a very tragic situation."
In nearby Dalston, business owners were seen wielding baseball bats to prevent looting.East London's diversity was on display amid the charred hulks of cars and the smell of burning plastic. Some looters were young women with manicured nails and customized BlackBerry smart phones. Others wore dreadlocks and stained shirts or appeared to be homeless.
"This is the uprising of the working class. We're redistributing the wealth," said Bryn Phillips, a 28-year-old self-described anarchist, as young people emerged from the store with chocolate bars and ice cream cones.
'Haves and have-nots'
Phillips claimed rioters were motivated by distrust of the police.
However, some commentators attributed the unrest to local tensions and anger over economic hardship.
Story: London sees twin perils converging to fuel riot
The economy has strugged to grow while the government is imposing deep public spending cuts and tax rises brought in to help eliminate a budget deficit that peaked at more than 10 percent of GDP.
"This is not about race, faith and class pure and simple," said Professor Mike Hardy, executive director of the Institute of Community Cohesion. "One of the most powerful drivers is about the haves and have-nots. It's about those who are excluded."
(my emphasis added - DG)
Some residents called for police to deploy water cannons to disperse rioters, or call on the military for support. They questioned the strength of leadership within London's police department — particularly after a wave of resignations prompted by the country's phone-hacking scandal.
The small groups of youths used text messages, instant messaging on BlackBerry phones and social media platforms such as Twitter to coordinate their attacks and stay ahead of the police.
Once the preserve of businesspeople, BlackBerry handsets are popular with teenagers, thanks to their free, fast instant messaging system. Blackberry's manufacturer, Research in Motion, said in a statement that it was assisting authorities in their investigation and "feel for those impacted by the riots in London."
Police were also monitoring Twitter, and warned that those who posted messages inciting the violence could face arrest.
About 100 young people clashed with police in the Camden and Chalk Farm areas of north London, smashing their way into a bicycle store and mobile phone shop.
'Not enough police'
In the Peckham district of south London, where a building was set ablaze along with a bus — which was not carrying passengers — onlookers said the scene resembled a conflict zone. Cars were torched in nearby Lewisham, and in west London's Ealing suburb the windows of each store along entire streets had been smashed.
"There's been tension for a long time. The kids aren't happy. They hate the police," said Matthew Yeoland, a 43-year-old teacher watching the unrest in Peckham. "It's like a war zone and the police weren't doing anything. There were too many people and not enough police." Police said Duggan was shot dead last week when police from Operation Trident — the unit that investigates gun crime in the black community — stopped a cab he was riding in.
The Independent Police Complaints Commission, which is investigating the shooting, said a "non-police firearm" was recovered at the scene, and media reports said a bullet had been found in an officer's radio. However, the Guardian newspaper reported that the bullet in the radio was police-issue, indicating Duggan may not have fired at the officer. Duggan's partner, Semone Wilson, insisted Monday that her fiance was not connected to gang violence and urged police to offer more information about his death. But she rejected suggestions that the escalating riots were linked to protests over his death. "It got out of hand. It's not connected to this anymore. This is out of control," she said.
The past year has seen mass protests against the tripling of student tuition fees and cuts to public sector pensions. In November, December and March, small groups broke away from large marches in London to loot. In the most notorious episode, rioters attacked a Rolls-Royce carrying Prince Charles and his wife Camilla to a charity concert.
However, the full impact of spending cuts has yet to be felt and the unemployment rate is stable — although it remains highest among youth, especially in areas like Tottenham, Hackney and Croydon.
Some people caught up in the unrest insisted that joblessness was not to blame. "It's just an excuse for the young ones to come and rob shops," said Brixton resident Marilyn Moseley, 49.
11-year-old charged
Police urged communities to help clear the streets of people, and called on families to contact their children and ensure that they were not involved in the chaos. An 11-year-old boy was charged with burglary by police, and at least 100 of those arrested were aged 21 or younger. About 35 police officers had been injured in the violence, police said.
Police in Birmingham, 120 miles north of London, confirmed that officers had arrested 35 people amid disorder across the city center, where shops were being vandalized. In Bristol, police urged residents to avoid the city center after 150 rioters went on the rampage.
Tottenham was the site of the 1985 Broadwater Farm riots, a series of clashes that led to the fatal stabbing of a police officer and the wounding of nearly 60 others — and underscored tensions between London police and the capital's black community.
West Ham, a football team in east London, confirmed it had canceled a match planned for Tuesday as a precaution. However, the national Football Association insisted that a scheduled international friendly match between England and the Netherlands would go ahead at Wembley Stadium on Wednesday.
The International Olympic Committee insisted it had confidence in British authorities. "Security at the Olympic Games is a top priority for the IOC," spokesman Mark Adams said.
Msnbc.com staff, Reuters and The Associated Press contributed to this report.