Hello everyone, I hope all is well with you. I'm back today after a hectic couple of weeks. I've had classroom visits and I finished editing my fourth novel. I have news on that, but I'll share that at a later date. :)
I'm in Michigan and as I'm sure many of you have heard we've had an extremely rough winter. In fact, I sent my kids to school today with their winter coats again because we just can't seem to get the temperature above sixty degrees. Boo!
Anyway, I've heard because the winter has been so horrible that our spring is going to be the worst for allergy sufferers. According to the rumors, everything is going to pop at the same time this year and the pollen is going to be at very high levels.
Well, this got me thinking. :) If the pollen is going to be at high levels this year, it would make it a great year to help the bees! That's right! We need bees to keep the earth healthy. I'm sure you remember my post on saving the bees. Click here to read it: http://lisaorchard.wordpress.com/2014/03/17/lets-save-the-bees/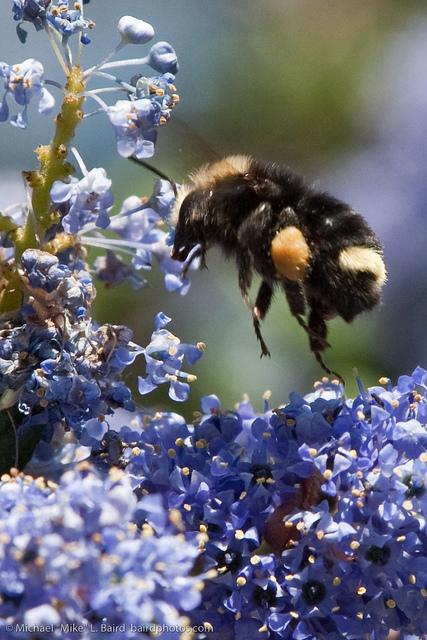 Photo compliments of Creative Commons on Flicker. Photographer Mike Baird
These tiny insects are one of the things that keeps our earth in balance and they do this when they cross-pollinate flowers. Unfortunately, the bee population has dwindled and experts aren't sure why.
In order to keep our earth strong and vibrant we need to help our little friends. How can we help you ask? Well for one thing, plant flowers this spring. Let's give our bee friends some food and while you're at it, leave a basin of water near your flowerbeds, a birdbath isn't just for birds, you know. :) Bees get thirsty so let's help keep them hydrated. To find out more ways to help our bee friends go to this link: http://www.queenofthesun.com/get-involved/10-things-you-can-do-to-help-bees/
My twitter friend, Dave the Bee shared it with me yesterday and it inspired this post.  Let's take advantage of this heavy pollen season and help the bees help us! Plant some flowers this spring! :)