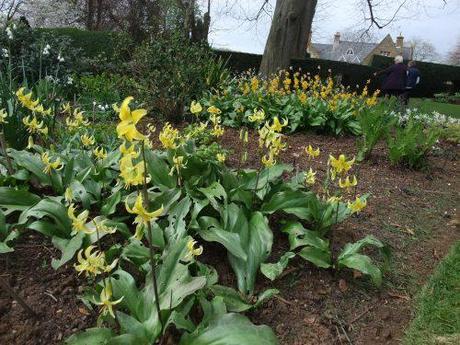 Last week I spent a wonderful day at Coton Manor Garden School.  After the gardening school session and  yummy lunch I had time to explore the garden so I thought I would share some photos and my impressions of the garden.
I wouldn't describe Coton Manor as a garden which is  trying to set trends or be cutting edge.  I would describe it as the garden of a true horticulturist; someone who loves plants and everything associated with them and who wants to share that passion.  It is one of those gardens which has that elusive thing – a real spirit, a soul.
What do I mean by this?  In recent years during my garden visits I have noticed that there are a few  gardens which have, for me, a certain something special, that talk to me, that I feel a connection with, often emotional to.  I believe it is a truly subjective thing which differs from person to person – after all we are all different. Coton Manor just edges into this category for me.  I think because its style is one I like, the traditional English country garden with a little quirkiness.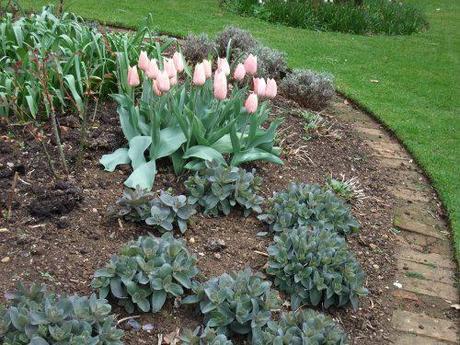 There is a certain formality around the  stone house as you would expect and this was nice.  I particularly liked a planting of very pale pink tulips which seemed to work very well with a Sedum which had a strong pinky/rosey tone to it.  However,  it was the woodland area which really grabbed my attention and has made me decide I need to revisit.  I have a small woodland area which I am developing and woodland spring plants are one of my favourite groups of plants.  They are so delicate and dainty but when planted in large drifts, as they are at Coton Manor, they can really make an impression.  I spent quite some time looking closely at the different Erythroniums and Disporiums which are a particular interest to me at the moment.  I am very interested to see what this area looks like in the summer – whether it is an area that is purely for Spring or whether it has a second season of interest and how this is done.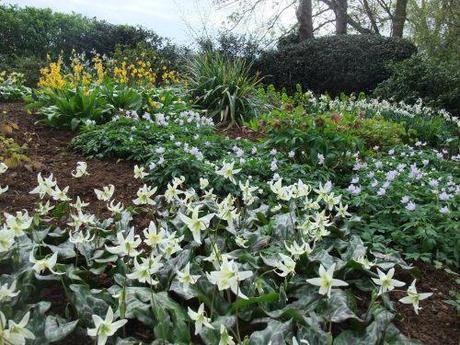 I think Coton Manor is located near a spring or stream as there is a quite a lot of water in the garden with small streams running down the slope of the garden to a bog garden.  You wander from here past a very pretty spring meadow which I tried to photograph but failed to really capture.  You are then in a large open space with some more formal herbaceous borders along the top of the slope.  Being the beginning of April these were far from at their best and again I want to visit later in the season to see how they develop especially as they are on a slope which is a situation I am also trying to work with.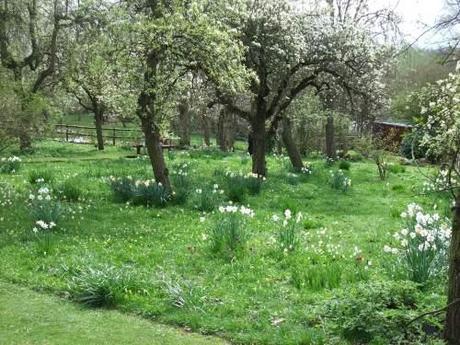 So to go back to my earlier comment about gardens which have spirit and in some cases soul, I will class Coton Manor as one with huge spirit.  It is a plantsman's delight without suffering from that habit of cramming lots of different plants into a border which is often the case in plantsmen's gardens.  Its owner's passion and enjoyment is obvious not just in the generous plantings but in the warm welcome you receive when you visit.