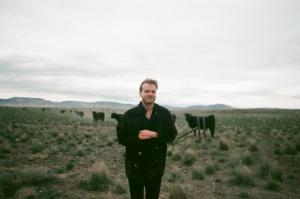 We recently posted a stream of Cotillon's (or Jordan Corso, to give him his real name…) 'Call Me Up' and it showcased a songwriter with immense promise. Now you'll have the chance to hear his self-titled debut album. Released by Super Fan 99 Records in the UK, we suggested before that 'Call Me Up' could be the soundtrack to your summer, will the rest of the record live up to its promise?
There's an instant west-coast vibe (at odds with its title!) on the album opener 'Gloom'. Alongside the incessantly catchy riffs are some lucid lyrics that even ask: 'Is this real or am I dreaming? I know the secret you've been keeping'. There's also a touch of Ben Kweller's slackerpop, especially in the way the words 'I'm single now' are spat out. 'Asteroid' is a scuzzy statement of lost love, but one that was with a girl who spent her time falling around and hurting people in the process: 'Waiting for your answer is so painful. One of the most painful things I've had to do'.
Cotillon also has a much gentler side, as shown on the classic 60s-style sound of 'Yesterday's Shoes'. Fitting somewhere between the Beatles and Real Estate, it's full of sweet melodies honestly describes the perils of a break-up: 'Deep down in my heart, I know that we've grown apart'. With talk of ending up dead, there's also a deliciously dark sense of humor that rises to the surface as the song evolves onto its distorted and distressed waltzy climax. 'Holding You Back' takes more contemporary influences, reminding us of Dawes in its instrumentation while there are also some guest vocals from Sophie Jane Loomis that add an extra layer to the dynamics.
Remember the perhaps underappreciated album from Ben Folds and Nick Hornby? Well, the more piano-lead approach of 'Left Bank' recalls that with its autobiographical approach. With added minimalist brass and clocking in at under two minutes, it's a compelling direction for the album to take halfway through. 'Lyman' heads back to detuned guitars and a tint of Pinkerton-era Weezer while the lyrics recall a girl who fell into hedonistic ways, with the devil arriving and 'paychecks going up her nose'. A driving bass and pure pop-anthem chorus pushes 'Convenience' along, while Jordan thinks of some of life's big issues: 'Where we'll be in 30 years and how far we'll fall apart'. The heaviest song on the record is 'Infection' and it sounds like it would be perfectly at home on the 6Music playlist. With regards to the title of the song, Jordan states: 'I caught it, it's spreading all over and I can't get you out of my head'. It's a back-handed compliment, but sums up just how lustful he is feeling.
The closing track on the album 'Exempt' provides a more acoustic approach but still has some of those macabre lyrics that are scattered throughout the album: 'There's a fire burning out of control that's heading for our home'. As the song moves forward, more electric guitars come in and wurlitzer-style keyboards collide in style. This is an album that dips into all sorts of genres and styles with great success. And yes, we're pleased to say it all does live up to the promise of 'Call Me Up'…
Order 'Cotillon' via Super Fan 99 Records.
Filed under: Album review, New music, Preview Tagged: Album review, alternative music, alternative rock, Burger Records, Cotillon, Cotillon band, Cotillon music, indie music, Jordan Corso, Luke Barham, Luke Barham Music, pop music, rock music, Stagecoach, Super Fan 99, Super Fan 99 Records, Uncle Luc