My first ever holiday on foreign shores was back in what I refer to as "my previous life". I traveled all the way to Salou on the Costa Dorada in a "luxury" double decker coach, courtesy of Siesta Holidays. That was in 1986, when the highlight of a pretty torrid and horrid fortnight was watching the World Cup on TV. I can recollect sitting in a Germany bar watching their western nation losing to a Maradona inspired Argies in a cracking  finale to that tournament.
Over 30 years had flown past until I returned to the resort, now a happily married man with two kids in toe, we had a great time and made another return to Salou in 2013. Now the bairns are older and the family holidays no more, we decided that for our late summer hols me and the breadknife would book another week in Salou, but only if a certain football club were playing at home on this corresponding week.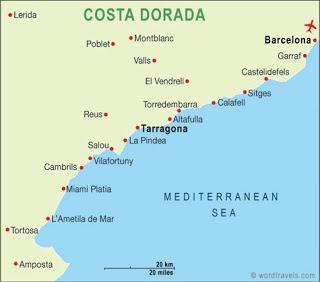 Sunday 18th September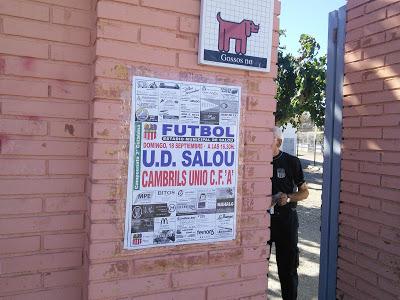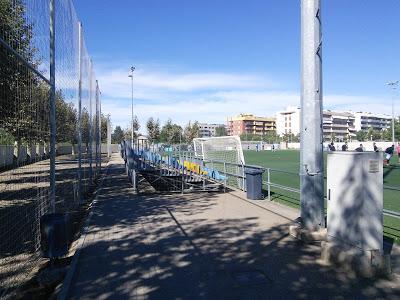 After a very early morning flight from Newcastle, we arrived at our hotel in Cap Salou at 10.30. This allowed me plenty of free time before catching the local Plana bus services into town for my first match of the week.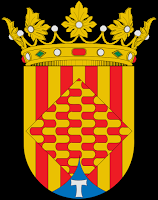 Union Deportiva Salou

play in the Second Regional Catalana (Segona Catalan) which is level 6 of the Spanish Football League and the second level of regional divisions. The league consists of 6 groups of 18 teams, split into corresponding areas with Group 6 covering the provinces around Tarragona. At the end of the season, there's play-offs amongst the champions of the 6 groups to determine promotion and relegation.
Estadio Municipal de Salou is in the western outskirts of the resort on the border with Cambrils. The ground has two stands on one side, either side of the dugouts with approximately 100 seats in each. There is a larger stand on the opposite side made up of long wooden benches, plus a 3G pitch and floodlights. The changing facilities are behind the goal with the clubhouse in the corner, benefiting from an alfresco area to view the match with a cool drink in the hot sunshine.
Just before kick-off I was befriended by an elderly gentleman, who was delighted to meet an Englishman at the game. The canny fellow was from Morocco, but proudly donned an England baseball cap, declaring he supported Liverpool and Manchester City! His English wasn't too great, so if you add the equation of my rough accent (which most people south of Chester-le-Street struggle with) then the art of conversation became quite difficult. During the match he would suddenly mention a random footballer .. Bobby Charlton..yes? Kevin Keegan..yes? and then throw in one a bit leftfield like ..Marouane Fellaini ...yes? 
My Moroccan pal described the match between Salou and Cambrils Unio as being the same as Manchester United v City, as this fixture was a derby clash between the two Costa Dorada resorts. The visitors won the game with ease, taking charge from the kick off with Samuel Garcia Gomez firing in after just five minutes. David llobet Torrente bagged a brace before half time, before Juli Molasfernandez smashed into his own net to make it 0-4 before the hour mark. Salou grabbed a consolation when Jose Oliva Reina capitalised on a goalkeeping mistake, but Carlos Torreslaguna completed the rout, going nap in an impressive display from Unio.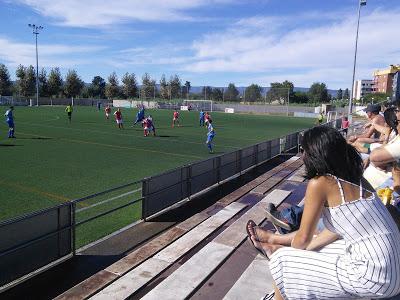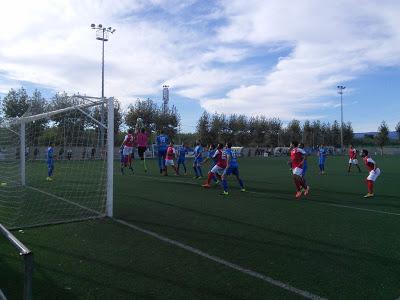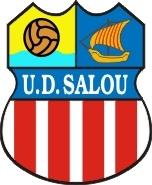 545. Estadio Municipal de Salou
Union Deportiva Salou 1(Oliva Reina 59)
Cambrils Unio 5(Garcia Gomez 5 Llobet Torrente 32,37 Molasfernandez 56OG Torreslaguna 76)
Segona Catalana Group 6 Matchday 3 (1630 ko)
Att.150hc
Top Bloke - David Llobet Torrente(Cambrils) Entertainment 8/10
Admission 5€ (Large beer 2€)

Tuesday 20th September 2016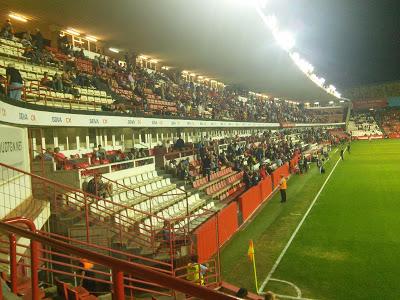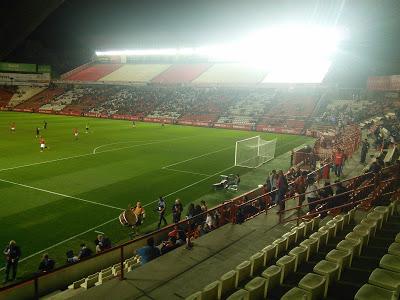 On Tuesday night I was delighted to visit a ground which first caught my eye during one of our previous family holidays. The AP7 road outskirts Tarragona and while on route to Barcelona Zoo my football ground radar was alerted to an attractive stadium, which can be viewed from the passing motorway.

Tarragona is a province capital and part of Tarragonès and Catalonia. The foundation of the city is unknown, but according to Catalan legend it was named for Tarraho, eldest son of Tubal in 2407 BC. It is also believed to have maybe derived from 'Tearcon the Ethiopian', a 7th-century BC pharaoh who supposedly campaigned in Spain. The city has many Roman remains, with the Roman ruins of Tarraco designated as a World Heritage Site by UNESCO.

I caught the bus along to the port city, the service is pretty regular but tends not to stick to its scheduled timetable. I learned it's best to get to the bus stop 10 minutes before its due as they usually arrive early, but typically on this occasion it was 10 minutes late.

This meant I didn't arrive until 9.25pm, which left me only 35 minutes to navigate the busy city center with Google maps and purchase my ticket. I discovered when I checked afterwards that the stadium was over 3 km away from the bus terminus, much further than I thought, but I still managed to get there in the nick of time after jogging most of the way.

Club Gimnàstic de Tarragona are one of the oldest football clubs in Spain. The club was founded on the 1st of March 1886 by a group of fifteen people who met at the Cafè del Centre on Rambla Nova, initially formed to promote gymnastics.

Since football was introduced to the club in 1914, they haven't won any major honours during their history which has including 4 seasons in La Liga, their last appearance in the top division back in 2006-07.

Nou Estadi de Tarragona was opened in 1972. The stadium has a capacity of 14,500 but looks a lot larger with its steep open two tier stand on one side. The main stand is also split in two, but is a lot smaller and covered. Behind the goals are matching open single tier stands each having an electric scoreboard, the whole ground decked out in red and white seats.

Nàstic faced Real Zaragoza in La Liga 2, in what was my first 0-0 of the season. The home team were the better side throughout and should have been ahead just before half time. Ike Uche was upended in the box but his penalty kick was saved by the legs of Irureta. Nàstic pressed for a winner and could have clinched it late on, but Zaragoza held on to pinch a point.

After the game I took the long walk back towards the city centre, but not before I located the club shop. I bought a pin badge and grabbed a copy of the September issue of the Força Nàstic magazine, with the girl behind the counter asking for only 1 euro for both items. As I walked away from the Nou Estadi after enjoying my late night visit, the club anthem 'Himne Nàstic de Tarragona' blasted out from the PA system, the catchy tune becoming my earworm for the remainder of my holiday.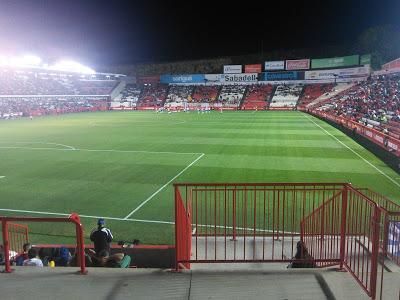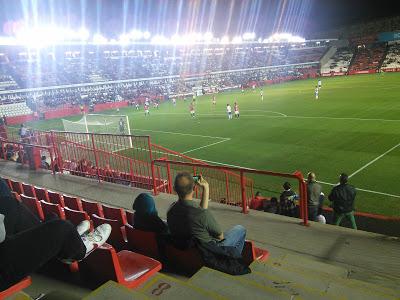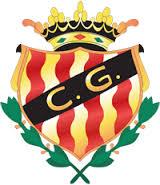 546. Nou Estadi de Tarragona
Gimnastic de Tarragona 0
Real Zaragoza 0
La Liga 2 Matchday 6(2200 ko)
Att.4,255
Top Bloke - Alex Lopez (Nastic)Entertainment 5/10
Admission 15€ (Pin badge 1€, Monthly club programme Free)

Wednesday 21st September 2016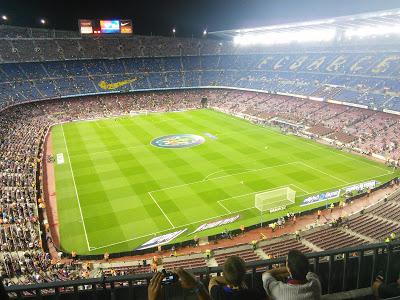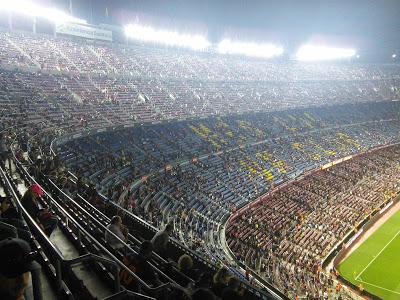 So onto Wednesdays - the big one and the reason why I've returned to Salou for a fourth time. In December 2002 I jetting down to Barcelona with the Toon Army, full of excitement in anticipation for our Champions League Second Phase clash in the Camp Nou. When we arrived it was a typical Spanish sunny day, however I did noticed a few puddles outside Barca Airport, so I thought there must've been a few rain showers overnight. It wasn't until much later that afternoon that we found out that there had been torrential rain over the last few days and the match was in doubt. A further deluge a few hour before kick off meant the match was off, so I'd wasting a day off work and much worse found myself a few hundred quid out of pocket. This was the daddy of all postponements and certainly the biggest kick in the bollocks I've ever had in attempting to attend a football match. The fact I got as far as the Camp Nou exterior gates but was denied the chance of watching a match, has been a monkey on my back that I've been longing to toss aside.

On the second day of our holiday I looked around Salou for excursions to Barca's big La Liga clash with title rivals Atlético Madrid. It was easy enough to book up as Bus Plana had plenty of ticket agencies throughout the resort. The return coach travel from Cap Salou and Category 2 match ticket for both of us (yes, the breadknife was keen on this one but not the other three) cost a small fortune, but without doubt was well worth a fistful of euros. The bus picked us a short walk from our hotel at 6.30pm for the 117 km journey along the AP7 motorway, arriving a few hours before the 10 o'clock kick off.

FC Barcelona

need no introduction, they are indeed 'The Harlem Globetrotters of world football'. They've been European Cup/CL winners on 5 occasions as well as Spanish La Liga champions 23 times. They've also won shitloads of domestic and international cups since their formation in 1899.

Camp Nou

(new field) is one of the most iconic stadiums in the world. It was built between 1954-1957 and at its peak held 121,749, when the capacity was expanded for the 1982 World Cup. The current capacity is 99,354 but plans are in place to expand the Camp Nou to 105,000 with work due to commence next year. 

The Barca experience is unlike any other I've encountered during my Groundhopping career. Its up there with the Tower of London, the Eiffel Tower and the Rome Coliseum as a top European tourists attraction. I'm usually discrete regarding taking pictures and try not to draw attention to myself (like at Tarragona the previous night) but I could confidently snap and pose for photographs, just like the thousands of other tourists in attendance.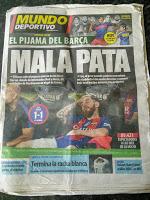 The match with Atlético Madrid went exactly as I had expected. Barcelona had plenty of possession and looked for the killer pass to break through a resolute Atlético defence, with the visitor's relied on their pacey forwards on the break. Just before half time Barca made the breakthrough when an Iniesta cross was glanced in by Rakitic on 41 minutes. 
I would have loved to have seen Messi bag another Camp Nou goal, but was denied the chance when he limped off after 59 minutes with a recurring groin injury. Two minutes later it was all square when Correa burst through the defence unchallenged just after his introduction as a substitute.  Barca pressed for a winner but struggled to penetrate a solid back four, their task made harder with an injury to Busquets who joined Messi on the injury list.
Overall it was a fantastic night. As I mentioned it was a unique matchday experience but a very enjoyable one. At long last Camp Nou has a tick next to it and I can finally erase that miserable memory of a cold wet night in Barca almost 14 years ago.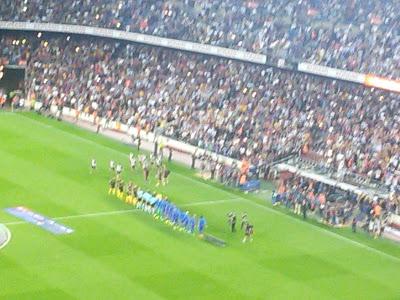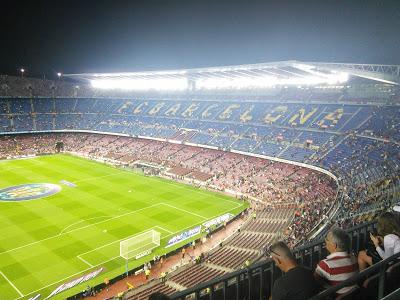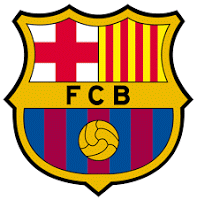 547. Camp Nou
FC Barcelona 1(Rakitic 41)
Atlético Madrid1(Correa 61)
La Liga Matchday 5(2200 ko)
Att.89,421
Top Bloke Ivan Rakitic(Barcelona) Entertainment 7/10
Admission 89€ (Pin badge 2'90€ Fridge magnet 4'90€ Hot dog and 0% beer 8€) 
Saturday 24th September 2016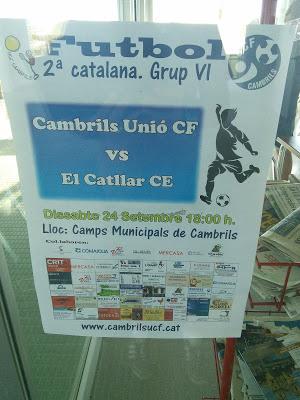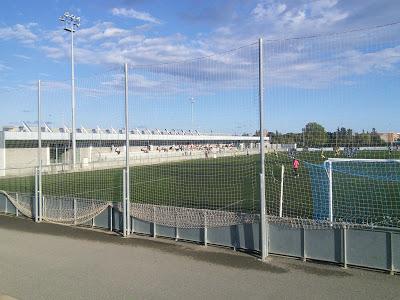 On the last day of our holidays I just about managed to drag myself away from the beer and football in the pub to nip along on the bus to Cambrils for my final match of the week. The coastal resort is the quite little brother to Salou, as most of the tourists in this area are Spaniards, who have their summer house at this fishing village, next to its quaint port and top quality beach.
As I was pushed for time (as I've said it was hard to leave the boozer) I jumped a taxi from Cambrils beach up to the ground, as it was a canny hike and a bit off the beaten track. Luckily the taxi driver spoke good English, so I arranged for him to pick me up on the final whistle at 7.45, as the match was a 6 o'clock kick off. 
When arriving at the ground I was a bit confused, thinking I had maybe missed the kick off as there was a match already taking place. I managed to somehow converse with two locals at the entrance gate and they assured me the match was on the other pitch. One thing I've noted on this trip is that I must learn some basic Spanish, or whatever language is required on future foreign jaunts, instead of being arrogant enough to assume that everyone can speak the Queen's tongue. 
Nou Camp de Cambrils
has two pitches which are side by side and a mirror image of one another. The 3G pitches are split by the main building which houses the clubhouse and changing rooms. On each side is a overhanging roof which covers three rows of stone benches. On the opposite sides are the dugouts and scoreboard, with hardstanding behind each goal. 
After seeing Cambrils Unio in action at the start of my holiday, I was expecting another goal rout, especially when Josu Rigal Barrio headed them into a 6th minute lead. Opponents El Catllar played well after that early setback, but once Erik Gonzalez Espinosa robbed the 'keeper to double the lead after half an hour it was game over. There was still time for David Llobet Torrente and Gonzalez Espinosa to grab his second and make it 4-0 before the interval. Surprisingly the ball hit the back of the net only once in the second half, with Daniel Saez Arguelles scoring the best goal of the game ten minutes from time. 
Just before the full time whistle my taxi driver arrived looking for me inside the ground ready to swiftly return me back to Cambrils beach, before I jumped the bus back into Salou for my last night out on the lash.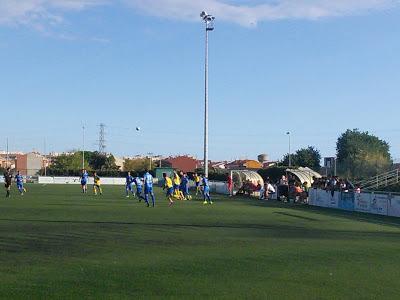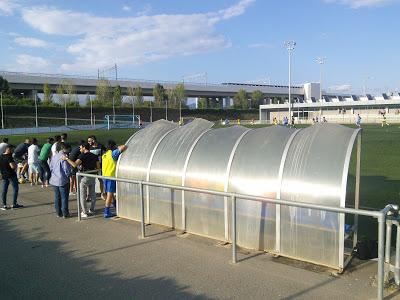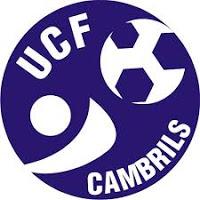 548. Nou Camp de Cambrils
Cambrils Unio 5(Rigal Barrio 6, Gonzalez Espinosa 31,44 Llobet Torrente 41 Saez Arguelles 80)
El  Catllar 0
Top Bloke Erik Gonzalez Espinosa(Cambrils) Entertainment 8/10
Segona Catalana Group 6 Matchday 4(1800 ko)
Att.112hc
Admission 5€ (Beer 1'20€) 

So that was my football week on the Costa Dorada. The seven days provided a perfect storm of football grounds, with obviously not just Barcelona playing at home, but I was also chuffed to visit Nàstic as well. I also enjoyed the experience of the Segona Catalana, which was a decent standard with the eye candy bonus of some gorgeous senoritas in attendance. 
We prefer to explore different destinations when we go on holiday, so this will probably be my last visit to this part of Spain. Wherever we end up in the future I'll be difficult to beat this fabulous football week in Catalonia.
The Matchday holiday album
(91 Pictures from all four grounds and matches)