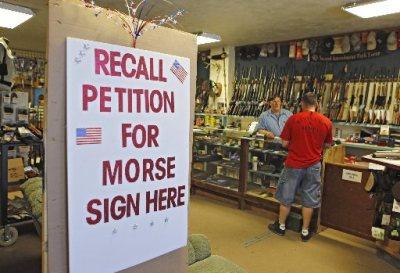 In this photo taken May 24, 2013, a large sign posted at the entrance of Paradise Firearms in Colorado Springs, Colo., invites customers to sign a recall petition against Colorado Democratic State Senate President John Morse.(Phot by: Ed Andrieski/AP Photo)
MSNBC
In late March, Colorado Gov. John Hickenlooper signed one of the nation's toughest gun laws following the Sandy Hook  and Aurora movie theater shootings. But voters opposed to the law—which requires background checks for private and online gun sales and limits magazine sizes to 15-rounds—are striking back.

Democratic state Senator John Morse, who represents a historically conservative Colorado Springs district, is facing a recall election due to his support for the gun control measure.
Organizers gathered more than twice the number of signatures needed to force a special election in Morse's district.
Morse, who is the Senate president, has two options: resign or face the recall election to keep his seat. If Morse were to resign, Democrats would keep his seat and the appointed legislator would finish the rest of his term. 
It works both ways, doesn't it?  What's your opinion?  Please leave a comment.