Our last day in Iraq. We leave Erbil early tomorrow morning. All credit to Christian Aid's Louise Finan and Laura Taylor for putting together and leading an excellent visit to this tragic land. Four days is not long enough to get a grip on things, but the programme shone light on a number of interconnected issues whilst allowing us to put names and faces to the statistics.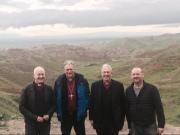 For example, this morning we joined Christian Aid's partner REACH to visit two families in the suburbs of Erbil. The first were Syrian refugees from Aleppo. The young woman, holding her very young son, struggled as she described the beheading of her big brother in July 2013. Her two teenage sisters work in a factory in order to bring money in for the family which has no other means of support or sustenance – they are 15 and 17 years old. Her nephew joined us – he had seen the body of his beheaded father and was traumatised. Her husband is missing, presumed dead. Her parents are in poor health and they all live together. They would like to go back to Aleppo, but it looks like there is barely any Aleppo left for them to return to. REACH has enabled the young mother to train as a hairdresser and start a small business. She has considered getting smuggled across the Aegean, but her family insist she would have to leave her young son behind. She is pessimistic about her son's future.
They also believe that Syria is now too fractured for peaceful reconciliation to be possible.
The second family fled from Mosul when Daesh/ISIS moved in. They were clear: Daesh kill anyone and everyone. They destroy everything. What will there be to go back to?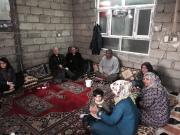 OK, they are the human face of the stuff we see in the news or hear chucked around in tabloid debates about "migrants". We went from there to meet the Director General of the Kurdistan Ministry of the Interior's Joint Crisis Coordination Centre. His story was consistent with those told by other, more independent interlocutors (including from the UK and UN):
Public salaries have not been paid for five months.
Only 9% of financial support promised by international partners has so far got through.
Baghdad is not passing on the 17% of its budget revenue it has agreed to do.
There appears to be no exit strategy for the post-ISIS era.
While resources are diminishing, the population in Kurdistan has increased by 30% because of IDPs and refugees.
Capacity exists – funding does not.
The situation is unsustainable, the infrastructure is under huge pressure, and a bigger crisis might lie ahead.
The Kurdistan Regional Government wants people voluntarily to return to their homes, to retain the mix of minorities, and get international help in creating peaceful reconciliation.
They need financial and technical assistance from the international community, but if these go via Baghdad, they will never reach Kurdistan.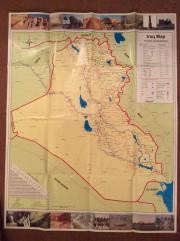 Our visits concluded as, coincidentally, US Secretary of State John Kerry described ISIS as having "committed genocide" against Shia Muslims, Christians and Yazidis. This is a little bewildering. ISIS – Sunni Muslims – have been murdering Sunnis, too. According to the people we have met this week, ISIS is indiscriminate in their savagery, even though they target Christians, Yazidis and Shia in particular. Genocide is to be legally defined, not politically. What is not in doubt is the sheer horror and destructiveness of what ISIS is doing to ordinary people whose lives were destroyed in the most brutal way.
Now, all this begs wider questions. I will get back to them in due course. But, the dominant question in my own mind just now is what reconstruction in Iraq might look like … and whether Iraq can survive.
Which makes the humanitarian work going on here all the more impressive. No guarantees – just commitment.

Posted with Blogsy