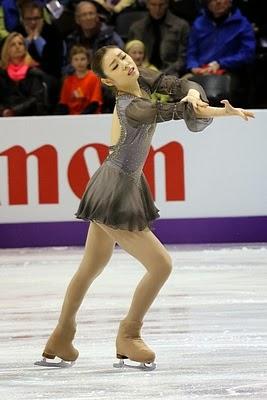 David W. Carmichael http://davecskatingphoto.com/
So it seems Kim Yun Ah
may have been cheated out of retaining her Olympic crown in the figure skating
. Adelina Sotnikova could have had some home help from the judges to push the 'Ice Queen' into silver instead of the much anticipated gold that the Korean public demanded and felt she deserved. But it wasn't just the Korean public, apparently many observers from a range of different countries were confounded by the judges scoring.
On the other hand, there were some people who thought that Sotnikova had a more difficult routine and therefore scored more points despite a minor - but what appeared crucial - mistake during her performance.
In the wake of this controversy, everyone has become an expert figure skating judge, one way or the other. I myself, don't have a damn clue about how to score a figure skating routine.  From my perspective, Kim Yun Ah's routine looked flawless and beautiful and better than Sotnikovas (and Sotnikova's certainly not 5 points better), but what do I know? Nothing, absolutely nothing.  My thoughts don't matter regarding who actually won.
With this in mind then, let's assume, for the sake of argument, the decision was a scandalous one and that the Russians fixed the whole thing and cheated Kim Yun Ah and the Korean public.  If this is the case, it's wrong, annoying, and an example of sporting injustice.  But what about cosmic justice?
I find it slightly ironic that Korea's number one sports star, and someone whose performances mean so much to the country, may have fallen foul to a controversial home bias decision at an Olympics.  Why?  Because one of the
most blatant examples of home advantage cheating at any Olympics
was perpetrated by the Koreans themselves at the Seoul Olympics in 1988 when Roy Jones Jnr fought Korean Park Si Hun for gold in boxing.   You can see the full fight and judge for yourselves below:
Now, I'm not a boxing judge either, but this fight was the equivalent of a figure skater falling 5 times in a routine and still winning the gold in the face of an almost perfect performance by a competitor.  Everyone knows that this decision was highly motivated by what many Koreans thought were bias decisions by American judges at the Los Angeles Olympics in the boxing 4 years earlier.  The history is well summed up over at 
Gusts of Popular Feeling
, along with some other issues regarding boxing at the games.
It is one thing getting even by a little cheating in a contentious, closely fought fight, but the obviously fraudulent decision in the Roy Jones fight was shameful and reflected badly on Korea.
Swings and roundabout then, and it seems rather apt that many Korean people feel cheated by the judges in Sochi, some might say it couldn't happen to a more deserving country.
It is tempting to think this way and to believe cosmic justice has been done.  But personally, I do not believe in justice of this kind.  If something was wrong then it was wrong.  If it was done dishonestly, then that is even worse.  And I know one thing for certain; if Kim Yun Ah really was the deserving winner and she has really been cheated out of a gold medal, then she does not deserve it, forget about Korea as a country.
The revenge aspect of the 1988 decision with Roy Jones is also something any right-minded person or Olympic organisers in a country would steer clear of.  One hopes - but does not expect - that Russian athletes will be treated fairly in 4 years time when Korea hold the next Winter Olympics in Pyeongchang in 2018.  Unfortunately, the likelihood is that if a Korean ends up battling a Russian for a gold medal in an important event (especially the figure skating), Korean organisers may see it as an opportunity for retribution. Let's hope this is not the case.
An Olympics of any kind presents both opportunities to flourish and fail for the host nation.  These days, it seems, people are waiting for what a country will do wrong in the lead-up to an Olympic games.  In Russia's case, there were question marks about morality (
think stray dogs
), of the
construction of the venues
, and the general organisation.  In London 2012 for the summer Olympics, questions were being raised before the start about the competency of security and of problems with dated infrastructure and poor transport.  In Pyeongchang in 2018, the worry will be fairness and impartiality.  Can South Korea, a country with a fiercely nationalistic mindset (
it was about 90% Koreans who managed to crash the change.org site
, and all for figure skating!) manage to not interfere with the results of events?  The temptation for revenge was too great in 1988, so will it get the better of them 30 years later as well?
It will be a test for the character of a nation and it is an opportunity for Korea as a country to show they are above this kind of skulduggery and insecurity now.  They now understand the burn of being cheated like Roy Jones Jnr.  I hope they can react to Kim Yun Ah's disappointment in the best possible way, rise above it in four years time and do their best to be fair to all athletes who have trained so hard for the chance to be Olympic champions.  They and the world demand that they be judged on their performances, not on where they were born.