Price: Suggested retail is $15.00
From The Winery: 14.6% alcohol, produced from vineyards in Napa, Sonoma, Lodi, and Solano County. Aged 36 months in American and European (some French) oak.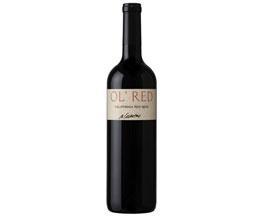 Impressions/Notes:
I don't think that I've ever had a wine with so many different varietals going in to it–Pinot Noir, Syrah, Carignane, Zinfandel, Merlot, Sangiovese, Mouvedre, Petite Sirah, Dolcetto, Touriga Nacional, Touriga Francesca and Tinta Cao. The nose on the Ol' Red reaches out of the glass and nearly smacks you in the face with cherry liqueur, asian spiced, and cigar box. This wine spent 36 months in oak, so as one could imagine it has some serious oak influence. In the mouth, it's a bit short on acidity and a bit big on alcohol, as it's packing some serious heat. To me, this is the perfect wine for snow-shoveling, which we do plenty of in Colorado. A glass before going outside and the rest of the bottle after coming in should help to chase the cold out of your bones!
Rating: Not Too Shabby/Recommended (84-87), 2.5/5 Value