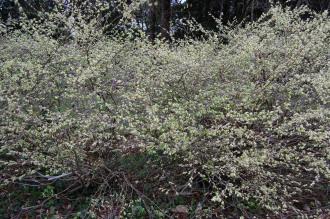 Corylopsis pauciflora (04/04/2015, Kyoto Botanical Gardens, Kyoto, Japan)
Position: Partial shade
Flowering period: Spring
Soil: Moist, well drained, acid
Eventual Height: 1.5m
Eventual Spread: 2.5m
Hardiness: 6a, 6b, 7a, 7b, 8a, 8b, 9a
Family:  Hamamelidaceae
Corylopsis pauciflora is a deciduous shrub with a spreading habit. Its mid green leaves are ovate with serrate margins, greyish on their undersides, up to 7.5cm long and 5cm across. Its leaves are tinged with red as they emerge. Its fragrant pale yellow flowers are bell shape, borne on short pendant racemes and appear before its leaves. The fruit is a small, dry, 2 valved capsule.
Corylopsis pauciflora, commonly known as Buttercup Witch Hazel, is native to Japan and Taiwan.
The etymological root of the binomial name Corylopsis is derived from the Greek korylos meaning Hazel and oyis meaning 'appearance', in reference to the leaves' similarity to those of the Hazel. Pauciflora is derived from the Latin paucum meaning 'a few' and flora meaning 'flower'.

The landscape architect may find Corylopsis pauciflora useful as an attractive spring flowering shrub for lightly shaded location. It prefers a sheltered location.
Ecologically, Corylopsis pauciflora flowers are attractive to pollinating insects.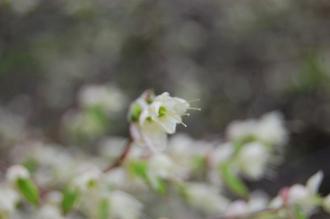 Corylopsis pauciflora Flower (04/04/2015, Kyoto Botanical Gardens, Kyoto, Japan)
The Royal Horticultural Society has given Corylopsis pauciflora their prestigious Award of Garden Merit in 1993.
Corylopsis pauciflora prefers moist, humus rich, well-drained soils. It prefers an acid pH of soil. It dislikes dry soils.
Corylopsis pauciflora requires little maintenance. Necessary pruning should be carried out in spring, after flowering.