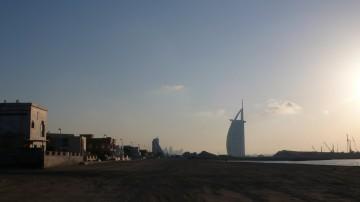 Dubai, with its famous Burj-Al-Arab luxury residences and hotel in the background
Over a short and recent period, Dubai has risen to assume a role model position for its neighboring countries, largely owing to its relative stability in a volatile region. The Middle East is in practically continuous political turmoil — and the United Arab Emirates is the only nation that is not.
Dubai's stable situation, openness to the West, solid leadership with a clear vision and mission, has made this Emirate a destination spot.
It offers an opportunity not to be missed for foreign companies, as well as for individual investors to venture in a growing economy that offers more than a decent tax-free return on investment.
Corporate Social Responsibility ("CRS") is the natural next step in Dubai's evolution: Multinationals have established headquarters in the country, real estate was the industry to invest in. Indeed, projects were so ambitious in nature that they made the whole world take notice, and finally, it offered a financial benefit to expatriates that allowed them to live a luxurious life that was unattainable in their country of origin.
However, true understanding and implementation of CRS initiatives has faced some obstacles, primarily cultural, religious and reactionary to global forces.

The Cultural Element
Society in the gulf region is tribal. The most powerful tribe rules the region and the rulers thereafter are descendants of that tribe. Therefore, hierarchy is respected to the highest degree and the Sheik (head of the tribe) – usually the eldest member – is blindly obeyed. These traditions hold true to this day.
As one can imagine, when the first expatriates arrived to the region, cultural clash became unavoidable. The Arab world had a preconception of the West as evil invaders or opportunists looking to exploit the Arab wealth, enforce their theories of business practices and change the Arab way of life. The region has always,  since World War II, been subject to French or English occupation. This dual patriarchy prevented the implementation of CSR as we know it today. After all, the region had just discovered oil and people were still living in tents. So at first the priority was building cities, schools and other infrastructure elements of modern day life.
The Religious Element
Islam is the dominant religion and the states' official religion in the Gulf region. All laws are based on the Holly Quran and legislation has to conform to the Quran.
When the concept of CSR was introduced to a mature economy, local businessman considered themselves to be actively promoting CSR. This interpretation is based on Zakat, one of the pillars of Islam that translates as "transferring ownership of wealth to the poor and needy."
Under Islam law, the rich have to give 2.5% of their trade profits or cattle trade per year to the poor, without expecting any reward. The money is given either directly or through governmental agencies that distribute the money. This was the Islamic version of CSR.
During the golden days of Islam Zakat money was placed in a communal government safe and people who needed money would ask the safe keeper for money when they were in need
Furthermore, these actions were not publicized as they go against a rule in Islam that states when a Muslim does a good deed, he should not mention it or publicly flaunt it, otherwise he will not be rewarded by Allah for his action. This action prevented the exchange of ideas and theories about the true meaning of CSR. Charity and philanthropy were also considered an Arabic version of CSR. The concept did not differentiate between individuals, corporations and the state.
It is also worth noting that during the golden days of Islam (the first 300 years), Zakat money used to be put in a government "safe" and people who needed money would just come to the safe keeper and ask for money. Due to this share of wealth and strict adherence by the rich to pay the 2.5%, there were times when no one needed money and it would simply accumulate in the safe – because  Zakat money is different from government money and therefore cannot be used to build houses or schools. It is meant for the eight types of recipients only as mentioned in the Quran).
The Reactionary Element
As interaction on personal and business levels between locals and expats became deeper, the Gulf region started to take note of the real meaning of CSR and its implementation. The region played a reactive role at first to external global forces. Following the lead of Europe and America, the region duplicated CSR initiatives with a little customization to fit the culture. The early 1990s, however, presented a turning point for the Gulf region, especially in Dubai.
The Dubai government embarked with full force on a plan to educate and motivate companies to implement and create CSR initiatives and make them part of the companies' vision, mission and strategic plan.
The Role of Government
Dubai's government built a reputation for taking the lead on new initiatives and thereby indirectly forcing companies to comply and come up with new CSR initiatives. Some of the UAE government's most successful CSR projects to date are:
I –­ Al Masdar City:
According to their website, Al Masdar City was established in April 2006 and "Masdar (the Abu Dhabi Future Energy Company) is a multi-faceted company advancing the development, commercialization and deployment of renewable energy solutions and clean technologies.' (www.masdar.ae). Masdar integrates the full renewable and clean technology lifecycle – from research to commercial deployment – with the aim of creating scalable clean energy solutions.
Masdar consists of three business units – in carbon, clean tech, and renewable energy – and one investment arm focusing on clean tech and renewable energy venture capital.
II – EEG (Emirates Environmental Group)
At its inception in 2004, the EEG CSR network was the only multi-stakeholder forum on the region dedicated to promoting CSR and sharing best practice.
III – Center of Responsible Business
The CRB was established by Dubai Chamber of Commerce and Industries to conduct research and studies in the development of CSR in the country. The center presents its recommendations and monitor CSR trends to be implemented in Dubai.
The Role of Major Companies with CSR projects
Four major companies in the region stand out as leading the regional pack with respect to modern day CRS projects.
The Emirates Group has established relations with over one hundred of the cities they operate in and their projects range from medical care, to educational programs, and classroom renovation work. All their projects are detailed on their website: www.emiratesgroup.com
The Al Naboodah Group was by two brothers. In the 1970s the group expanded and diversified to form a unique international group with more than 45,000 employees active around four core sectors: Construction, commercial, investments and real estate. All sectors claim to take into consideration the communities in which they operate and to make CSR part of their decision making process. Their CSR goals are described in their website: www.alnaboodah.com
The most common forms of support are adjusting work schedules, providing time off without pay, and allowing access to company facilities and equipment.
The Dubai Islamic Bank was established in 1975 and since that date has made a significant contribution to a broad range of charitable organizations and community initiatives. In particular, the bank continues to play a leading role in the area of Emiratisation, supporting and developing the professional development of the local UAE population. Also of special note, the bank has taken the initiative of establishing the DIB Foundation, aimed at serving the UAE community and supporting those who face hardships and require humanitarian need, especially in the health, education and housing.
The National Bank of Abu Dhabi was the first to formalize a CSR report in 2006. Its initiatives are mainly focused on helping underprivileged communities. Furthermore, the bank has a CSR policy embedded in its strategic plan. It accommodates and encourages employees to volunteer their time and effort to help in the CSR initiatives.
"Dubai Islamic Bank's commitment to corporate social responsibility activities is fully in line with our larger mission of supporting the ambition of public organizations, private firms and individuals to realize their full potential," said Abdulla Al Hamli, Chief Executive Officer, Dubai Islamic Bank. "We firmly believe that, as a responsible corporate citizen, we have both an obligation and an opportunity to contribute to the betterment of communities across this young and vibrant region."
Conclusion
Finally, The Center for Responsible Business continues to explore new social research areas. The first ever survey on corporate community involvement revealed companies in Dubai continued relying on traditional aspects of corporate community involvement such as philanthropic donations – cash donations (twenty percent) and in-kind donation (eighteen percent); sponsorship of community (the dominant method being sixteen percent for contributing to the community). The areas allocated the greatest proportion of companies' total contribution to community include healthcare (fifteen percent), sporting and recreation (fifteen percent), education (fourteen percent), and environmental issues (thirteen percent).
The results demonstrate that companies in Dubai are at the early stages of developing comprehensive management approaches to community involvement: 6% of companies have a formal commitment or policy on community involvement activities, 7% of companies have a strategic plan for community involvement, twelve percent of companies dedicated a department/officer to deal with community involvement programs or activities, and 6% of companies either have a communicate plan for community involvement or report their achievement.
The survey results revealed further signs that corporate volunteering in Dubai is at an early stage of development; few businesses (twenty-one percent) encouraged or accommodated employee volunteer activities. Companies support employee volunteering in different ways; forty-four percent of all businesses encourage employees to volunteer on their own time, and one quarter accommodate employee volunteer activities during regular working hours. The results further show that company support for employee volunteer activities tends to be responsive or reactive rather than strategic or proactive.
The most common forms of support are adjusting work schedules (twenty-nine percent), providing time off without pay (twenty-seven percent), and allowing access to company facilities and equipment (forty percent). Companies support a range of organizations and causes including education (twenty-six percent), health (twenty-four percent), overseas aid (twenty-four percent), and children and youth (nineteen percent). The survey findings revealed that lack of knowledge, time, and awareness are main reasons that kept companies from participating in volunteer activities.
It is clear from this short analysis that companies in Dubai and the UAE in general are engaged and committed to CSR initiatives. Naturally, there still a lot to be done in this area, but for a relatively young country, the seven emirates became the UAE in December 2, 1971, the results are promising to say the least.