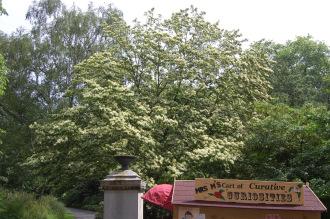 Cornus walteri (07/06/2104, Kew Gardens, London)
Position: Full sun to light shade
Flowering period: Early summer
Soil: Moist, well drained
Eventual Height: 15m
Eventual Spread: 12m
Hardiness: 5a, 5b, 6a, 6b, 7a, 7b, 8a, 8b, 9a
Family: Cornaceae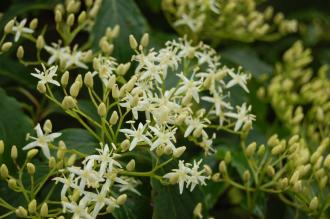 Cornus walteri Flower (07/06/2104, Kew Gardens, London)
Cornus walteri is a deciduous large shrub or small tree with an upright habit. Its mid green leaves are elliptic with wavy serrulate margins, up to 12cm long and 6cm broad. Its leaves turn red in autumn before they fall. Its bark is dark gray and furrowed. Its fragrant white flowers are up to 1cm across, appear as cymes and are up to 6cm across. Its round fruit is a purple/ black berry and up to 35mm across.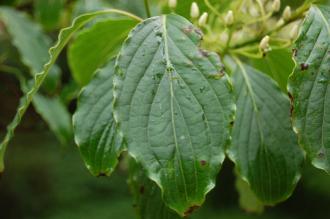 Cornus walteri Leaf (07/06/2104, Kew Gardens, London)
Cornus walteri, commonly known as Walter Dogwood or Korean Dogwood, is native to most of China and Korea. In its native habitat it grows in mixed forest.
The etymological root of the binomial Cornus is from the Latin cornum. Walteri may be named after Thomas Walter (1740 – 1789) a British born American botanist, reader clarification on this point would be welcome.
The landscape architect may find Cornus walteri useful as a flowering street tree. Once established this tree is drought tolerant.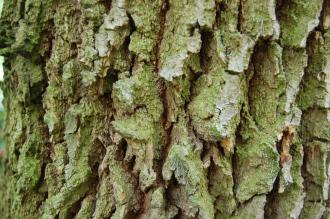 Cornus walteri Bark (07/06/2104, Kew Gardens, London)
Ecologically, Cornus walteri flowers are attractive to pollinating insects. Its fruit are attractive to birds and some mammals.
Cornus walteri prefers moist, fertile, well-drained soils. It tolerates most pH of soil.
Cornus walteri requires little maintenance.