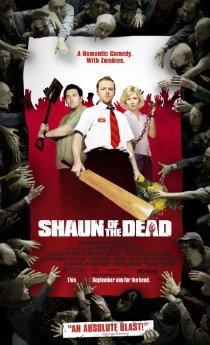 Director: Edgar Wright
Writer: Simon Pegg, Edgar Wright (Screenplay)
Starring: Simon Pegg, Kate Ashfield, Nick Frost, Lucy Davis, Dylan Moran, Nicola Cunningham, Bill Nighy, Peter Serafinowicz
Plot: A man decides to turn his moribund life around by winning back his ex-girlfriend, reconciling his relationship with his mother, and dealing with an entire community that has returned from the dead to eat the living.
There may be spoilers the rest of the review
Verdict: Just Not For Me
Story: Shaun of the Dead starts with Shaun (Pegg) whose girlfriend Liz (Ashfield) wants him to become more involved in the relationship but his flatmate Ed (Frost) is holding him back in a happy routine. Shaun works a dead end job and with the news of something happening around the Southern end of England.
When Liz breaks up with Shaun, Ed takes him out on a bender down the Winchester. The next morning zombies have taken over London and Shaun must work with Ed to save his nearest and dearest and take them down the Winchester until it all blows over.
Shaun of the Dead tackles a genre I personally love, the zombie movie with an added level of comedy which I don't think comes off enough. I feel the jokes are very forced and take away any real feel of peril. On the zombie side of the story things all work well because we have seen it all before where the group look for somewhere to be safe, the additional side I did like was having it be everyday people who come off clueless to the idea of what is happening. I know this is most people's favorite horror comedy but it just doesn't work for me.
Actor Review
Simon Pegg: Shaun is a slacker working a dead end job and involved in a stale relationship with Liz, he lives with his best friend Ed who is holding him back. When he gets dumped he goes on a bender only to wake up in the middle of a zombie apocalypse where he must take charge and save his friends and family. Simon brings his style of comedy here which I am not a fan off but he does do well do make him look like an everyday man.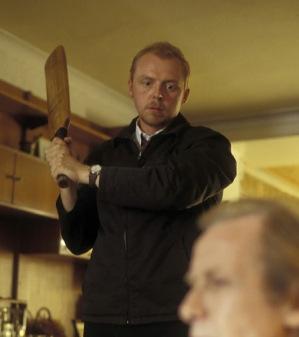 Nick Frost: Ed is Shaun's best friend who just sits around the flat playing video games, he is pretty much just a slob but he is there for Shaun whenever he needs help. He is always causing problem through the escape plan too. Nick does a good job playing the complete idiot through the film.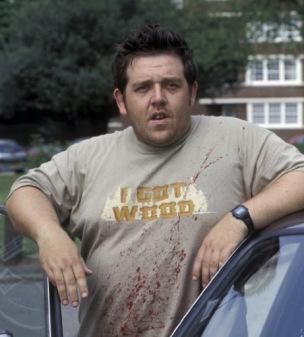 Kate Ashfield: Liz is the girlfriend of Shaun who wants him to grow up and gets to the stage where she dumps him, but when the zombie outbreak happens she ends up working with Shaun to survive. Kate does good job in this role coming off as the nagging girlfriend.
Lucy Davis: Dianne is the roommate of Liz who ends up joining them on the mission to try and survive. Her skills come in handy when it comes up against the zombies. Lucy does a good job in this role playing the strange member of the group.
Support Cast: Shaun of the Dead has your typical supporting cast for a zombie film with basic use that gives each one their moment.
Director Review: Edgar Wright – Edgar brings his style of film to us where it has become a favorite around the world and I understand why people love it but it's not one of my favorite.
Comedy: Shaun of the Dead has laughs but I just don't enjoy most of the jokes being used.
Horror: Shaun of the Dead doesn't enter the world of horror enough with the attempted jokes.
Settings: Shaun of the Dead tries to make everything feel like it the zombie outbreak happened over night. This works for the film making everyone look like every day people.
Special Effects: Shaun of the Dead uses the special effects to create the zombie kills which all look very good.
Suggestion: Shaun of the Dead is one to try but I would expect most people have seen it already. (Try It)
Best Part: Can't call them Zombies reference through the film.
Worst Part: Fart jokes.
Believability: No
Chances of Tears: No
Chances of Sequel: No
Post Credits Scene: No
Oscar Chances: No
Box Office: $13.5 Million
Budget: $4 Million
Runtime: 1 Hour 39 Minutes
Tagline: This September, aim for the head.
Overall: Solid Zombie Comedy that doesn't do it for me.
Rating