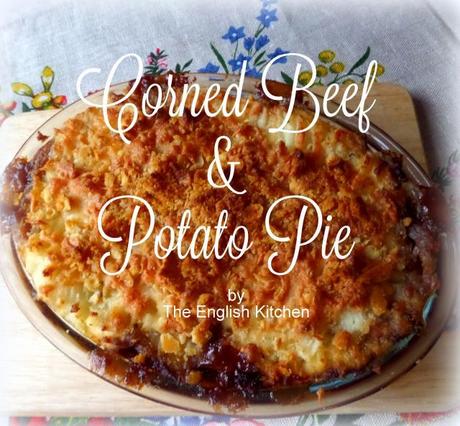 This is one of those dishes that is made from simple things most of us probably have in our cupboards and larders at any given time and it is so easy to make.  It's simplicity might cause one to believe that it's not special in any way, but that is where you would be very wrong.   This is probably one of the most delicious supper dishes that you could ever want to eat.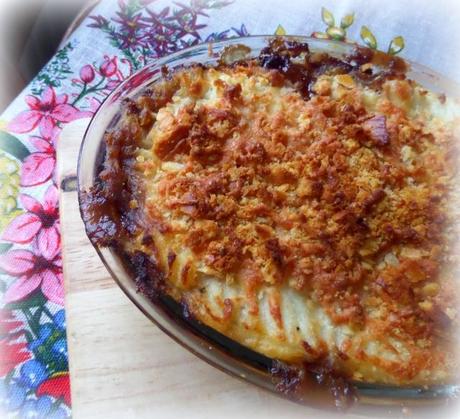 It's not that attractive to look at . . .  admittedly . . .  but don't let what it looks like put you off.   This is a case where you cannot judge a book by it's cover.   If you pass this by, you are missing out on a real gem.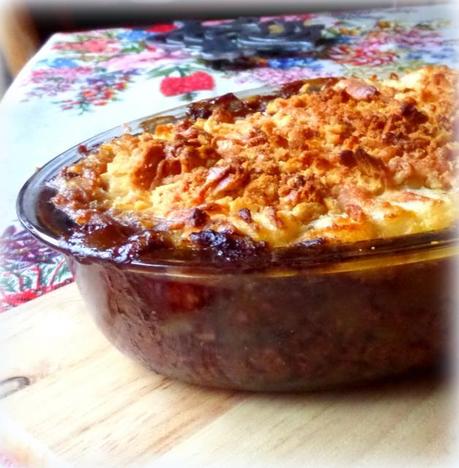 I think I had been over here for several years when my friend Angie asked me had I ever eaten Corned Beef and Potato Pie.  No, was my response.   Angie assured me that it was a most delicious dish and quite economical too and gave me the recipe to add to my big blue binder of cooking treasures.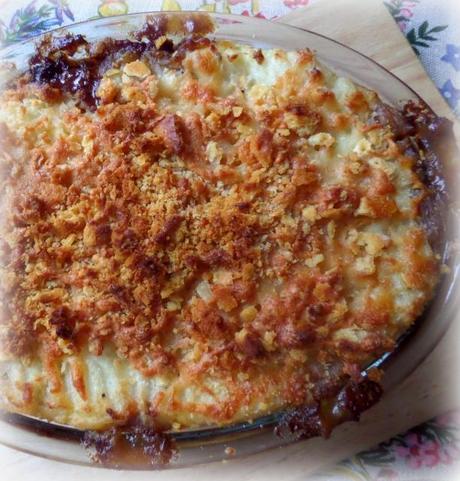 With it's delicious bottom created by stewing corned beef with beefy juices, onions, seasonings, herbs and ketchup . . .  and it's fluffy mashed potato topping, not to mention that crispy cheese topping blanketing the top of it, this is a winner all round.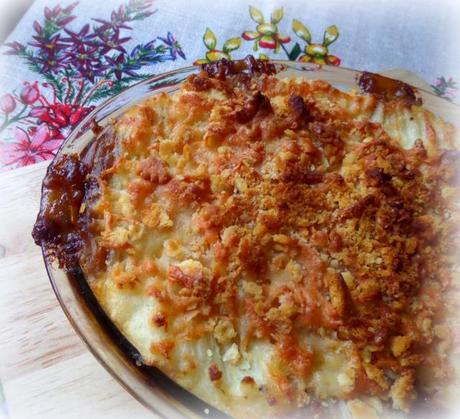 It's like a cheaper, but tastier cousin of cottage pie.  I always keep tins of corned beef in my cupboard.   Don't turn your nose up at it!  This is a real store cupboard gem!  I normally buy the lean tins of corned beef so it's not that fatty.   It's really delicious.  The first time I made it, I couldn't help myself.  I went back for seconds.  So did Todd and it quickly became a real favorite around here.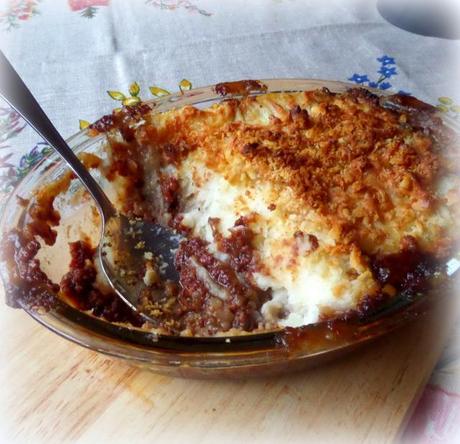 It makes a perfect and economical weeknight supper, just perfect for January when the temperatures are dropping and our bank accounts are depleted after all of the indulgences of Christmas.  Cheap, cheerful and simple is the order of the day . . . and this is certainly all of that!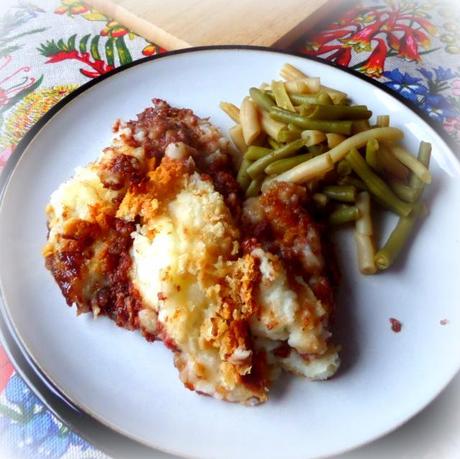 *Corned Beef and Potato Pie*Serves 4Printable Recipe 
Who says economy means food has to be boring or taste bad.  A nice green vegetable like cabbage or green beans goes well on the side. 
2 onions, peeled and finely chopped2 TBS butter1 tsp worcestershire sauce splash of tomato ketchup350ml of beef stock (1 1/2 cup)1 TBS parsley flakes1 tsp dried thyme1 325g tin of corned beef ( regular sized tin)(I use the lean one)
salt and black pepper to taste  
To top:250g of potatoes, peeled and cut into chunks ( a generous pound)
a little warmed milk
a knob of butter50g of strong cheddar cheese, grated (1/2 cup)25g of fresh bread crumbs (1/2 cup)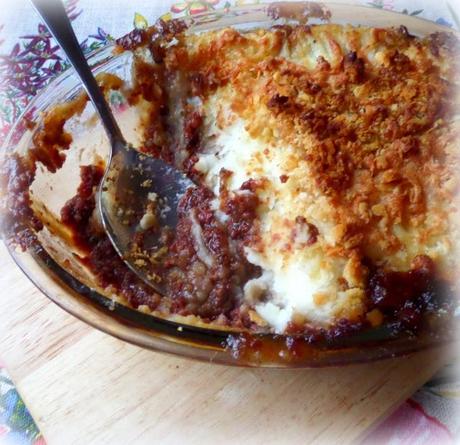 Boil the potatoes in a pot of lightly salted boiling water until fork tender.  Season to taste with salt and pepper and then mash with some warm milk and a nice nob of butter.   Set aside.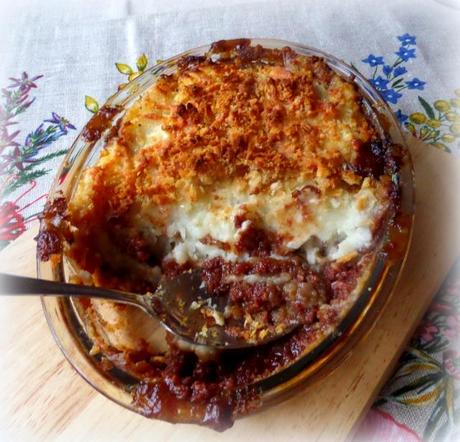 Heat the butter in a large skillet.   Add the onions and cook to soften over medium heat without colouring.   Add the worcestersire sauce, tomato ketchup, beef stock, parsley and thyme.   Bring to the boil and then cook to reduce to half the amount.  (175ml or 3/4 cup)  Add the corned beef, breaking it up with a fork.   Heat through for about 5 minutes.  Taste and adjust seasoning as necessary. Pour it into a shallow casserole dish.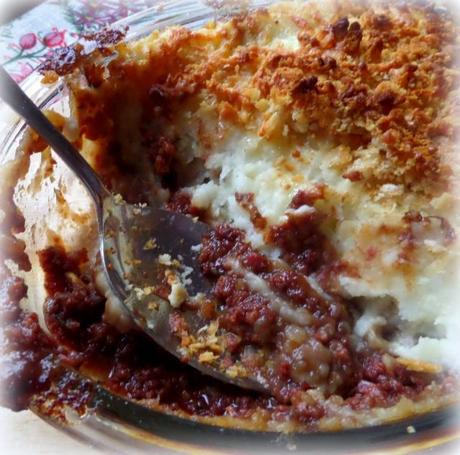 Preheat the oven to 200*C/400*F/ gas mark 6.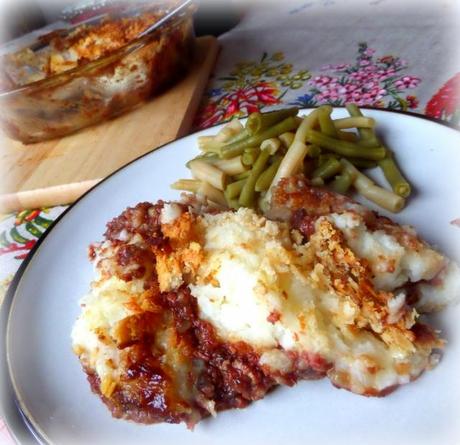 Top the corned beef with the mashed potatoes.  I like to rough it up a bit with a fork on the top.   Mix together the cheese and bread crumbs.  Sprinkle this evenly over the top.   Bake for 20 minutes, until well heated through and nicely browned on top.   Serve hot.
Note - Sometimes I use crushed cracker crumbs instead of breadcrumbs on the topping for an extra crispy topping.   You won't want to pass this tasty dish by!  Trust me!