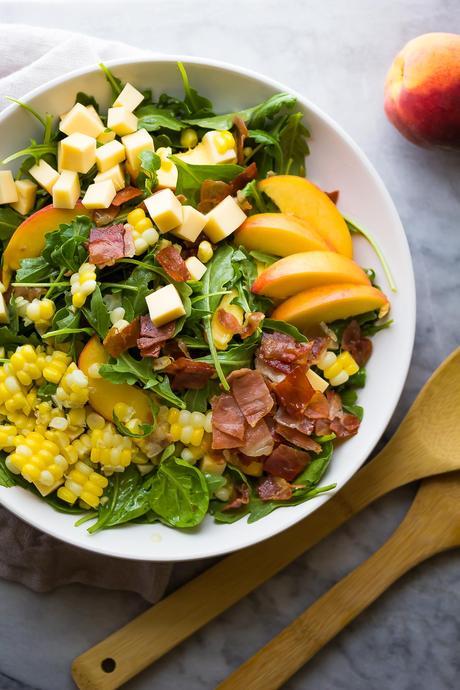 This corn and peach salad recipe is packed with crispy prosciutto, smoked gouda and arugula, and is tossed in a white wine vinaigrette.  The ultimate summer salad!
And just like that it's August?!  In my world, time goes very slowly throughout winter and especially spring.  But once summer hits, it's blink-and-you-miss-it.  Whyyyyyyy!?
I know some of my blogger friends are already breaking out the pumpkin and apple cinnamon flavors, but not me.  I have a strict no-pumpkin policy until September 1st.  After that, all bets are off

So don't expect to see any fall-ish stuff around here any time soon, because I'm too busy basking in ever drop of summer while it's here!
And today I have the absolute summeriest salad you ever did see.  Packed with my two absolute favorite summery ingredients: fresh corn and peaches.  Not only is this corn and peach salad recipe the epitome of summer, but it also helps you fill half your plate with fruits and vegetables!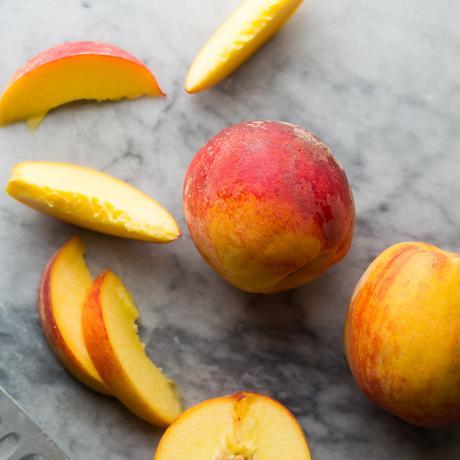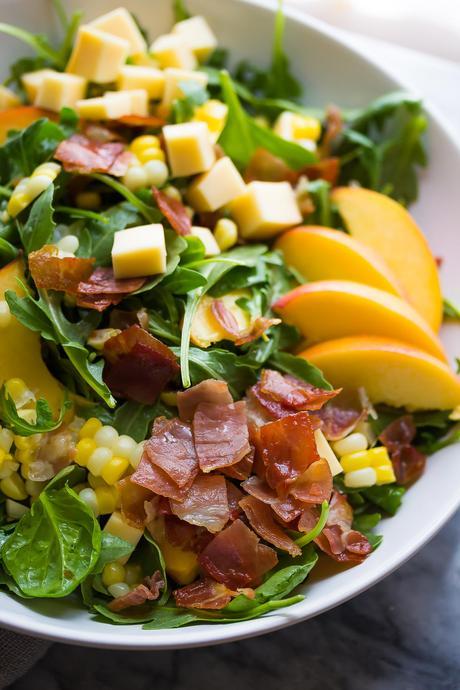 Today's post is in partnership with my friends over at Half Your Plate, whose mission is to encourage us to fill half our plates with fruit and vegetables.
Eating more fruits and veggies is better for your health, and it doesn't have to involve celery sticks!  There are so many creative ways to add more fruits and veggies to your diet, and Half Your Plate has a ton of ideas to get you inspired, so be sure to check out their website!
And today's recipe is right in line with the Half Your Plate mission.  TONS of fruit and veggies.  This corn and peach salad recipe would be the perfect side to serve with some grilled chicken and maybe some nice bread (that's how we enjoyed ours!)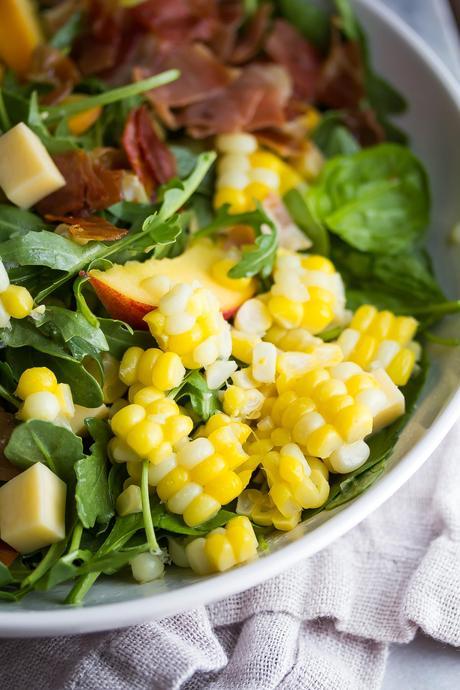 This salad is packed with fibre, vitamin C, and antioxidants, but besides that, it is TASTY!!
I love all the textures in here: creamy chunks of smoked gouda, crispy prosciutto, and soft peaches.
And the flavor contrast is pretty great, too!  Sweet corn & peaches, salty prosciutto and smoky gouda.
This might just be my new favorite salad!
Disclosure: thank-you to Half Your Plate for sponsoring this post.  As always, all opinions remain my own. 
Corn and Peach Salad Recipe with Crispy Prosciutto  
Print
Prep time 10 mins Cook time 10 mins Total time 20 mins   Author:
Denise
Recipe type:
side
Serves:
4
Ingredients
4 ears of corn
1 teaspoon olive oil
8 slices of prosciutto, cut into 1-inch squares
8 cups of greens, packed (I used arugula and spinach)
4 ripe peaches, sliced
½ cup smoked gouda, cut into cubes
White Wine Vinaigrette:
2 tablespoons olive oil
2 tablespoons white wine vinegar
1 tablespoon maple syrup
¼ teaspoon dijon
Instructions
Cook corn in a pot of boiling water for 10 minutes, until cooked through. Remove from water and allow to cool for several minutes before slicing the kernels from the cob.
Heat a large frying pan over medium heat. Add the olive oil, then the prosciutto squares, scattering them as best you can.
Cook for about 5 minutes, stirring occasionally, until prosciutto is crispy. Remove from pan and place on a paper towel-lined plate to drain.
Combine all salad ingredients in a large bowl.
Shake together the vinaigrette and toss the salad.
Divide between 4 large bowl plates and serve immediately.
Notes This recipe makes 4 large (meal sized) portions. Top with grilled chicken and serve with a nice slice of bread for a complete meal.
Sadly, this salad doesn't keep very well, so it's best to serve immediately, or to dress immediately before serving. 3.5.3208
Products used in this recipe: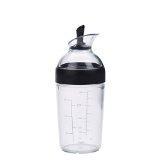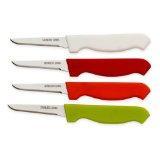 More summery salads for us!