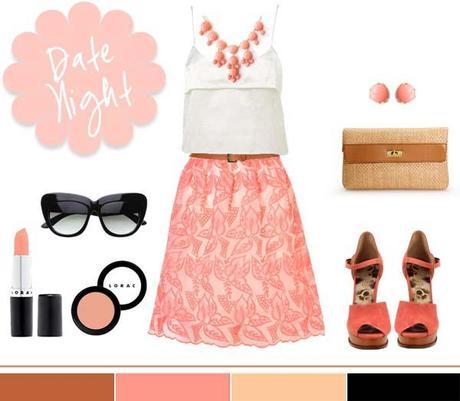 I'm really excited about these giant bauble necklaces that you can snag on Etsy for $20-30.00. They come in some really great colors and if it wasn't for the 2-4 week ship time I would probably have placed my order by now…I'm also semi-skeptical of the quality. Does anyone out there have a glowing testimonial to provide? In other news, I'm on the hunt for comfortable heels and I've read some amazing reviews of these Sam Edelman Javi Wedge Pumps.

TopShop Fluro Embroidered Skir
t ($84.00),
TopShop Silk Tier Cami
($84.00), Salmon Statement Jewelry from Etsy ($29.00),  TopShop Snaffle Skinny Belt ($32.00), Sam Edelman Javi Wedge Pumps ($150.00), J.Crew Brompton Straw Clutch ($128.00),  New York Fashion Week Women's Cat Eye Sunglasses ($9.99), Lorac Lipstick in Babydoll ($19.00), Lorac Blush in Rose ($20.00).