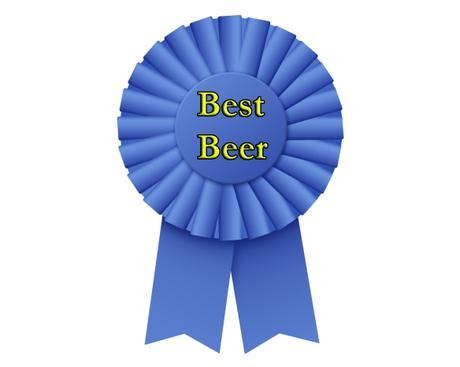 Last week, Zymurgy, the official publication of the American Homebrewers Association, released its latest update to its annual "Best Beers in America" list.
The compilation of top-50 beers, voted on every year by readers of the magazine, typically stands out slightly from other such lists from Beer Advocate or RateBeer because of general lack of imperial stouts, which so often dominate other polls. There were seven this year and one imperial porter.
Despite that difference, Zymurgy's voters do have one thing in common with just about any other "best beer" list you'd find - they love IPAs.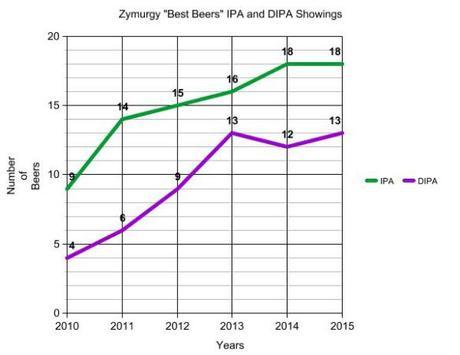 After last year's dissection of Zymurgy's list, I took additional data with hope to better analyze the outcome of historical votes, offering context to any shifting preferences and patterns from over the years.
First, the pink elephant in the room. Yes, there's something going on here with ABV, as you might expect from other research outcomes on lists like this. From 2010 to 2015, the averaged alcohol content of Zymurgy's lists increased 1.37 percent: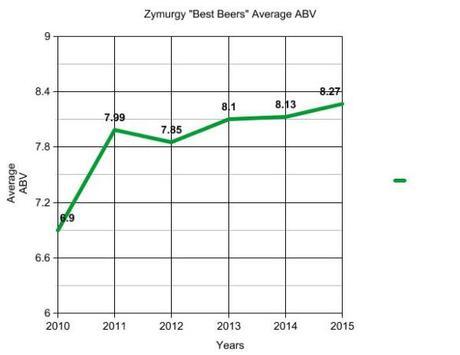 The caveat to this, however, is the structure of voting. In 2010, Zymurgy allowed voting for beer that "has to be commercially available somewhere in the United States," allowing inclusion for Duvel, Saison Dupont, Orval and others. Beginning in 2011, language was changed to "commercially available American beers."
In a more apples-to-apples comparison, the changes seen since 2011 are rather minimal - about a quarter of a percent. Even still, hovering around 8 percent ABV emphasizes beer drinkers' love for boozy brews, as the average sits more than a standard deviation above the average craft beer ABV of 5.9 percent.
This chart would show more of an upward trend if 2011 didn't have a few outliers of Founders Expedition Stout (10.5 percent), AleSmith Speedway Stout (12 percent) and 3 Floyds Dark Lord (15 percent), the only time these three beers show up on Zymurgy lists during the above time period, believe it or not. You'd be hard pressed to find a Beer Advocate or RateBeer "best beer" collection without them.
For the most part, any changes to Zymurgy's list over the years has been relatively minimal. This is a selection process that has had the same 1-2 ranking of Russian River's Pliny the Elder and Bell's Two Hearted Ale for years.
But there is some fun to be had trying to better understand why some beers change positions in a significant way. I selected five that stood out to me, with almost all their movement coming in the last few years, mostly because of their availability:
Ballast Point had a meteoric rise with Sculpin, which is often criminally underrated when discussing some of the best IPAs. Of note, the grapefruit variant showed up in a tie for 33rd in 2015's list, the first time I'm aware of two of the same beer appearing on Zymurgy's list.
Heady Topper probably doesn't need any introduction, but it did lose a spot in the 2015 list after Stone Enjoy By IPA went from #8 in 2014 to #4 this year. The others of note:
Ten Fidy - While recent rankings suggest this beer is barely hanging on, it's interesting that imperial stout saw declining rankings for three straight years, fell off the list, but wound up returning and increased its ranking for 2015. Why? It can't simply be Oskar Blues' growing distribution footprint, because harder-to-find beers perform better.
Russian River Supplication - Wild beers are all the rage and this beer - along with Consecration - climbs the ranks. It's made more interesting by limited access to Supplication. You can't just walk to any store and find it thanks to Russian River's distribution to just a few states. Do people vote by name? Mythological status? The one time they had it at a bottle share?
Firestone Walker Wookey Jack - Considered by many to be the barometer of black IPAs on the market, I'm not surprised it gets top votes, especially considering Firestone Walker's prowess in recent years.
Among last year's questions I raised from the Zymurgy list, I wanted to explore the idea of the "boring" beer - something that had been around for a long time and had lost its luster, probably thanks to all the new options so easily found these days.
It's not so hard to find these with IPAs (and one American pale ale):
Given Stone Brewing Co.'s "2.0" takes, it's not a surprise Ruination has seen a precipitous fall. Ditto it's sister IPA, which as recent as 2010 was a beacon for hop enthusiasts, apparently.
But how often do you hear people talking about Racer 5? A good beer, for sure, but now at the back of the pack, at least to Zymurgy voters. I've no idea what happened with Sucks, aside from a whole lot of votes going elsewhere. The number of IPAs and DIPAs from 2014 to 2015 is nearly identical, so maybe it's a case that beer was forgotten about. That's a far way to fall for something that is rather beloved, from my observations.
Dale's Pale Ale is perhaps a good epitome of the situation as the Stone Brewing beers. Pale ales simply don't get much attention, but it is widely distributed and a great beer in its own right. On a "best beer" list for today's beer drinkers, it simply doesn't belong as easily as it once did.
Real simple here - some IPAs jumped these options on the Zymurgy list:
Wookey Jack, Zombie Dust, Blind Pig are just a few that went ahead of Bourbon County Brand Stout and/or Kentucky Breakfast Stout. Figures, you INSATIABLE ANIMALS.
To be fair, Rasputin has seen a downward slide for years. I would attribute it to people simply overlooking it. It's got otherworldly scores on RateBeer ( 100) and Beer Advocate ( 96), but it's also been winning awards since 1996.
Congrats to these beers - the five new beers added to the 2015 list that had never appeared before:
Any surprises here? You've got your IPAs and high-ABV malt-forward beer, so that certainly covers the bases I'd expect. The most interesting aspect will be watching where these beers go from here. That's a very high debut for Fresh Squeezed.
For reference, here are the beers from 2014 that didn't appear on the 2015 list. There's one extra beer that showed up from this year's selection because Zymurgy allows for ties that result in more than 50 listed beers. Parabola and Myrcenary have both appeared in previous Zymurgy lists:
Sierra Nevada Ruthless Rye
Deschutes Fresh Squeezed IPA
Dogfish Head 60 Minute IPA
Firestone Walker Parabola
Bear Republic Racer 5
Ballast Point Grapefruit Sculpin
Surly Abrasive IPA
Victory DirtWolf Double IPA
New Belgium Ranger
Fat Head's Head Hunter
Ommegang Three Philosophers
Odell Myrcenary
Ballast Point Victory at Sea
Which highlights the importance of discussing two of the most popular brewers that typically show up on this list: Sierra Nevada and Dogfish Head ... although perhaps not for long?
While 90 Minute IPA is still getting plenty of votes, Dogfish's flagship IPA family is losing traction:
I'm not surprised with 60 Minute disappearing - it's simply lost in today's fray of IPAs. 120 Minute is hanging on, but maybe there just isn't much hype around it to give it a push.
All this can also be applied for a group Sierra Nevada's beers. For what it's worth, this is probably the only "best beer" list you'll ever see Pale Ale and Torpedo, even if they are two of the top-selling craft beers in the country:
I recognize many voters in the Zymurgy poll are potentially and most likely American Homebrewers Association members, so we can assume they're knowledgable about beer and recognize the place that Pale Ale and Torpedo hold in the pantheon of craft beer. Perhaps that's why they're not going away? They're also good beers, but this is not how "best beer" lists typically work.
Ultimately, Dogfish and Sierra Nevada's situations seem pretty straight forward, given the wide range of new, competing beers hitting store shelves these days.
Whew. That's a lot of rankings. Deep breath.
Per usual, this information reinforces many of our general assumptions about the beer consumer: they're looking for new, they value specific styles and ABVs and they most likely buy into hype surrounding more famous products.
But what do you think?
Related: What Zymurgy's "Best Beers" Ranking Tells Us About "Boring" Beer (2014)
Bryan Roth
"Don't drink to get drunk. Drink to enjoy life." - Jack Kerouac