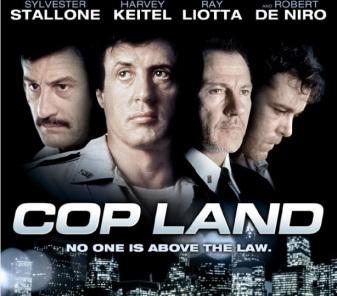 Director: James Mangold
Writer: James Mangold (Screenplay)
Starring: Sylvester Stallone, Harvey Keitel, Ray Liotta, Robert De Niro, Peter Berg, Janeane Garofalo, Robert Patrick, Michael Rapaport, Annabella Sciorra, Noah Emmerich
Plot: The sheriff of a suburban New Jersey community populated by New York City policemen slowly discovers the town is a front for mob connections and corruption.
There may be spoilers the rest of the review
Verdict: Tense Crime Thriller
Story: Cop Land starts as we see Jersey Sherriff Freddy Heflin (Stallone) with his own drinking problems but outside the main force. We move to meet hero cop Murray Babitch (Rapaport) find himself involved in a shooting of two unarmed men causing tensions to rise within the force. His uncle Ray (Keitel) loyal partner Jack (Patrick) try to cover up the crime while Moe (De Niro) is investigating what really happened.
Freddy finds his town the location where all of the cops from New York hang out, making the sheriff of Cop Land, the web of lies is tangling under his nose and Moe turns to him for answers that will open the doors to the truth about what Ray is really up to.
Cop Land is a crime thriller that really does keep you guessing from start to finish with twist around nearly every corner. We watch as just as we think we know one answer they go and change the questions. The idea that the cops are both the good and bad guys really helps this film make an impact as we have to look at the very people that are meant to protect us being the ones we can't trust. I would like to point that if you do miss scenes you will miss where the story is going which is concerning because seeing Stallone makes you think this will just be an action film but this is a lot more serious than any of the action films. This has a much better story than I was expecting and really is one of those underrated crime thrillers.
Actor Review
Sylvester Stallone: Freddy is the deaf in on eye Sheriff of a small Jersey town where all the cops live and hang out conducting the business they can't within their own derestriction. When the latest corruption in the force happens in New York the cops find themselves in Frank's town where he must watch over seeing what is really happened but figuring out who is honest is the hardest task he faces. Sylvester is good in this leading role in a film you wouldn't be used to seeing him in.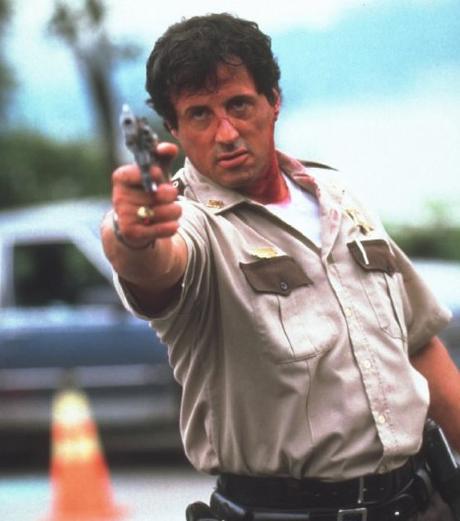 Harvey Keitel: Ray is a top cop who has a reputation of covering up police crimes, when the latest one happens he has to protect his nephew from the pointing fingers by faking his death but who is really in his pocket and how far will he come to cover himself. Harvey plays the character you would expect to see him play and that is because he is good in this shady cop.
Ray Liotta: Gary is an undercover cop that spends his time around the small Jersey town when not working, he has lost a partner in a previous case with Ray covering something up. The tension rise between the two with this latest one as Gary wants his chance for revenge. Ray is good in this supporting role that you never really know which side of the fence he is on.
Robert De Niro: Moe is investigating the case on the bridge, he knows not everything is what is seems and turns to Freddy for help as he can't touch any of the officers in Jersey. He just wants the truth to come out and to rid the streets of the corrupt cops. Robert shows that he can be a supporting character even with his reputation and does a good job in this role.
Support Cast: Cop Land has a huge supporting cast that all help the story unfold with us wondering which side of the battle they are on.
Director Review: James Mangold – James gives us a great thriller that really keeps us guessing from start to finish.
Crime: Cop Land puts us into the middle of a crime story where the criminals are the cops themselves.
Thriller: Cop Land does keep us guessing to where the story will be going from start to finish.
Settings: Cop Land use the small town for the setting which is filled with cops showing how full of tension throughout.
Special Effects: Cop Land does use good effects when needed but doesn't rely on them.
Suggestion: Cop Land is one for all crime thriller fans to enjoy. (Crime Thriller Fans Watch)
Best Part: Story keeping us guessing.
Worst Part: Slightly too much going on.
Believability: No
Chances of Tears: No
Chances of Sequel: No
Post Credits Scene: No
Oscar Chances: No
Budget: $10 Million
Runtime: 1 Hour 44 Minutes
Tagline: No One Is Above The Law
Overall: Tense thriller that really does keep you guessing
Rating