If you need the perfect easy meal for these long, lazy, end-of-summer evenings, look no further.  I posted this picture to facebook right after I made this soup because I was so happy with how it turned out, and asked for comments if you wanted me to post the recipe. I'm so excited that so many people said "yes, please!" because you'll be amazed by how super easy, simple, and delicious this is.  Serve with "buttered" toast for a light, refreshing summer evening meal.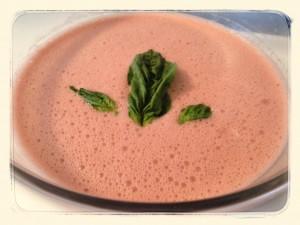 Print Cool Watermelon Basil Soup
Quick note: If you have a Vitamix or other high speed blender, feel free to throw the cashews right in. If you're using any other blender, immersion blender, etc, soak the cashews for at least 2 hours in advance to soften them up to blend more easily. Discard soaking water and add only cashews to the soup.
Ingredients
4 cups watermelon - as many seeds removed as possible
1/2 cup unsalted, unroasted cashews
6-8 large basil leaves, plus more for garnish if desired
6-8 ice cubes
1 t sea salt
water as needed to blend / thin to desired consistency
Optional:
3-4 frozen cherries, for color and additional flavor
Instructions
Add all ingredients to blender and blend. Add water as needed to thin to desired consistency.
Serve and garnish with extra basil as desired.
Enjoy!!
Schema/Recipe SEO Data Markup by ZipList Recipe Plugin2.2
http://www.abcvegan.com/cool-watermelon-basil-soup-perfect-for-the-vitamix/
So easy right??  Love that.  :)  I hope you love too!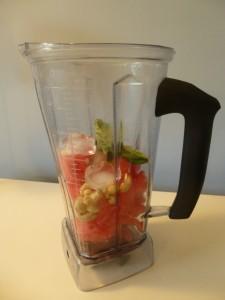 Pre-blending!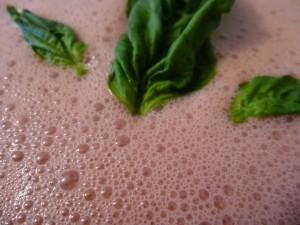 Look at that yummy foam :)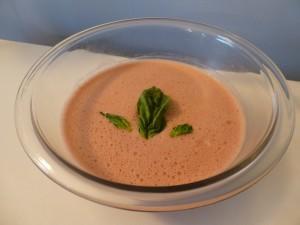 Yum.