We love a challenge. So when the folks from Bon Appétit reached out to us about preparing a quick and tasty meal for a family of four for under $10 using ingredients purchased from ALDI, we jumped at the chance. After reading Chef Mary Nolan's ALDI-inspired recipe for Prosciutto-Wrapped Chicken with Roasted Cauliflower, we were anxious to get started creating our meal.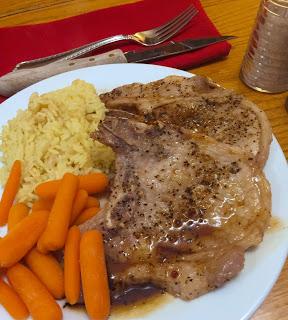 I had visited ALDI once, but had not "shopped" the store before. I was glad I remembered a quarter for the shopping cart deposit before I went in ready to do my research. Our local ALDI store is not very large. It has wide aisles with minimal shelving and stock in boxes which I'm sure helps keep overhead and staffing costs down. There was a nice selection of items, all very neatly displayed. I headed first to the meat department, knowing from experience that would be the most expensive part of the meal. I compared the prices of beef, pork, chicken and frozen seafood. Wanting to make a seasonal meal, I decided on a family pack of eight pork chops.
I got a bit distracted in the home goods aisle with all of the bargains on small appliances (a crockpot for $20 – awesome!), storage items and even Halloween costumes. After finding a bottle of Nature's Nectar 100% apple juice, I chose a recipe of sautéed pork chops with an apple cider sauce for which we would also need some oil for the pan and some seasoning for the pork.
I then headed to the produce section to find fresh vegetables to serve alongside the chops. There were some good-looking acorn and butternut squash, as well as bell peppers and cucumbers. I opted for baby carrots that I could boil in some of the apple juice and found some boxes of Rice Bowl brand rice pilaf that would round out the meal nicely. As any busy home cook knows, having all the elements of a meal done at the same time can be a bit tricky, All of these dishes are easy to prepare the same 30-minute time-window.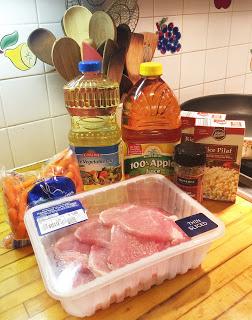 I headed to check out with my items where I was greeted by a sweet clerk who kindly reminded me that ALDI only accepts cash, EBT, or debit cards. We chatted as I packed the reusable bags I had brought with me. A quick and painless checkout experience always leaves me with a good impression of any store; my ALDI did not disappoint.
Our meal should take about 30 minutes to prepare. We recommend starting with the rice pilaf as it takes the most time to cook and requires the least amount of effort. Just like preparing plain white rice, boil the prescribed amount of water and follow the package directions. The pilaf will steam while you cook the pork and carrots.
Apple-infused Carrots
2 cups Peter Rabbit Farms baby carrots
¾ cup apple juice
Pinch of salt
1 teaspoon vegetable oil
Bring apple juice and salt to a boil and add carrots, simmer carrots until crisp-tender, about 8 to 10 minutes. Drain off excess liquid and add the oil to the carrots. Toss to coat and leave them covered in the pan until ready to serve.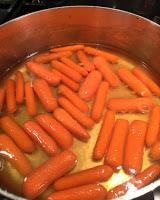 Sautéed Pork Chop with Cider Sauce 
4 pork chops, 1/2 to 3/4-inch thick
¼ teaspoon Stonemill Steak seasoning (or other seasoned salt)
1 tablespoon Carlini pure vegetable oil
1 cup apple cider or juice
Sprinkle one side of the pork chops with seasoned salt. If you are using the ALDI brand "Stonemill Steak Seasoning" be aware that it is a bit spicy, but it lends a very nice kick to the cider sauce. In 12-inch skillet, heat oil over medium-high heat. Add pork chops to the pan and cook uncovered for 3-5 minutes depending on the thickness of the chops. When the chops are opaque and browned on one side, flip to the other side and brown. The chops are done when the flesh is opaque and the juices are clear. At this point, remove the chops to a plate and cover with foil to keep warm.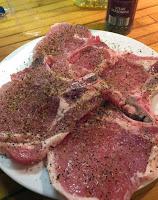 Add cider to the skillet and bring to a boil, stirring constantly to loosen browned bits from bottom of skillet. Simmer uncovered, stirring frequently, until the liquid is reduced by more than half and is thickened. Add the chops back to the pan and thoroughly coat with the cider sauce. Serve the chops with pilaf and apple-soaked carrots.
This delicious home-cooked meal for four under $10 will definitely help to keep your budget on track. We hope this menu will inspire you to head to your nearest ALDI to find everyday essentials that won't the bank.