Happy Sunday my darlings! I was awaken by a 6.0 earthquake at 4:30am this morning. Two things I learned. First, my earthquake safety skills need some improvement. When I felt my tiny apartment shaking from side to side, I jumped up out of bed "yelling earthquake" and started running. I know better than to run during an earthquake but I guess my nerves got the best of me. Second, I do my best recipe creation in the wee hours of the morning while my nerves are on edge. I recently brought a popover pan and have been dying to try it out. I wanted to make a chocolate version but couldn't figure out what direction to go in. I did a bit of web surfing and BOOM! Hot Chocolate Popovers….Here. I. Com. #foodgenius #getinthekitchen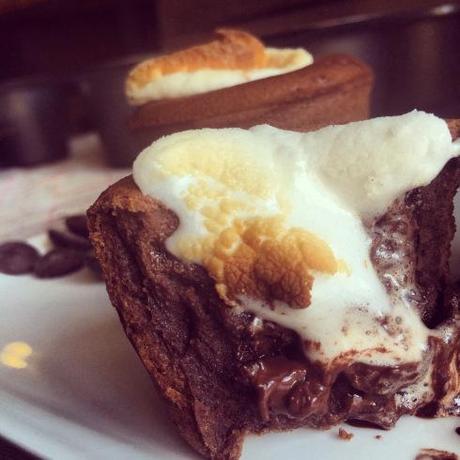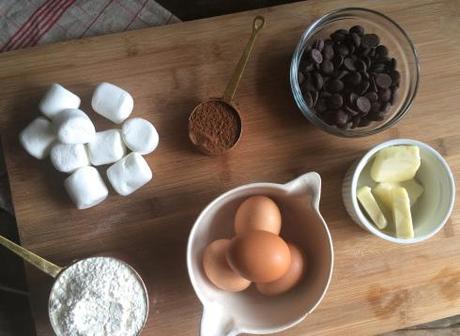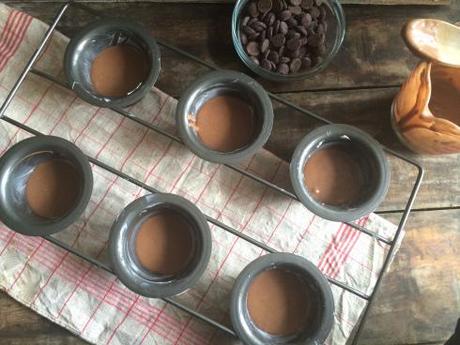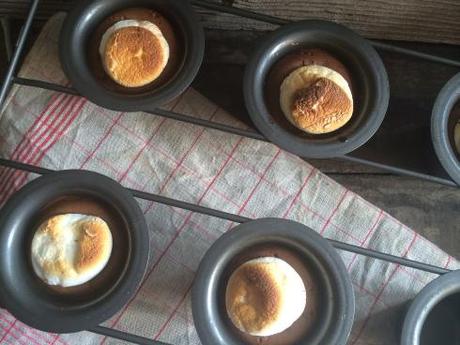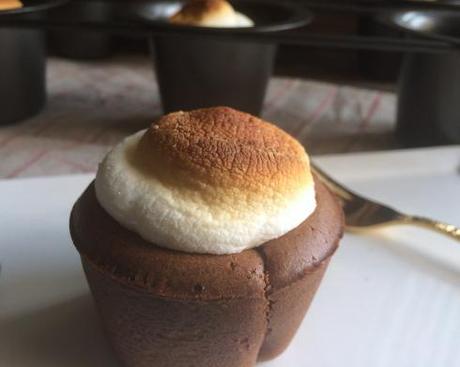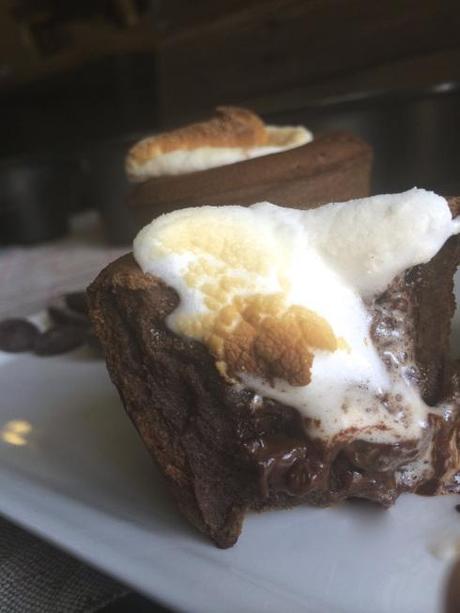 Hot Chocolate Popovers
makes:  12  popovers
Recipe adapted from Joy the Baker (love her)
3 tablespoons unsalted butter, melted plus more for greasing the pan
3 large eggs, at room temperature
3/4 cup whole milk
1/4 heaving whipping cream
1 teaspoon vanilla extract
1 teaspoon salt
4 tablespoons granulated sugar
2 tablespoons plus 2 teaspoons unsweetened cocoa powder
3/4 cup plus 2 tablespoons all-purpose flour
1/2 cup semi-sweet chocolate chips
12 large marshmallows.
Place a rack in the center of the oven and preheat oven to 400 degrees F.
You can use a fancy schmancy popover pan or a muffin pan. Your choice. Your popovers.  Use a paper towel or fingers and grease the individual muffin cups. Grease well with butter.
In a medium bowl, whisk together butter, eggs, milk, and vanilla extract.  Whisk well.
In a large bowl, whisk together sugar, salt, cocoa powder, and flour.
Pour the wet ingredients into the dry ingredients and whisk together. Make sure there's no lumps. We're making popovers here. Lumps won't do.  I poured my batter in a 2-cup liquid measuring cup and poured the batter into the prepared muffin pan.  Fill cups half way .  Place pan in the oven and set timer for 30 minutes.
Important. Don't open up the oven. I repeat DO NOT open up the over. Unless you want dropovers instead of popovers you will refrain from opening up the oven during the baking process.
After 30 minutes, remove the popovers from the oven and immediately set oven to broiler.
Carefully shove (it it possible to shove something carefully) (7-10) chocolate chips into the center of the popover, and top with a marshmallow.
Place pan under the broiler and barely close the door.  Watch this process like a hawk. You don't want your marshmallows to burn. Burnt marshmallows can be tasty…..burnt popovers not so much.   They'll only need about a minute under the broiler.
Remove toasted popovers from the oven.  Let cool for about 5 minutes.  Use a butter knife to gently remove the popovers.  Serve warm.
You will shocked at how these popovers.