Cookies -Hazelnuts shape-melt in mouth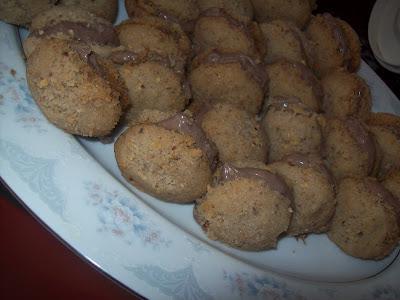 This  cookies my grandkids adore,fill is made from butter ,hazelnuts and dark chocolate.We call it simply Hazelnuts and i remember time when my grandma bake it for us-grandchildren!!
When i start to eat it i cant stop,must eat it to the last one.
Preparation is not to complicate and i can recommend it to each of you.
INTEGRATES:
Dough:
300 gram flour
150 gram hazelnuts
100 gram sugar
250 gram butter
2 tbs cacao powder
orange peel
just a little sea salt
Cream:
70 gram hazelnuts
50 gram sugar powder
1 tbs cacao powder
1 tbs rum
1 tbs milk
PREPARATION:
This is really easy,you have to mix all integrates together.Leave dough  in refrigerator for about 1 hour.
With tea spoon make little balls  and bake it in preheat oven at 170 Celsius for about 15-20 min.
In meantime prepare cream with all integrates.
Put 2 baked parts together with cream in the middle./as you can see at pics!/