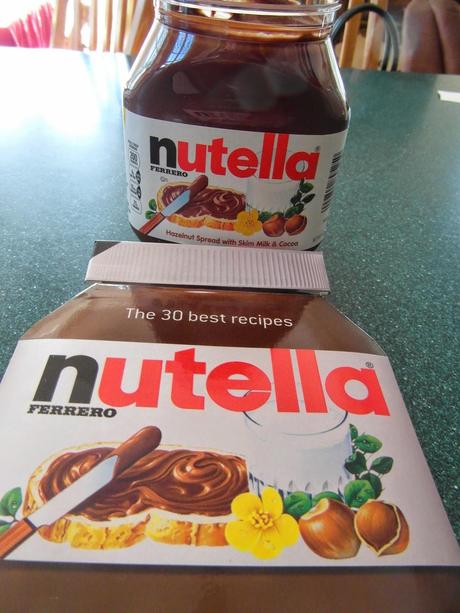 Nutella works its way into everyone's home.  My daughter is the Nutella fan in our home.  She loves it and even had friends bring some back for her from Italy.
Nutella was called "pasta gianduja" and created in the 1940s by Mr Pietro Ferrero who was a pastry maker. At the time cocoa was in short supply, so Mr Ferrero used hazelnuts which were plentiful in the Piedmont region of Italy to extend the chocolate supply. It was originally made in loaves and then was altered by Mr. Ferrero into a paste so it could be easily spreadable on a piece of bread.  It then became known as "supercrema gianduja" and in 1964 it was renamed Nutella.
In 1983 Nutella was introduced to the United States and initially distributed in the Northeast part of the country. Eleven years later, my Nutella fan was born.
When I was asked to review this cookbook "The 30 Best Recipes, Nutella", by Ferrero, Inc., I thought I needed to for my daughter the Nutella lover. These 30 recipes range from whopie pies to tartlets to panna cotta to a cheesecake that looks amazing.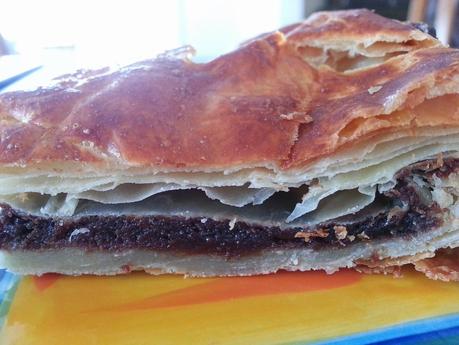 I was having some company for the weekend and decided to try the Nutella Twelfth Night Tart.  I can't begin to tell you how yummy and easy this was to make.  It's great for breakfast or dessert. If serving for dessert, pair with a LBV Port.
Nutella Twelfth Night Tort
1 cup Nutella
2 eggs
1 egg yolk
1 1/2 ground hazelnuts
2 rolled puff pastry sheets
Preheat oven to 425 degrees F. In a bowl, ix together the Nutella, 2 eggs and ground hazelnuts.  Unroll the first sheet of puff pastry onto a baking sheet covered with parchment paper. Carefully spread the pastry with a layer of Nutella mixture. Leave 3/8" border for joint the two sheets of pastry together more easily. Unroll the second sheet of pastry and lay it on the first.  Join the edges of the two sheets of pastry, pressing them together all around.  Brush the whole surface of the galette with egg yolk then use the point of a knife to decorate it with a large criss-cross pattern.  Bake for 25 minutes